Across the Arabian Peninsula, cities vie for world records and USPs through which to differentiate themselves. And though beauty is in the eye of the beholder, and each city can justifiably argue its own merits, for travellers, glimmering Muscat feels most like the Arabian idyll they've been dreaming of. Nestled into its craggy coastline, the Omani capital has huge mosques, labyrinthine souks, and a bustling port. More than anything, it has a sense of history, which is perhaps no surprise given it's been a home of human habitation for at least 8,000 years, and was documented by Greek geographer Ptolemy 1,900 years ago.

SIGHTSEEING AND CULTURE
There are, of course, times thorough the year when the vast Sultan Qaboos Grand Mosque (+968 24 505170) reaches capacity. But 20,000 is an awful lot of people, so more commonly it's a hugely popular tourist attraction, where excellent guided tours explain the architectural quirks as well as the principals of Islam to the uninitiated. Opened in 2001, this imposing building looks and feels altogether more ancient.

It's true that little is quite as old as it appears in Muscat's harbour district, but the bay has been used for centuries and has almost always been at the heart of the city. To that end, Bait Al Zubair (www.baitalzubair.com, +968 22 084700) aims to gather some the key elements of Muscat and wider Omani history in a beautiful museum.

If you want to be outside soaking up some sun, then skip the museums in favour of a seaside stroll. Though not technically a beach, Mutrah's Corniche is probably the most impressive part of Muscat's coast. A rocky headland fringed by clifftop forts and crashing waves, it's as dramatic as it is beautiful. While the exposed headland doesn't have any sand, there are a number of scenic picnic spots.

When night falls, you could head to the seven-year-old Royal Opera House Muscat (www.rohmuscat.org.om, +968 2440 3332), which hosts short-but-sweet runs of various productions and operas, often as part of international tours. As well as opera, this grand space holds ballet, jazz, musicals and concerts of almost every kind.

FOOD AND DINING
Separating Omani food from wider Arabian cuisine isn't easy, but Ubhar (ubharoman.com, +968 24 699 826) does its best with what it describes as Omani-fusion food. This consists of classic dishes, such as hummus, with a regional twist, in this case camel meat. You can be as adventurous or conservative as you like – the menu is huge.

If money is no object then head to The Chedi and try its fine dining option The Restaurant (www.ghmhotels.com, +968 24 524400). It has lavish brunches every Friday, but every day the service and setting are spectacular. Menu highlights include Fine De Claire oysters served with Omani lime.

Located in the Marina Bandar Al Rowdha (www.marinaoman.net, +968 24 740038), Blue Marlin makes the most of its proximity to the Indian Ocean with a menu heavy on locally caught treats. From fish and chips to lobster thermidor, if it comes from the ocean, there's a chance you'll find it.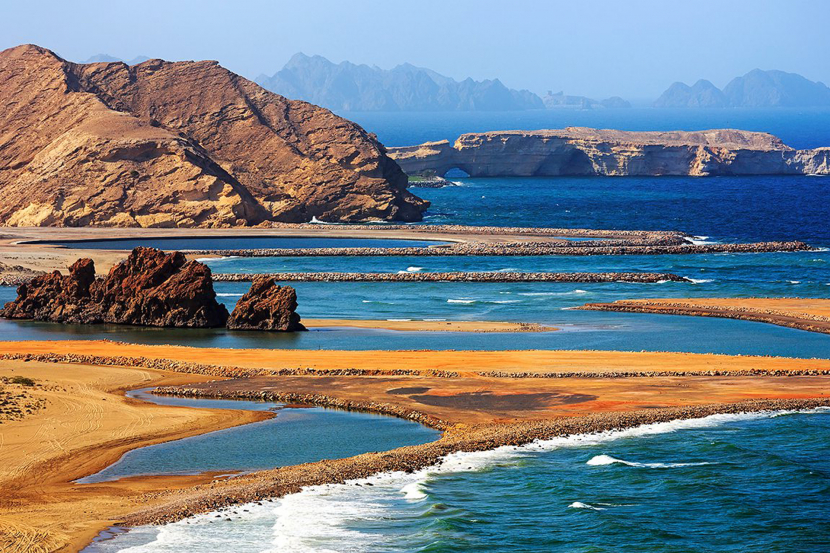 NIGHTLIFE
With a large expat community and every luxury hotel brand represented, there's a huge number of bars, pubs and clubs.

Qatari fans of low-rent, high-octane fun will be glad to know there's a Muscat franchise of the irrepressible Rock Bottom Café in the Ramee Guestline Hotel (www.rameehotels.com, +968 24 564443). Another name you might recognise is Trader Vic's (www.tradervicsmuscat.com,
+968 24 680080) and while there's not yet a Muscat branch of McGettigan's, there are no shortage of other Irish pubs. The pick of them is probably O'Malley's inside the Radisson Blu (www.radissonblu.com, +968 2448 7777).
GETTING AROUND
Public transport doesn't exist in any practical way for tourists so, best to stick to licensed taxis or Uber.

GETTING THERE
Oman Air is the best and cheapest way to get to Muscat. There are at least two flights daily from Hamad International Airport. With an average flight time of an hour and a half, a return ticket costs around QR850 on Oman Air (omanair.com). Qatar Airways and Salam Air also have direct flights to Muscat.
Be the first to get all the latest Doha news, reviews and deals into your inbox by signing up to our free
newsletter
,
click here to sign up
.