A Middle Eastern city that's known for rainfall and lush greenery? It can't be true, can it? Well, yes, it can actually. And that place is Salalah. On the southern coast of Oman you'll find the Dhofar region. Every summer it has a monsoon season, known as the khareef, locally. It transforms the more recognisable sandy, desert landscape into a verdant oasis. The sights and lower temperatures also bring in tourists from across the region, and lots of them.

You don't need to visit in the khareef season to make the most of Salalah, though. In the hotter months it's still possible to explore the beaches, mountains and wadis and sample the local culture and traditions.

The city centre is perfunctory and doesn't really require a visit, it's in the sub-tropical surrounding coastal spots and more rural areas that you'll find a real taste of Omani life.

SIGHTSEEING AND CULTURE
There are plenty of things to see in the wider Dhofar region, and a road trip with a guide is probably the best way to do it.

In Salalah itself, however, we recommend Al Baleed Archeological Park (+968 2495 5500) The open-air historical site is a UNESCO World Heritage site and opens from 8am to 8pm every day. Inside you'll find ruins of Al Baleed mosque, which dates back to the 4th century. The roof of the mosque was held aloft by 144 columns, some of which are still in good condition.

As well as the outdoor area there's a museum, The Museum of Frankincense Land (+968 2320 2566), which references Dhofar region's main export.

Inside the small museum you'll find artefacts that have been excavated from this and other archeological sites in the area and models of Omani boats going back thousands of years. Nearby is the Al Husn Palace a palace belonging to the country's leader, His Majesty Sultan Qaboos bin Said al Said (he was born in Salalah). While you can't go inside, it's worth passing by on your way to Al Haffa Souk, otherwise known as Al Husn Souk. Here you'll find narrow alleyways filled with shops and market stalls selling tea, snacks, fruit, materials, clothing and plenty of frankincense. There are various types available with slightly different smells. You can buy it in rock form for burning, or you could pick up some perfume scented with the aromatic.

If you head east along the coast you'll find some of Dhofar's most spectacular sights. Wadi Darbat has a spectacular waterfall in khareef season and Mirbat is an enchanting fishing town with traditional old houses.

Closer to Salalah itself is Mughsayl Beach, a beautiful place to visit and stay for a picnic or have a bite in the casual café overlooking the sands and sea. You'll also see the awe-inspiring blow-holes here, which shoot deafening bursts of water through the rocks and into the sky. It really is a must-see.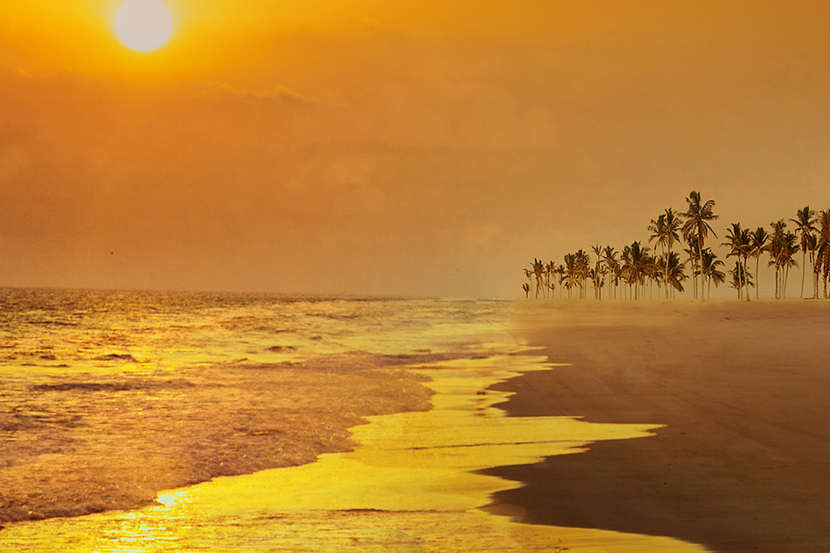 FOOD AND DINING
If you're around during khareef season then you'll probably see Salalah Festival (omantourism.gov.om). It's a time when, among other things, locals sell traditional foods roadside. Check out muthbe (salted mutton or chicken seared on white-hot stones), kak bread (crispy and flavoured with nigella seeds) and the local chai, flavoured with thyme and cardamom.

In The Salalah Rotana Resort you'll find Silk Road (+968 2327 5700), a smart venue with a lovely rooftop area serving dishes from the Middle East, India, Japan and South East Asia. Service is great and the food, despite covering a fair few bases, is delicious. Try the kung pao prawns and Thai green curry for two top mains.

The city's other big resort, the Anantara also serves some mean Asian food, in keeping with its Thai heritage. At Mekong (+968 2322 8222) you'll be wowed by the super-sleek venue itself, quite unlike anywhere else in the area, and that's before you get to the food.

Be sure to try the Vietnamese dishes (especially the pho) and the dim sum. Service is ace, too.

NIGHTLIFE
A moderate city, nightlife is not what you're coming to Salalah for. Your best bet is staying inside the hotel and checking out whatever's happening in the bar there.

GETTING THERE
Qatar Airways and Oman Air both have direct flights to Salalah and Muscat. Qatar Airways costs around QR1,660 for a return ticket. Oman Air is slightly more expensive. Average travel time is two hours and forty minutes.
www.qatarairways.com.
Be the first to get all the latest Doha news, reviews and deals into your inbox by signing up to our free
newsletter
,
click here to sign up
.