Luther Vandross and Janet Jackson made one thing very clear – the best things in life are free. And we at Time Out completely agree. In fact, we've taken it a step ahead and compiled 50 awesome things to do in Doha that won't cost a riyal. No, seriously. We know you splurged a lot on your year-end plans and we're here to take care of you with a comforting list of zero-riyal activities in the city.
Admire Richard Serra's art
Richard Serra's sculpture East-West/West-East was unveiled a few years ago and although we've seen it multiple times already, it's so stunning and provocative that it impresses us on every repeat visit. The installation spans more than a kilometre and comprises four steel plates, each upwards of fourteen metres tall.
Brouq Nature Reserve (4452 5555).
Barbecue at Al Bidda Park
This beautiful new park reopened in February 2019 and it's possibly one of Doha's most scenic green spots. It overlooks the Corniche and West Bay and there's plenty to do around here for no fee whatsoever. Besides birdwatching areas and children's playgrounds, there are small shops, a cultural village and a heritage centre.
Corniche Street.
Be at the city centre square
In case you haven't already heard, the new heart of the world's smallest and most sustainable fully-built city district Msheireb Downtown Doha is a hotspot for socialising, strolling and just spending some leisurely time out. The entire district offers loads of alfresco and casual dining options alongside a cultural forum and five-star hotels. There's a piazza-style square which is covered and for summer months, there's a fully retractable roof over it. It's a historic location (if you've been in Doha long enough, you've even seen this as an old shopping area) and it's walking distance from Souq Waqif.
Msheireb Downtown Doha.

Bum around the beach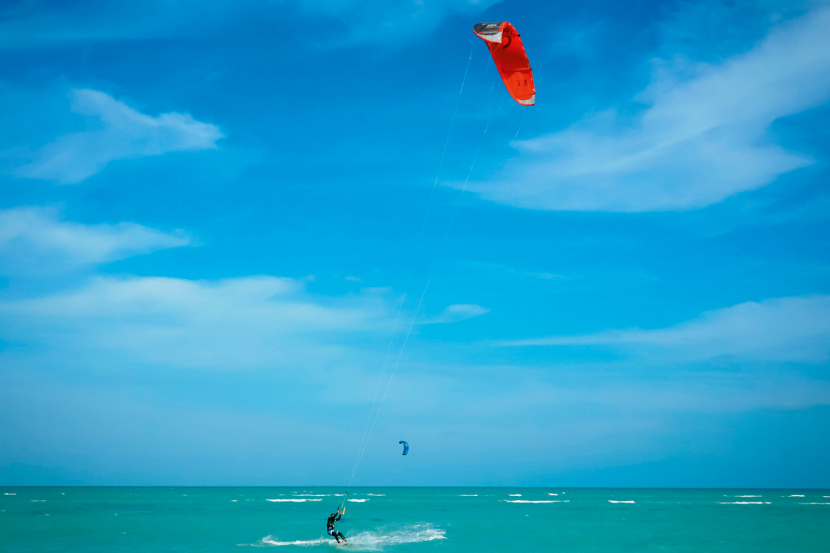 Why pay to bask in the sand when you can escape the city chaos for free? All you need to do is get your four-wheel-drive out, load up your barbecue meats and turn up the volume on that road trip play list because this is the best time of the year to be outdoors. Doha's coastline spans hundreds of kilometres and picking a spot isn't an easy decision. If you're looking for a crowded spot, Sealine is your best bet. Al Ghariyah has beautiful, soft sands and Fuwairit is great for kitesurfing. Families can find lots to do at Dukhan beach, Simaisma and Al Wakra beach.
Sealine Beach, GPS: 24.861143, 51.516837.
Check out an abandoned fishing village
Do something totally different and discover the desolate communities of Al Ruwais. At the northernmost tip of Qatar, this is little more than a sleepy town. Nearby are three abandoned fishing villages, Al Jemail, Al Khuwair and Al Areesh. The ruins can still be seen and at all of them, and you'll get a real feel for the Qatar of yesteryear.
GPS: 26.068919, 51.083972.
Chill at MIA Park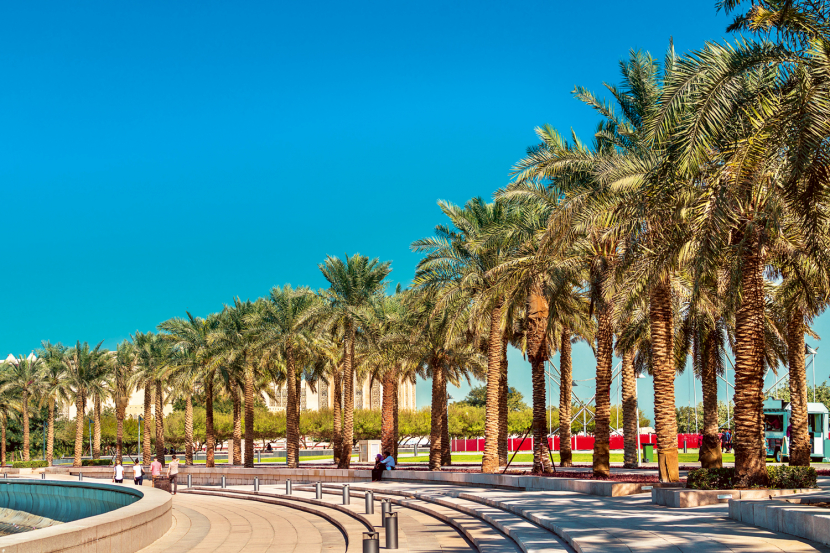 Lush green landscapes and beautiful skyline views, Mia Park is home to some of Qatar's greenest patches. There's a coffee shop with unbeatable views and cosy seating that's just perfect for the winter. It's a great spot to get fantastic views of the Museum of Islamic Art.
www.mia.org.qa.
Climb rocks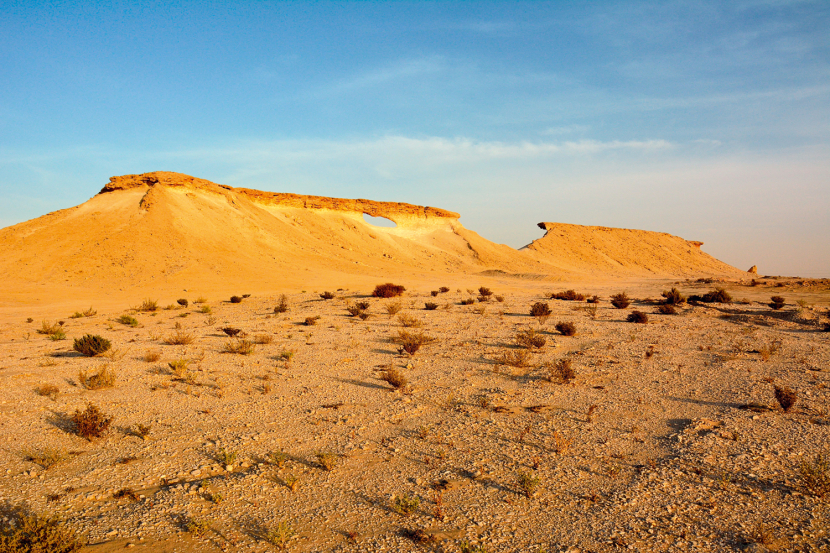 Sure, there are plenty of places with rock climbing walls indoors, but since you've spent all your money on blow-out brunches and year-end parties, you might want to check out the Musfir Sinkhole in Zekreet if you're an avid rock climber. Zekreet is fascinating – limestone formations are scattered all around to create Qatar's very own version of the Grand Canyon. These unique cliffs offer unusual surroundings. The sinkhole is mostly for beginners and if you're looking for something more challenging, there's plenty to explore in the area. Join the Doha Climbers group on Facebook for tips and outings.
GPS: 25.637012, 50.846186.
Cycle in the city
With all the beautification works underway in Qatar, there are plenty of cycling tracks around the city. Try the Leisure Trail in Doha Festival City. The 4.5km track includes a running and walking path, as well as an adjacent Cycling Lane with technical trail features specifically designed for mountain bikes. Visitors can bike, walk and run around the track.
Open daily 8am-12pm. Doha Festival City, Umm Slal Mohammed (4035 4444).
Dilly-dally around the Dhow Harbour
A monumental inflatable sculpture by KAWS entitled Holiday (2019) was on display at the Dhow Harbour in late 2019. It was open for anyone to see and if you missed it, you really missed something truly incredible (it was 40-metres long). Don't worry, you can still head over to the Dhow Harbour anytime to sit by the seaside and admire Doha's glorious skyline with a cup of tea for QR1. If you're into photography, you can get some fantastic dhow and sea shots during the day here.
Near Banana Island Doha terminal, Corniche.
Discover Al Wakrah Souq
It doesn't get more traditional and less commercial than Al Wakrah Souq. It's super authentic and even has its own beach. It's similar to Souq Waqif, but is more low-key. There are plenty of cafés and retail spots to discover and a small park with ponies and camels for the little ones at the end.
Open daily 8.45am-11pm. Al Wakrah.
Do the rounds of Education City
If you've been in the city for a while, you have to pass by this haven of stunning buildings and modern, award-winning architecture, at least for the photo ops. The Ceremonial Court (next to Northwestern University Qatar) is particularly Instagram-worthy. Don't miss the farmers' market that takes place every weekend here. Also pass by the Texas A&M and Qatar National Library buildings.
Qatar Foundation, Al Luqta Street (4454 0000).

Drive to a deserted town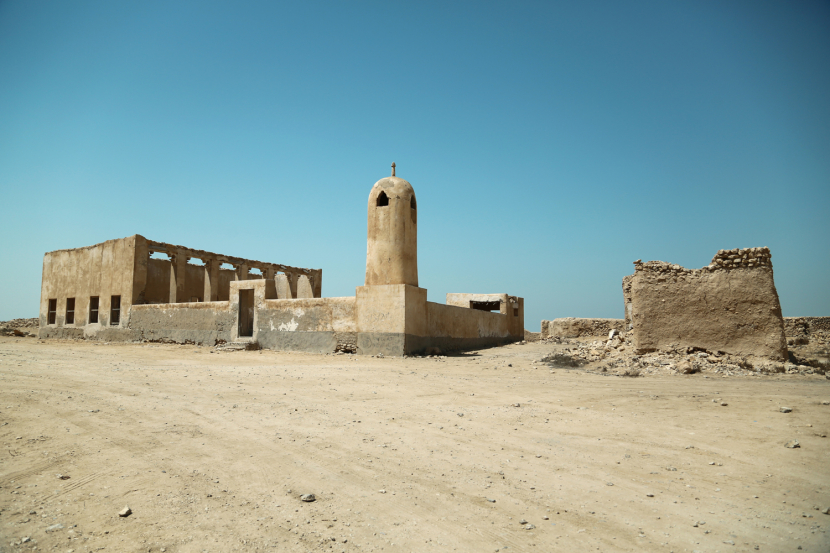 Drive to Al Khuwair, an old fishing village, located northwest of Qatar with the remains of several houses, a mosque and fishing equipment. It shows how life used to be, before oil was discovered, if you're into that kind of thing. The place overlooks a beach and you might even spot some washed up marine animals on the shore.
GPS: 26.068919, 51.083972.
Drive up to Zubarah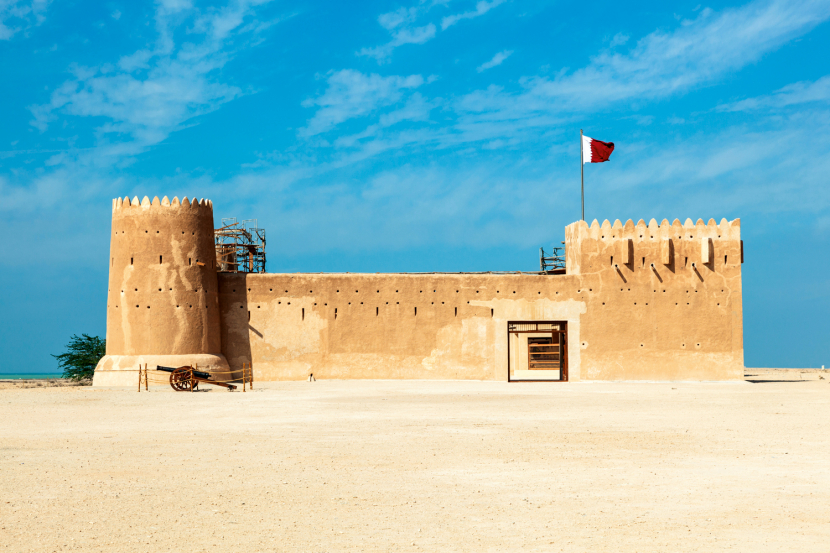 The Zubarah Fort, a UNESCO Heritage Site, was built back in 1938 and was used by the armed forces until around 30 years ago. Now, it's a museum that showcases a vast collection of pottery and archaeology exhibits. You'll also find workshops and other cultural activities that you can partake in. It's the building that's the main attraction, though, as are the striking views from the battlements. Get in your car and drive around it to find ancient settlements.
GPS: 25.976929, 51.045496.

Enjoy the breeze at 21 High St
This new zone in Katara is perfect all year round. Its outdoor cooling technology enables chilled walks in peak summer and in winter, you can just stroll around, window shop and try some interesting food. The attractive architecture with wide, open spaces in a unique, ancient European style setting is very appealing, making it an ideal destination for the whole family. When you're done window shopping (or actual shopping), grab at seat at Café Pouchkine. This French-Russian café has the best latte in town and if you're craving some Russian borsch, this is exactly where you can find it.
Katara Cultural Village, West Bay Lagoon.
Exercise outdoors
Can't afford a gym? No problem. You can take advantage of Doha's multiple parks and free open-air gyms. Aspire Park and the Corniche have outdoor gyms and these are open to the public and free to use.
Sheraton Park, West Bay; Aspire Park, Baaya.

Experience camel races
Camel races are a privilege, we think. While thousands of horses gallop around the world in classy equestrian events, you can chill at a local camel race without the need for an expensive hat that probably costs more than the horse itself. Exit the city limits to Dukhan Highway and you'll reach the camel village after you've driven between 40km to 50km.
GPS: 25.402316, 51.202485.
Explore the Fire Station
This interesting art hub has been transformed from a civil defense unit. The space still retails plenty of elements like fire trucks and seamlessly blends it in with the new theme. Art exhibitions and movies are screened all year long. Most of the exhibitions are free, but it's best to check beforehand.
www.firestation.org.qa.
Feel the Spanish vibes
This colourful area at The Pearl-Qatar is now livelier than it has ever been and with all the restaurants, cafés and stores, it's perfect for a stroll. The streets are all pedestrian friendly and are reminiscent of a cosmopolitan Spanish city (the streets and roundabouts even have Spanish names like Andalusia and Malaga). There's a pretty patch of parkland, a play area for kids and a water feature to enjoy in the hours after dusk.
Medina Centrale, The Pearl-Qatar, www.thepearlqatar.com (4409 5155).
Fish at Al Wakrah Port
The Wakrah port is a great fishing spot during the cooler months. There's also a big park here, with a few rides and attractions nearby. It's easily accessible by car and has plenty of parking spots. Get your gear out and set up over the stones. Make sure you bring a barbecue, too. Drive up to the Pearl roundabout, take a U-turn and then second right. You'll see the signs for Al Wakrah Port.
GPS: 25.165634, 51.614023.
Gallivant in Lusail Marina
The transformation of Lusail into a skyscraper city is unbelievable. But we're not even half as excited as we are about the marvellous line of dancing fountains along the entire length of the Lusail Marina. There are a few cafés and coffee shops along this strip, and there are benches to sit on and admire the sea or the fountains. The path is supremely clean, is lined with trees and plenty of other flora, and is a beautiful new addition to Doha's outdoor spots. If you walk to the end of the road across from The Ritz-Carlton, you'll find a whole green path with coffee shops such as The Ministry of Coffee and the ever-popular Tea Time.
Lusail.
Get free drinks
If you're a lady in Doha, you're a very lucky lady. You're spoiled with options when it comes to free nights out in the city. There's something somewhere every single day of the week, including Thursdays and Fridays, and if you're in a cash crunch, now is the time to really study out Music & Nightlife pages.
Various locations.
Go to an ostrich farm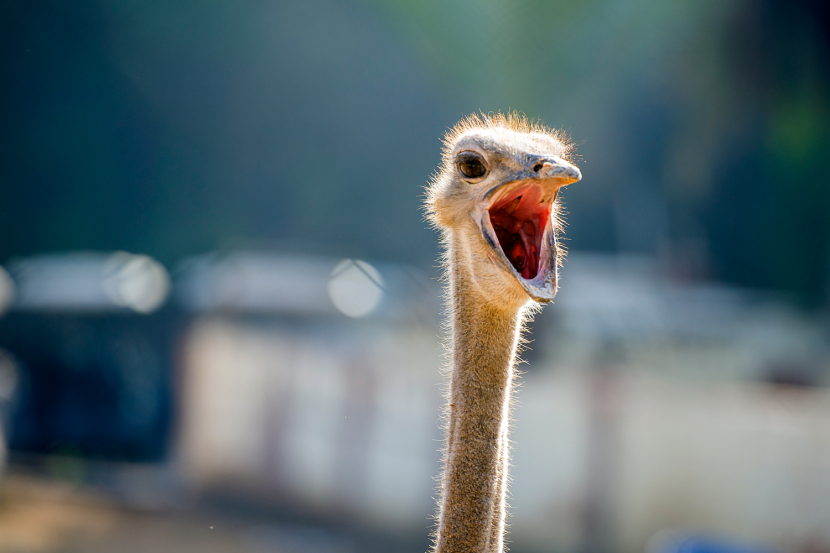 The biggest benefit of going to an ostrich farm is you'll probably be the only one among all your friends who has done so. There's one near Dukhan that's worth seeing. The ostriches roam free and driving along watching them sprint across the farm is a wonderful (if slightly creepy) experience. You can get up close to them, too, but don't try to touch them. They don't like to be petted and they have really strong legs. That's all you need to know.
GPS: 25.522778, 50.828056.

Go on a guided art tour
Qatar Foundation hosts guided art tours for free and you can discover interesting pieces of art within the QF premises and at other QF-owned locations, too, such as Sidra Hospital.
www.qf.org.qa.
Hang out at Katara
This cultural hub has plenty of exciting things to explore including its very own Corniche, a Greek-style amphitheatre and loads of cafés and restaurants. There are plenty of events always taking place here from art exhibits and dhow festivals to musical concerts and plays. They're almost always free, so watch this space for updates. Currently, the an exhibition entitled It is our right to dream by sculptor Sahbi Chtioui is on until January 18.
Katara Cultural Village, West Bay Lagoon (7739 0029).
Head over to Baraha Souq
Baraha Souq is a vibrant artisan market that takes place every other weekend. The market has been carefully curated to showcase and support local makers and food producers and provide a welcoming stage for cultural engagement. You can browse and buy locally designed and created art pieces, jewellery, fashion and accessories, wellness products, homeware, speciality coffee and food, including local date products. The Museum Souq runs through to May 2020.
Free. Open Fri 2pm-7pm, Sat 9am-2pm. Until May 2020. Baraha Souq, National Museum of Qatar, Corniche, barahasouq@qm.org.qa.
Impress yourself at Al Hazm Mall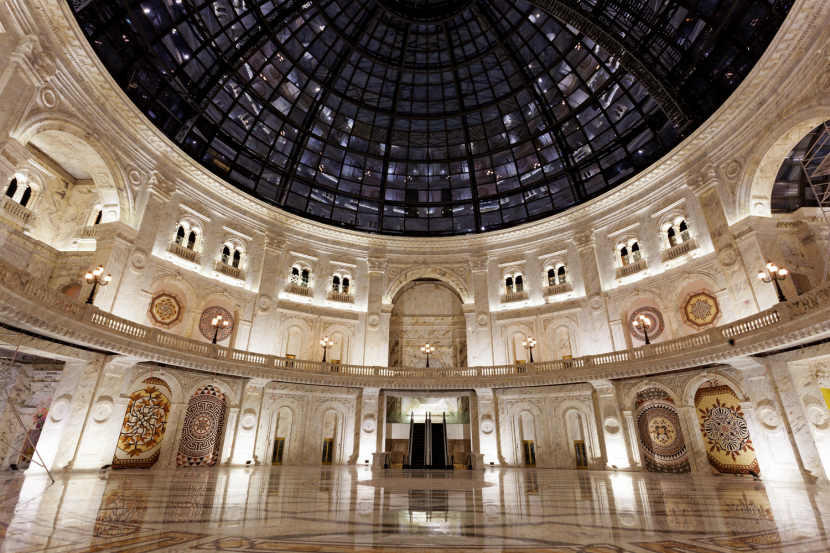 This gloriously beautiful mall is reminiscent of Italy's Galleria Vittorio Emanuele II – one of the world's oldest shopping centres in the country, housed in a 19th century double arcade in Milan. You might have to sell a kidney to enjoy a good meal here, but if only walking around and enjoying the beauty of the architecture is on your mind, you'll be fine.
Al Markhiya (4411 1444).
Kayak on the mangroves
If you have your own kayak, drive up north to the lush mangroves in Al Thakira (popularly known as Purple Island) and take your kayak for a spin. You can row, row, row your boat gently down a stream, and experience some of the greenest and most serene scenes in Qatar. A waterproof camera would surely come in handy.
GPS: 25.742060, 51.557683.
Listen to live music
The best thing about living in Doha is the easy access you get to amazing concerts and shows (we're still recovering from 2019's Daydream Festival). While you might have to let go of an arm to afford some of these concerts, there are plenty of live music options around the city. The rooftop bar Sizzle at Crowne Plaza Doha – The Business Park has a live jazz band playing from Tuesday until the weekend. Head over to venues like Trader Vic's and La Vista 55 for live Cuban bands. Vintage Bar at The St. Regis Doha has a brilliant pianist Gabriel and The Club features our favourite percussionist Rudy. Bars and pubs like Irish Harp and Paloma also have live bands playing every weekend. Just make sure you check our Music and Nightlife section every month for the best nights out.
Make your way to Mathaf
If you're searching for an interesting art space that's not on the Corniche, drive to Education City's Mathaf: Arab Museum of Modern Art. Mathaf currently holds over 9,000 works, making it the world's largest specialised collection of its kind. Currently the El Anatsui: Triumphant Scale exhibition is on view until Friday January 31, and there are also the permanent exhibitions that can be visited throughout the year.
Open Sat-Thu 11am-6pm (closed Mon); Fri 3pm-8pm. Education City (4487 6662).
Make a trip to Mall of Qatar
Window shopping counts, but that's not why we're asking you to go to Mall of Qatar. The Ooredoo Stage here almost always has plenty of live acts, performances, entertainment and events happening and they're always free for anyone who cares to go. From fashion shows and sporting events to National Day programmes and talent shows, this is quite a lively mall and it's ideal for the entire family. And the food court is just around, so grab a bite and watch a fun live performance.
Jahhaniya Interchange, Al Rayyan (4034 6000).
Marvel at the new national museum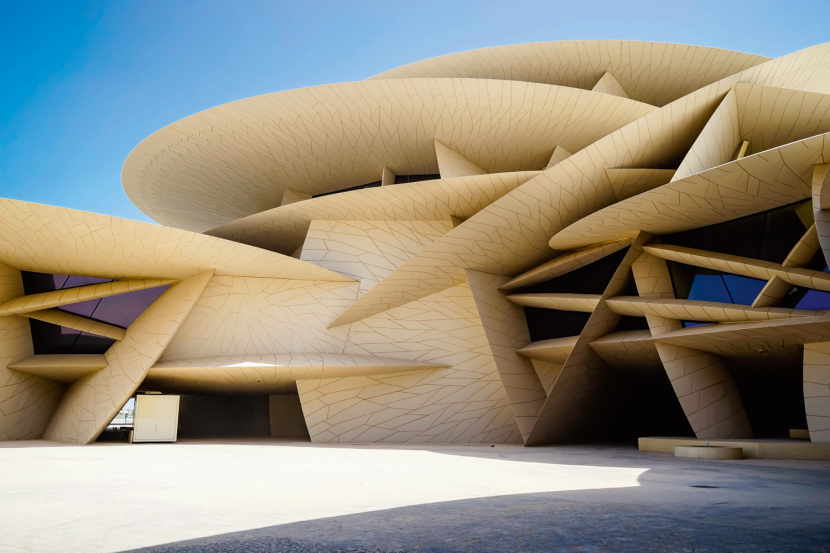 Jutting out at the start of the Corniche is Qatar's extraordinary, new national museum. It is symbolically placed as the starting point of your journey into the heartbeat of downtown Doha and as the previous historic home to the son of the founder of Qatar, Sheikh Abdullah bin Jassim Al Thani in the early 20th century. The museum opened its doors to the public last year and it's already been named as one of the 100 best places in the world. And we can confirm that.
Museum Park Street, Corniche Street (4452 5555).
Photograph the Milky Way
Galactic Core Bay, discovered by a few photographers in Qatar, is the perfect spot to photograph the Milky Way. Make sure you take your camera with you, and you're in a four-wheel-drive, because nothing treats being broke like a good session of photography.
GPS: 26.125920, 51.180480.
Play basketball
Aspire Park has a basketball court that's open to anyone. You'll most likely find it crowded on all weekends, but you can just join the crowds (some of whom run at lightning speeds) or just wait your turn. It's free of charge, but bring your own ball.
Aspire Zone, Al Waab.

Ponder over public art
No matter the season, there are artworks you can check out anytime from the comfort of your car. Drive through the Salwa Road tunnels to see El Seed's Calligraffiti or pass by West Bay to check out Tony Smith's Smoke.
Various locations.
Read a book
You might spend a while outside this marvellous structure (taking pictures), and once you go in, you'll be just as amazed. Qatar National Library (QNL) gives residents access to more than one million books, periodicals and special collections, as well as the QNL Heritage Library. Members can check out books and other media from the main collection and begin using QNL's creative and collaborative facilities, such as the Writing Centre, Innovation Stations and study rooms. There are a number of rooms that you can explore here. We love cosying up on the bean bags with a good book here. We also love the book vending machines. And then we love the… Just go here, already.
Membership free for QID holders. Qatar Foundation, Education City (4454 6039).
Run
With all the beautification works taking place in the country, there's never been a better time to lace up those trainers and hit the tracks. There are regular jaunts taking place in various running clubs such as Doha Bay Running Club and there are year-long marathons being organised by different entities. Not all of them are free, though. Your best bet is to hit the popular jogging spots such as Aspire Park, Lusail, Al Bidda Park, Dahl Al Hammam and The Pearl-Qatar if you're looking for a brilliant backdrop. The weather is great, so show your nearest pavement you mean business.
Sample a farmers' market
Even if you're not buying anything, the farmers' market is just such a great place to spend an afternoon. Walk around the stalls selling items made locally and don't be afraid to fill up on the free samples at most of them. There's fresh produce, food and drinks. You can even take your dogs along.
Sat 8am-8pm. Ceremonial Court, Education City (3067 2516).
See some oryx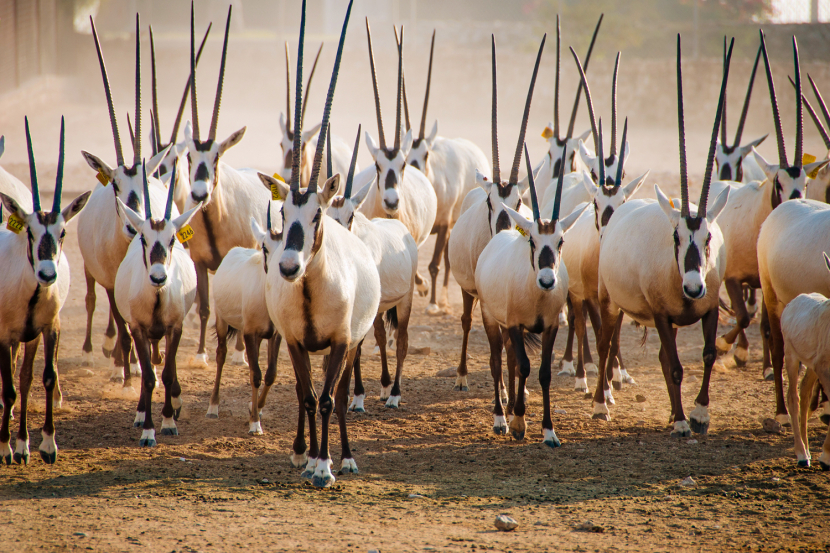 If you're keen to get a closer look at these somewhat mythical beasts, visit the Arabian Oryx Breeding Centre, also known as the Al Maha Sanctuary, in the Shahaniya region.
GPS: 25.383385, 51.216770E.
Show the kids a planetarium
If you've got kids that need entertaining, there are plenty of budget-friendly options. But nothing beats an out-of-this-world experience for free. Take the children to Al Thuraya Planetarium in Katara, with a full-dome digital system and a seating capacity of up to 200 people. There are plenty of shows you can catch, or you can just marvel at the beauty of astronomy inside. The kids can travel through outer space and discover the solar system. A 22 m screen equipped with state-of-the-art projectors shows 2D and 3D tutorials.
Katara Cultural Village (4408 2067).
Soak up some culture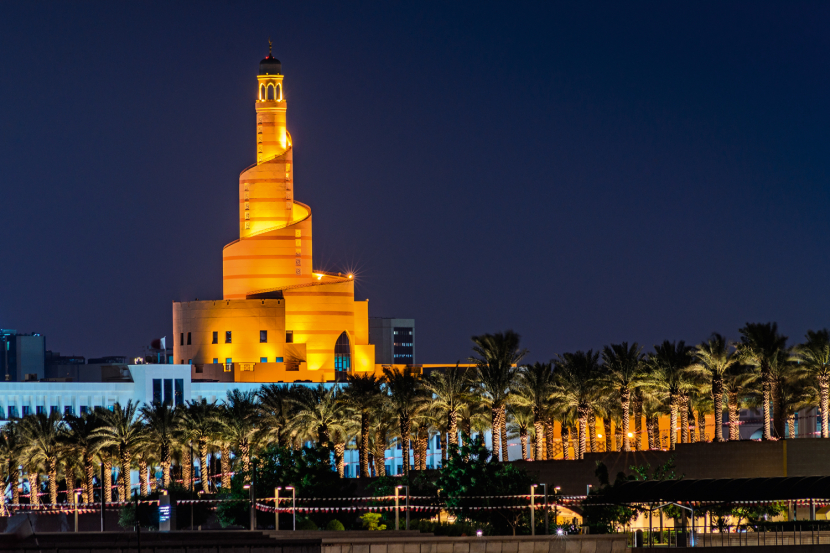 If you spot an unmissable wedding cake-shaped building across from West Bay, you're looking at the Fanar. This beautiful spiral mosque has a unique minaret design, you'll definitely spot if you're anywhere on the Corniche or near Souq Waqif. It's a cultural and religious centre with a library and it's free for anyone to visit and learn more about the local customs. You can also sign up to take Arabic classes here.
Open Sun-Thu 5am-8pm. Al Souq (4444 7444).
Spend an evening at Porto Arabia
You don't really get a lot of chance to feel like you're in a Riviera when you're in Qatar. Unless you walk on the marina at Porto Arabia. With beautiful architecture, benches and luxury yachts to admire along the way, there's plenty of fun to be had and photographs to be taken, all for free, at this thriving shopping, dining and entertainment destination.
Porto Arabia, The Pearl-Qatar.
Sleep under the stars
Enjoy a peaceful evening with your best mates on a camping expedition. Load up a convoy with supplies and head out to the Inland Sea (an experienced driver in a four-wheel-drive required), the Al Khor mangroves or the sand sculptures of Zekreet. Take a bag of marshmallows, too.
Al Khor mangroves: GPS: 25.686798, 51.554510; Zekreet: GPS: 25.597897, 50.827828.
Stroll the streets of Souq Waqif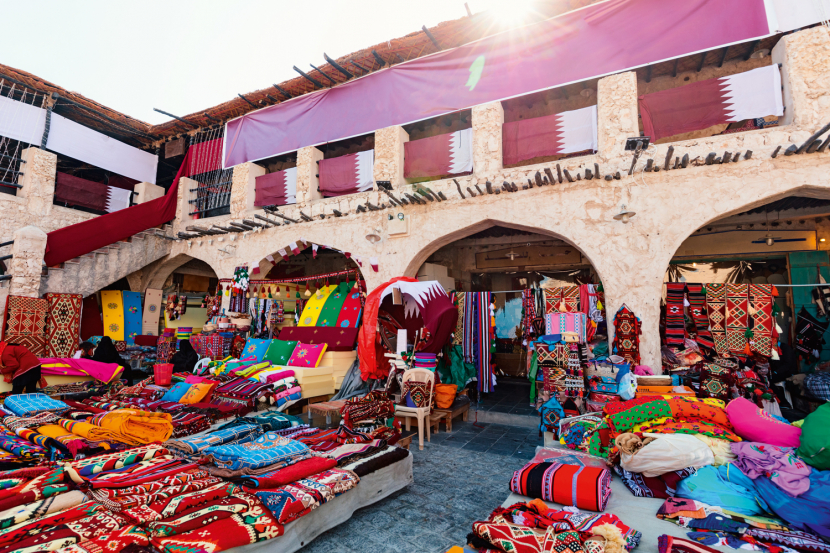 For a truly authentic local experience, haggle through the streets of Souq Waqif. Busy, bustling and vibrant, this is one of the most authentic experiences to be had in the city. Although Souq Waqif was rebuilt a decade or so ago, it sits on the original site of a Bedouin market, so the stone and wooden shops are still original and atmospheric. Thursday nights are liveliest. Most of the squares will have food carts set up selling traditional snacks from across the Arab world. It's easily one of our favourite spots in Doha and just walking around is an experience in itself.
Al Souq (4433 6444).
Try table tennis at Sheraton Park
There aren't too many places in Doha that place a table tennis board, free for the public. But right across the coffee shop in Sheraton Park, you'll find it, and it's accessible 24 hours a day. Time to practise that winning spin-serve and make your opponent run around the park.
Sheraton Park, near Costa Coffee, Corniche.

Take a free audio tour of the Msheireb Museums
Reserve a weekend for a trip to Msheireb Museums in Downtown Doha (you can even pair with a lunch at any of the new five-star hotels in the area such as Mandarin Oriental, Doha, Alwadi Hotel Doha and Park Hyatt Doha). There are four heritage houses to explore. The Bin Jelmood House celebrates the abolition of the global slave trade. The Radwani House shows how family life evolved in Qatar. It's a restored house that preserves local tradition. You can also see how family life was affected when oil was first discovered here, and when electricity arrived. The other two are Company House and Mohammed Bin Jassim House. The Company House is an actual company. It used to be the headquarters of Qatar's first oil company. Mohammed Bin Jassim House is equally interesting – it takes you on a journey through the Msheireb district and shows how it has evolved over the years. The Museums also now have an option for free audio tours.
Msheireb Downtown Doha (800 3642).
Visit the Museum of Islamic Art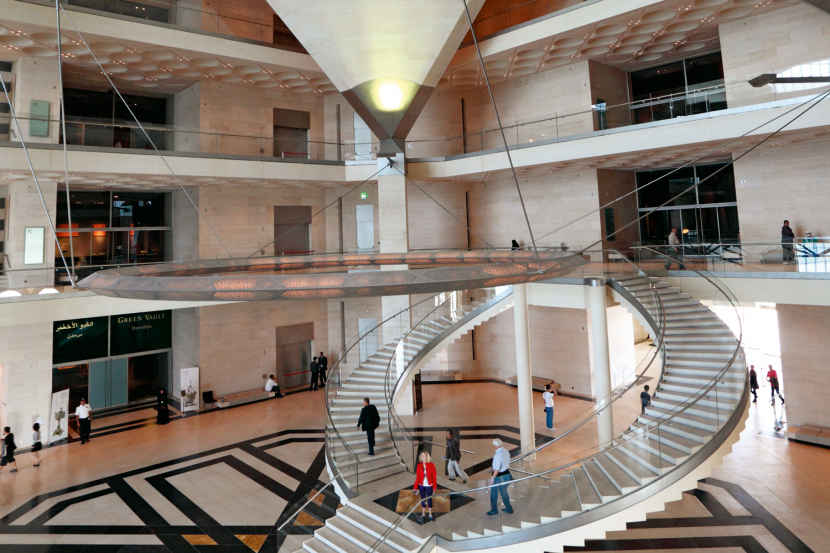 This iconic building has been designed by I. M. Pei and it's pretty high on our list of things to do in Doha. The museum's permanent exhibitions display beautiful objects from across the Islamic world – everything from metalwork, ceramics and textiles to manuscripts – which date as far back as the 9th century. It's worth taking advantage of one of the free tours, too. Whatever you end up doing here, don't forget to enjoy being in one of the most picture-perfect places in the Middle East.
Doha Corniche, www.mia.org.qa (4422 4444).
Walk along the Corniche
This is truly one of the best free things in Doha. The entire length of the Corniche has fantastic sights and stunning views. From the Fanar at the start to West Bay across on the end to the beautifully lit up boats along the way, this is the liveliest spot in Doha at any given time. Do the walk at night to see it in all its neon glory, and enjoy the sound of the waves hitting the stone wall that separates the Gulf from the shore. You'll reach a Costa Coffee at the end, with a nice outdoor seating area and green lawns if you want to just relax.
Walk dogs
There are so many furries up for adoption every month and if you can't adopt, you can at least walk them. From dog socialising to cat care, there are plenty of rescue organisations that are in need of extra hands such as Qatar Animal Welfare Society (QAWS) and Paws Rescue Qatar. There's a volunteer application that you can fill up on their website and spend some time on paw patrol. Not only are you doing the society good, you're keeping the animals and the volunteers happy, you're having a great afternoon, you're keeping fit and you're doing all of this for free.
www.pawsrescueqatar.org.
Wander through Venice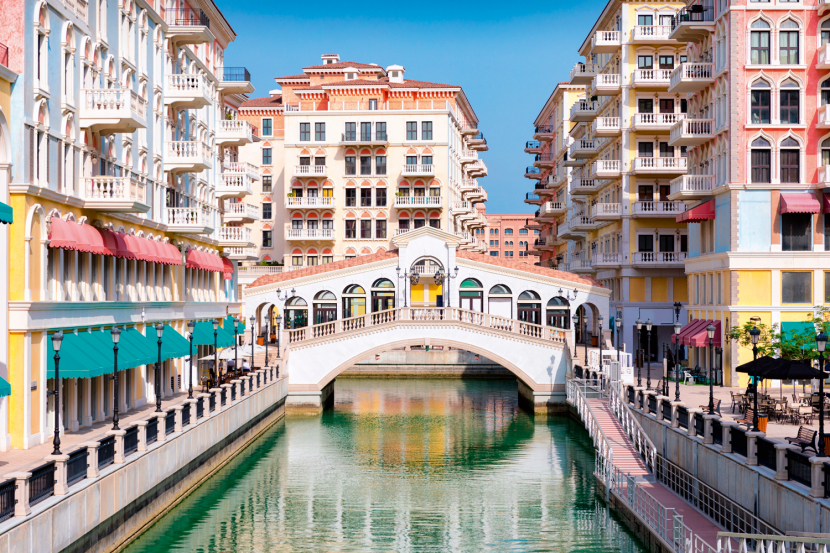 Get a taste of Venice without spending thousands of riyals on a ticket. Qanat Quartier, the Venetian-style section of The Pearl is a real visual treat. It features intricate canals and stylish bridges with colourful houses on either side. Walk around and soak up some afternoon sun at the pedestrian friendly squares and plazas. There are so many quirky and cute cafés such as Volume, Halo, Sadu (check our review on page 31) and Cue. It's fine if you forget your wallet as long as you have your camera here. The sunsket skies are absolutely marvellous here.
Qanat Quartier, The Pearl-Qatar.
Watch the sunrise
Doha looks peacefully pretty at daybreak and whether you're still up from a night out or you're one of those people who love waking up early (unlike us), the Qatari sunrise is a must-see. For a peek at the cotton candy and orange skies, stop by the Corniche, The Pearl-Qatar, MIA Park and Katara.
Be the first to get all the latest Doha news, reviews and deals into your inbox by signing up to our free
newsletter
,
click here to sign up
.