Let's be honest – the only thing we want to do in Doha right now is go out, whether it's to eat at an outdoor restaurant or do some nerve-wracking dune bashing. And if you're a regular outdoorsy person looking for an upgrade to a luxurious SUV to help you go out better, we've got just the one for you.
The legendary Nissan Patrol is steeped in tradition, yet steered by the future. It's the perfect combination of heritage and prestige with purpose.
For dune lovers who value performance even in the toughest of conditions, the new Patrol 2020 is built to tackle every terrain. It is the most powerful and intelligent in its class.
Here is why the Nissan Patrol 2020 perfect to go out in Qatar.
It's stylish
Sleek lines are breath-taking design are not the only impressive things, the bold new Patrol has a strong presence and features luxurious features combined with top technology. On the outside, there's modern design, and on the inside, comfort.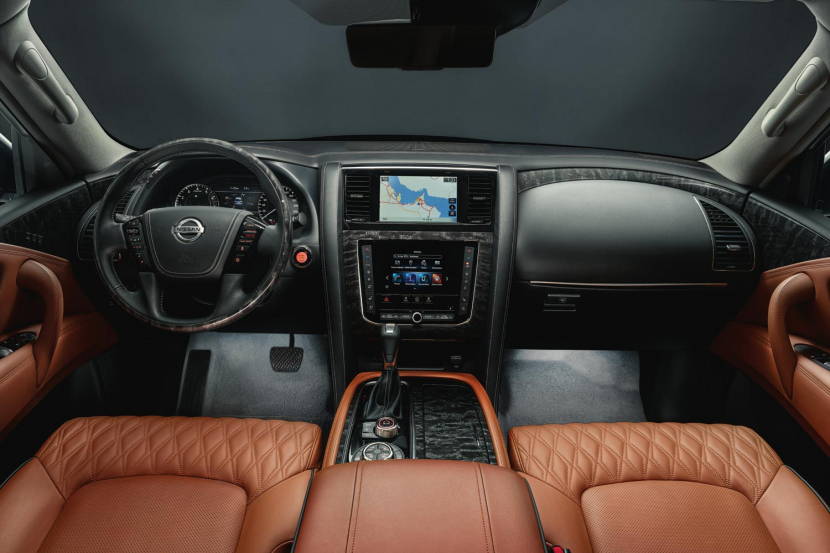 There are stylish horizontal lines across the grille and alloy wheels on the side with a premium finish. The bulge in the hood perfectly expresses the Patrol's power and toughness.
It's intelligent
This SUV is probably smarter than most people you know thanks to Nissan Intelligent Mobility. The intelligent braking system automatically engages the brakes to reduce collision speed and impact with pedestrians or vehicles.
You can enhance your rear view visibility affected by passengers, luggage or low light conditions with an in-built LCD monitor in the mirror, displaying images from a camera mounted at the rear of the car.
Four cameras monitor your surroundings with a 360-degree view, keeping you sharp, focused and always aware. Moving Object Detection also ensures that you are never caught by surprise.
When the Patrol is in reverse, moving objects are detected and the car assists you in engaging the brakes, when and only if needed.
Sensors alert you for vehicles in your blind spots and help you avoid them if your vehicle approaches the lane markers.
With the Patrol's laser range finder, you'll be alerted with visual and audible warnings to potential collisions.
It's perfect for all terrains
You can effortlessly switch between drive modes, making the Patrol remarkably capable in all conditions and in the most demanding surfaces.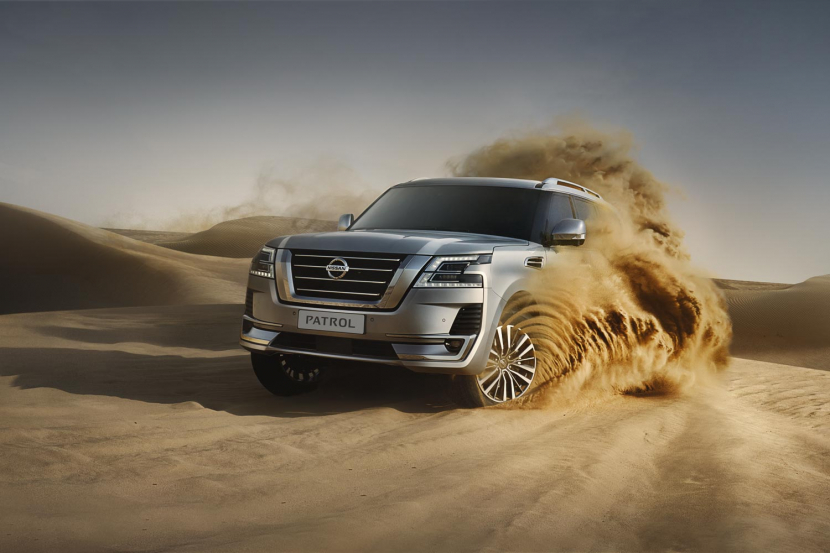 In sand, you can handle the desert with grace and ease. On the road, you can enjoy a smooth city drive anytime. On rocks, you can easily grip any terrain and take on any hill.
It's powerful
The Patrol V6 with 275 horsepower and 394 Nm torque, offers 12 percent more torque in the driving range than its counterparts. The Patrol V8 is the most powerful in its class. At 400 horsepower and 560 Nm torque, it is a force to be reckoned with.
Direct Injection Gasoline (DIG) and Variable Valve Event and Lift (VVEL) technologies offer effortless performance in every scenario.
If it's a smarter drive you prefer, then switch to the Eco mode to prioritise energy control and improve fuel efficiency when you drive.
It's spacious
If you love road trips as much as we do, they only get better with the Nissan Patrol. The vehicle has a built-in cooler box which incorporates a double-hinged design, allowing passengers from both the first and second row seats to access the space – the largest capacity in its class.
The new Patrol's premium interior provides a refined atmosphere – one that is open, welcoming and restful. A spacious, airy layout provides a good look ahead and the driver's seat will automatically be adjusted to your liking, before you get in.
The third-row power seating enables you to optimise your trunk space based on your needs with electric folding seats activated at the touch of a single button.
It's comfortable
Every detail, every inch of this vehicle is crafted to heighten your driving pleasure. The interiors have been conceptualised and executed with purpose, with meticulous attention to detail and every passenger in the car can have a truly luxurious experience.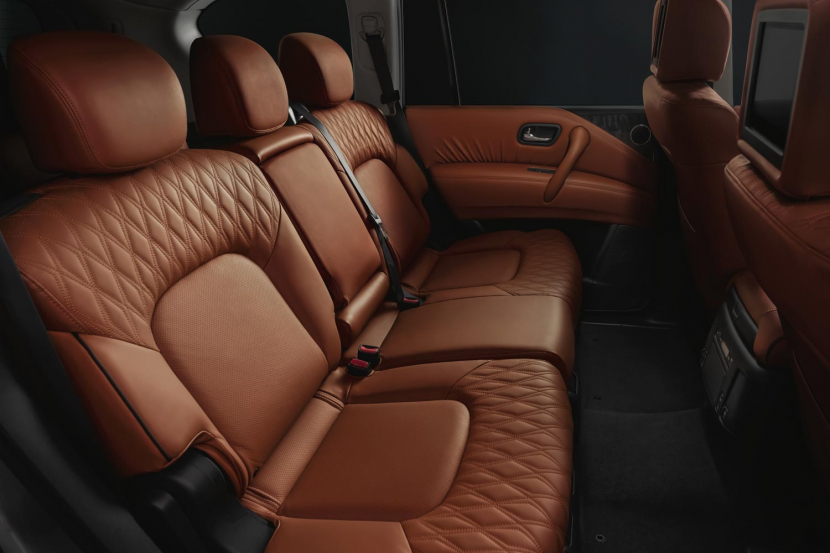 It's versatile
The Patrol features advanced Hydraulic Body Motion Control System with a 4-wheel independent suspension. A world's first, this HBMC System plus its chassis and body frame gives the Patrol superb stability and comfort, no matter the terrain.
It's safe
If you're on the dunes, sliding sideways can be daunting, so the Patrol automatically prevents it with Vehicle Dynamic Control. When a front wheel slips, the Patrol responds by instantly reducing throttle to help restore grip thanks to the Traction Control System.
The Locking Rear Differential can distribute torque evenly to the rear wheels, you can free them from the sand in case you're ever stuck (which we know happens a lot). The Tyre Pressure Monitoring System monitors and displays the current status of the tires.
It's fun
Why have just one infotainment screen when you can have two? With a combination of information and entertainment at the same time, this dual screen is properly convenient.
You can get a clear picture of where you're headed with the 3D Map View displayed on the high-resolution eight-inch screen featuring the multi-touch gesture function.
Stay connected with Apple CarPlay and Android Auto. The second seven-inch screen lets you focus on all the information you need like settings, music and phonebook through the icon-based menu. All this can be controlled with the new IT Commander that's easily within reach next to the gear lever.
You can enjoy wireless phone charging in the centre console while rear passengers can stay charged up with USB ports.
Be the first to get all the latest Doha news, reviews and deals into your inbox by signing up to our free
newsletter
,
click here to sign up
.