We all love a good view and the great outdoors, and Doha's bars and clubs combine the two with flair. Chic terraces, rooftop hangouts, brilliant beach bars – Qatar has them all. Here's 20 places where you should embrace the cooler months and take your party outside.
Belgian Café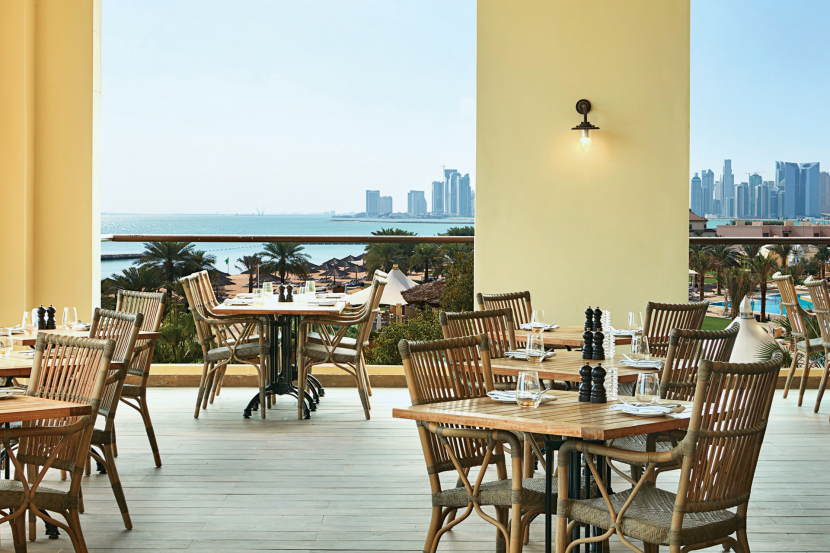 Belgian is easily one of Doha's most popular terrace lounge and almost every expat aspires to be seen here at least a few dozen times during their time in Doha. The setting may be a bit congested, but on weekends, the more the merrier. As the hours go, the noise levels hit new decibel highs (expectedly) and it only becomes more fun. The views from here are special, especially if you look down at the InterCon's gardens and pool area. It's the most perfect after-brunch spot on a Friday. Some of the dishes here are absolutely banging Bring a spare pair of reasonably fancy shoes, in case you want to hit the clubs (Paloma/Lava) later.
InterContinental Doha, West Bay Lagoon (4484 4444).

Dunes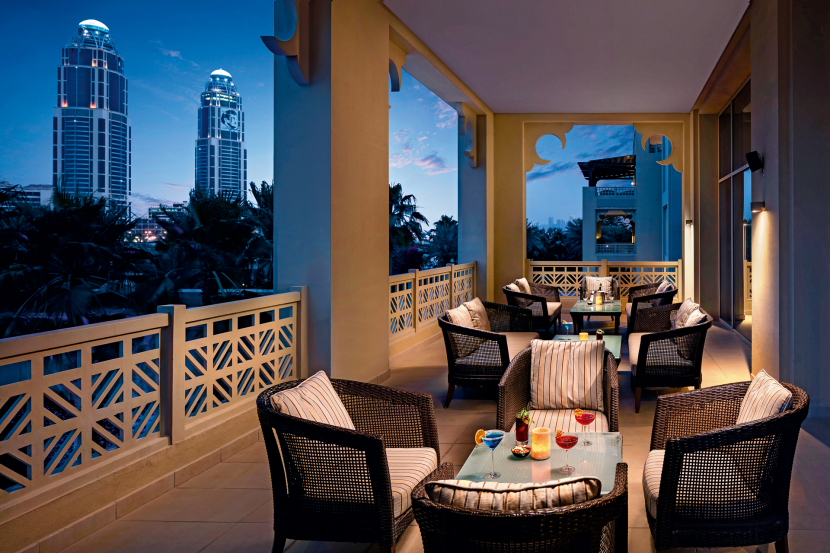 Not a lot of bars have ladies' nights on Thursday, but Dunes is the exception. It's a simple set up indoors with a stage for live bands that usually play retro tunes. The outdoor area has better views in the day than night.
Grand Hyatt Doha, West Bay Lagoon (4448 1234).
La Mar
This celebrity chef-owned Peruvian fine-dining restaurant has gained quite the attention over the last few months. It's a great restaurant to dine in until you set foot outdoors. The deck is extraordinary, and assuredly like nothing you've seen before in Doha. It's right by the beach, close enough to hear the sound of the waves and it's one of the best spots in Doha to catch the sunset. With orange skies above you, one of La Mar's signature beverages and fantastic vibes, this is an experience to savour.
InterContinental Doha, West Bay Lagoon (4484 4444).
La Spiga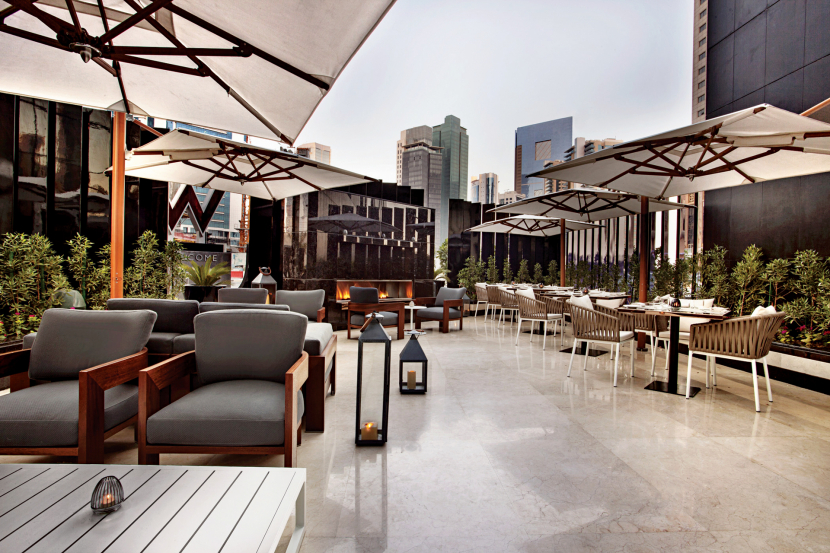 La Spiga is a top choice for Italian fine-dining in the city, but did you know it's also opened an outdoor terrace area that completely changes things up? You can now enjoy your choice of beverage and your favourite plate of pappardelle on a cosy couch outdoors. It's the perfect spot to enjoy some post-work aperitifs with friends.
W Doha Hotel & Residences, West Bay (4453 5000).
Manko Doha
Manko is interconnected to the new La Mar restaurant, occupying the top floor of a cavernous space. Once you go up, you'll pass by a dimly lit bar as you listen to Latin deep house tracks. It's a top option for people watching, with views of the restaurant down below on either side. If you've been holding onto that Cuban for a while and want somewhere scenic to inaugurate it, there's also a lounge nestled among four different beverage bars. Comfy couches padded with starfish patterned cushions overlooking a sparkling view of the West Bay skyline adorn the space. The range of sips is massive with selected beverages starting QR65. Look out for the fresh and fragrant ingredients in cups with amazing attention to detail, from the curved slices of the lemon wedge to a wafer-thin slice of pineapple garnishing the top. Sharing plates and snacks in Nikkei cuisine are available, too. As far as new nightlife spots in the city go, this is our current top recommendation.
InterContinental Doha, West Bay Lagoon (4484 4444).
Misturado
Although the outdoor area is not very spacious, it's almost always lively in terms of crowds. Service can get a bit slow as well, but the chairs are comfortable enough to stop you from complaining too much. Make sure you take a jacket with you as this spot can get pretty windy. Also, don't forget to order a portion of the brilliant chicken wings here.
Crowne Plaza Doha – The Business Park, Najma (4408 7777).

Mix Bar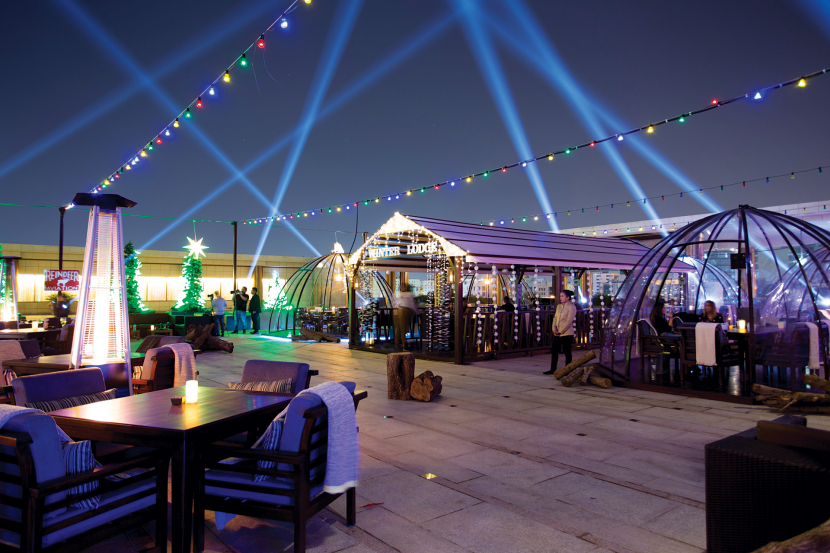 Mix Bar's outdoor area has magically transformed into a winter market that's open until this month end. The Westin Winter Lodge is a first of its kind concept in Qatar – five glass igloo-style lodges and a big tent perfect for bigger groups are the highlights of this exciting space. The décor is cosy with pendulous baubles of lights that illuminate the place by night. Fluffy blankets are served with a smile. We promise you'll be transported to your favourite mountain resort in Europe. There's live entertainment, too. As far as food goes, there's a variety of hot and cold dishes including a selection of charcuterie and cheese, baked brie with caramelised onions, sliders, tartiflette quesadilla and an electic assortment of desserts like the spicy mini-chocolate mousse cakes with KitKat crunch and cheescake bites. We're drooling already.
The Westin Doha Resort & Spa, Fereej Bin Mahmoud (3359 8514).
Nobu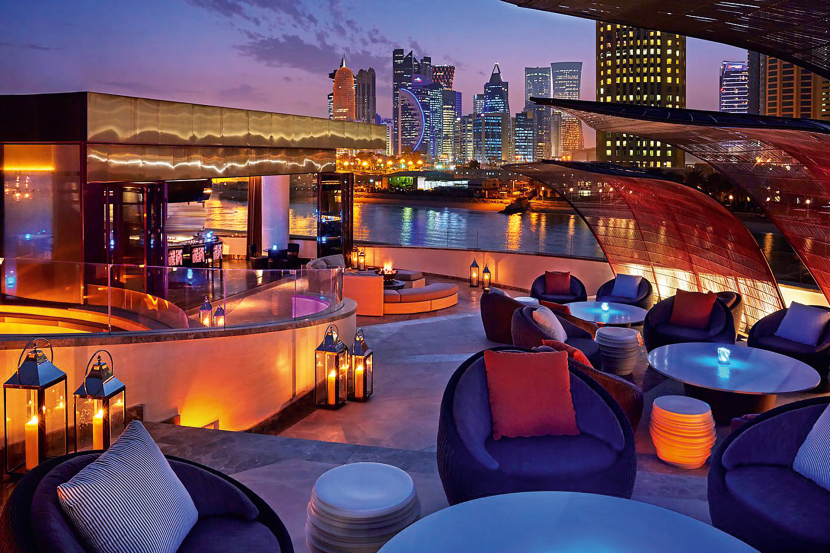 Chef Nobu and Robert de Niro's joint venture in Doha has become an iconic landmark and it's hardly possible that an outgoing expat hasn't visited the world's largest Nobu. The rooftop on the third level is a real stunner with unbeatable views. Mondays are the best day of the week here and every social butterfly strives to be present. You'll love the drinks, the little bites, the vibes and basically everything else about this marvellous nightlife venue.
Four Seasons Hotel Doha, West Bay (4494 8888).
Oyster Bay
This is a proper beach bar with a rack for your shoes as soon as you enter even. Grab a seat by the seaside or the poolside (or even at one of the private gazebos) and watch the numerous live bands that play here every weekend. Acoustic nights on Wednesdays are our absolute favourite. From the best of reggaeton to soulful alternative rock, Oyster Bay is one of those outdoor bars that'll guarantee you'd have an incredible night out each time you visit.
The St. Regis Doha, West Bay Lagoon (4446 0000).
Rooftop
You've no doubt partied here a few dozen times and seen some of the best DJs perform here in the process. This is why we love Rooftop at The St. Regis – the music is great, the beverages are good, the crowds are decent and the overall feel is exactly what we want on a Thursday night. While this venue is more of a lounge, there's a small dancefloor in the centre and you will always find people around the bar area.
The St. Regis Doha, West Bay Lagoon (4446 0000).
Secret Garden
They reopened recently and Secret Garden is unfortunately one of Doha's worst kept secrets. Every stylish expat in the city hibernates here for at least two days per week (Monday is ladies' nights) and they bring their friends, extended families, colleagues and even their neighbours. There are some serious garden vibes here with beautiful string lights and plenty of plants. It's like having a party in your backyard (if you're fancy) but a much bigger and better version with gorgeous views, excellent food (the mushroom truffle pizza here is brilliant), a great range of mixed beverages and fortunately, the absolute
best crowd in the city.
Marsa Malaz Kempinski, The Pearl-Qatar (4035 5757).

Shehrazad
It's not a massive space, but the terrace at Shehrazad is super cosy. Drinks are reasonably priced, there are heaters around and plenty of greenery. The place is always packed as it screens matches here, but if you get here on time, you'll almost always find a nice table for six at the terrace. The bar bites are not too bad and won't burn a hole in your wallet. It's one of those laidback places where you don't have to dress to impress and can always rely on for a good time.
Radisson Blu Hotel Doha, C Ring Road (4428 1428).
Society
We'd be surprised if you haven't been to one of Doha's hippest and most happening nightclubs. Known for bringing some of the best international artists to perform live or take to the decks, Society is the most buzzing spot every single weekend. But it's not all dance and party, you can relax with friends over a few beverages at the back of the terrace area in the lounging area. The tables are lower and shisha is served, too.
Hilton Doha, West Bay (4423 3333).
Sunset Beach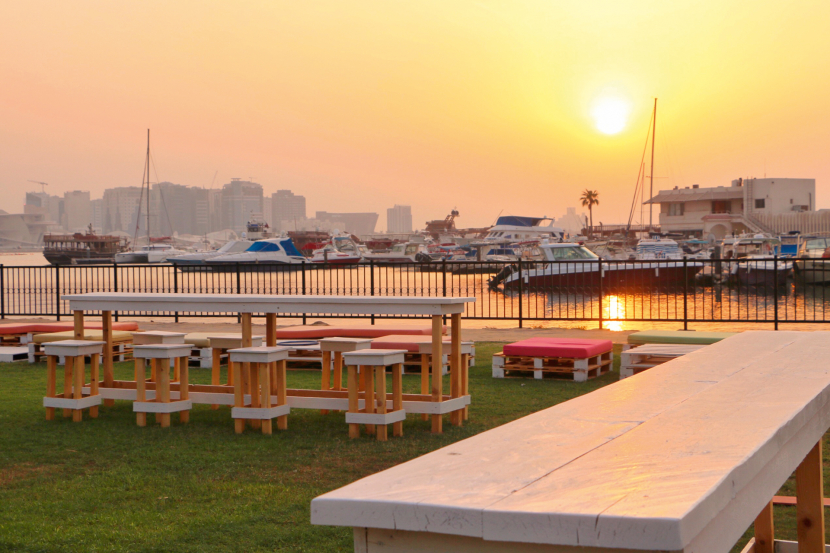 Ever since Flip Flops made a tragic exit from our lives, Sunset Beach successfully replaced it. Located on the shores of the Doha Marriott, Sunset Beach is a fun venue with a laidback beachside vibe. It's casual and chilled with shabby chic recycled furniture, ice pools and wooden earthy shacks. You can tan here all afternoon and party all night – the dress code is relaxed and the environment is friendly. The staff are always around to assist you and you'll most likely end up with large gangs of new friends.
Doha Marriott, Ras Abu Aboud (4429 8888).
The Pier
This casual-chic outdoor, seaside shisha lounge gets so many things right: from the comfortable seating with great views to the actual structure of luxurious cabanas over a curving pier. The food and beverages, though, top everything. Try the black truffle hummus and the Nutella mango kunafa, the dishes are all Arabic fusion. The list of beverages includes all the classics and a few interesting signatures. With the current weather and glorious views of West Bay's picture perfect skyline, the Four Season's clean, sandy beach and the architectural marvel that is Nobu, all right in front of you, nothing else can possibly top this experience.
Four Seasons Hotel Doha, West Bay (4494 8888).
The Ritz-Carlton Beach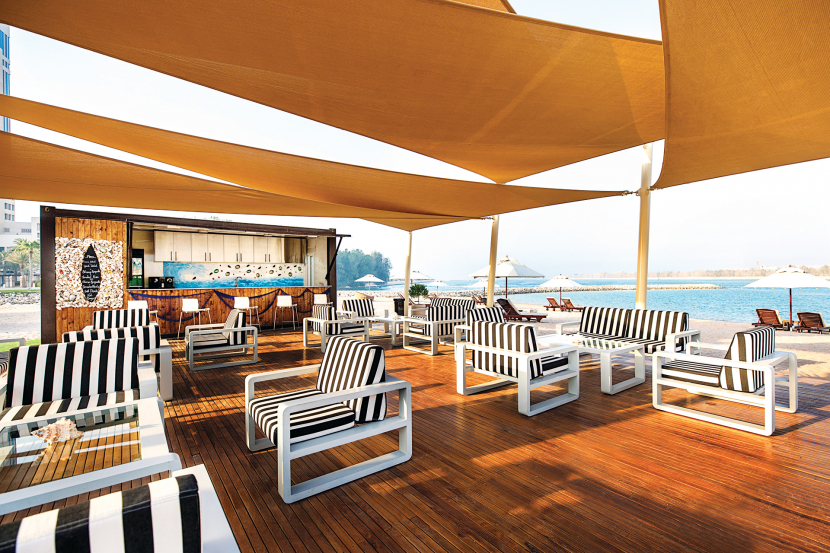 Set on a private island, The Ritz-Carlton Doha has a wonderful beach with its own restaurant and bar menu offering light bites inspired by local ingredients. The beverages include all the regulars. If you're done with tanning, you can even spend the afternoon fishing or trying some sunset yoga.
The Ritz-Carlton Doha, West Bay Lagoon (4484 8000).
Toro Toro
Not ideal on a Friday night if you're looking for a laidback al fresco experience owing to the droves of party-goers that flock this small outdoor terrace on the first floor of Toro Toro. However, for every other week night, this pan Latin American resto bar can put you in the best kind of food coma and then leave you to soak in the incredible ambience upstairs on the terrace. Don't expect much in terms of space and comfort, it's all about the weather and your company, of course.
Marsa Malaz Kempinski, The Pearl-Qatar (4035 5101).
Trader Vic's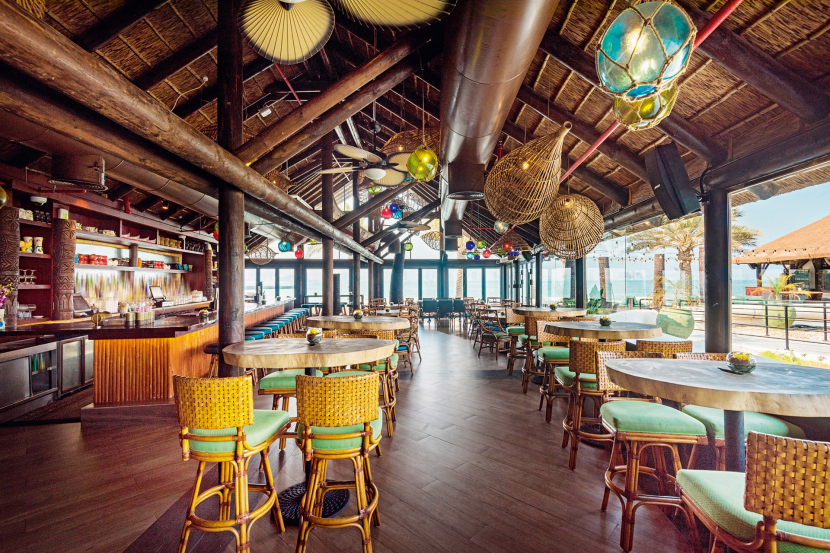 Ever since Trader Vic's opened the new Tahitian Village extension, it's been packed with multitudes of the luau-loving residents of Doha. This Polynesian island-inspired restaurant set on the West Bay shores has live entertainment, comfy outdoor seating and a new menu that focuses on sharing-style dishes. Try the unique sushi choices like Menehune tempura roll and Luau prawns. Another exclusive feature is the meat selection of beef prime ribs and Chateaubriand prepared in a traditional Chinese oven. There are plenty of surprises here and we'll leave it up to you to figure them out. Go on then.
Hilton Doha, West Bay (4423 3333).
Wahm
This stylish lounge has us wrapped around its fingers purely for how excellent the venue is, how great the food is and how vibrant the ambience is. Our love/love relationship with Wahm doesn't just end at its gold ceilings and plush sofas, it goes beyond that, to the outdoor area which is the epitome of stylish, chic décor on the terrace in the city. There are cabanas that aren't exactly private but are just perfect for big groups of people. The food keeps coming, the glasses are always topped up and the vibe is always the best in town. Shisha is served on the terrace. The poolside area makes the loudest possible thumping sounds on weekends and if you think it's too loud, you're too old.
W Doha Hotel & Residences, West Bay (4453 5000).

Walima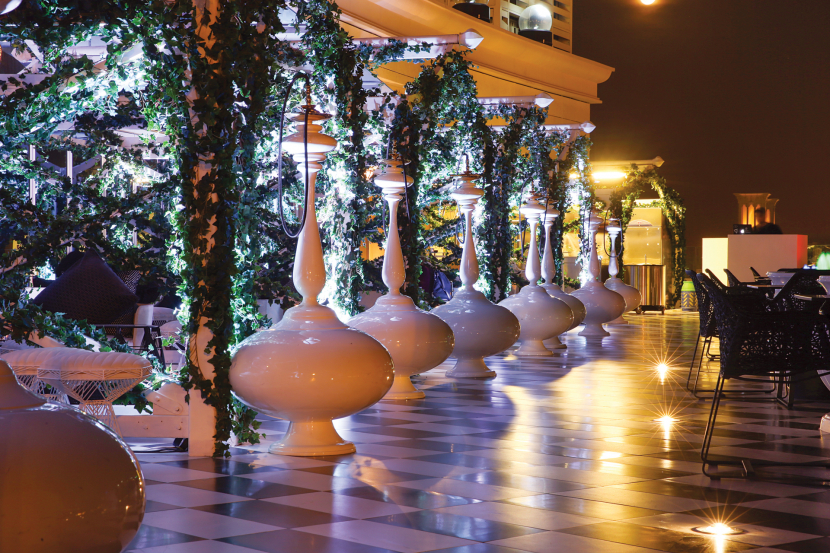 Walima's new outdoor area is spectacular. Marcel Wander's distinct design elements prevail in a contemporary space and the views are just striking. Large porcelain pots of multi-coloured water fountains line the terrace border and there are massive, ornamental shishas placed at corners for decoration on a black and white chequered floor. The space is lined with white cabanas, encircled with lots of lush plants creating a cosy, relaxed environment. The beverage menu has everything from aperitifs and digestifs to tea (including some herbal infusions) and blended juices. Try some of the Qatari-Mediterranean menu items like smoked hummus, minted pesto labneh falafel, cumin-marinated lamb chops with chimichurri sauce and much more.
Mondrian Doha, West Bay Lagoon (4045 5555).
Be the first to get all the latest Doha news, reviews and deals into your inbox by signing up to our free
newsletter
,
click here to sign up
.