Modern life is anything but stress-free, but there are plenty of ways you can make your life just a little calmer.

One of the best ways to switch off is undoubtedly exercise, and yoga in particular always sets our mind at ease.

Whether you're a beginner who's most comfortable in child's pose, or you've been working on your crow pose for years, there are plenty of great yoga studios in Doha for you to try.
Read on for our pick of eight top yoga classes to try in Doha.
EVOLVE
Finding the motivation to squeeze into workout gear and head to an exercise class is hard, but we find it a lot easier when we know we're heading over to one of our favourite hotels. EVOLVE run yoga classes at both The Ritz-Carlton and the Four Seasons, so you know you're going to be treated to five-star luxury at the studio every time you head to class. Plus, once you're finished, you can visit one of the amazing restaurants inside - you deserve it, after all.
QR70. The Ritz Carlton, West Bay Lagoon and Four Seasons, Doha Corniche (5040 3234).
Ezdan Hotel
Although the gym at the Ezdan Hotel only offers a few yoga classes a week, and isn't a dedicated studio, the friendly instructors will have you coming back time and time again. And at QR60 per hour-long class, you won't be complaining about the prices either.
QR60. Ezdan Hotel, West Bay (4496 9620).
Helipad yoga
If you're looking for a truly spectacular, mind-blowing, once-in-a-lifetime yoga experience, we can't think of anything better than a class on top of a helipad. And while this isn't something you can find in every city, in Doha there are two different spots where you can give it a go - the JW Marriott, and Rabban Suites. Classes at the JW Marriott are run by Evofit Qatar, and will set you back QR100, while EVOLVE organise morning sessions every Friday and Saturday at Rabban Suites for QR85. These classes definitely aren't for the faint of heart, but if you're not afraid of heights, the views are absolutely spectacular.
QR100. Evofit Qatar, JW Marriott Marquis City Center Doha, West Bay (4407 6772).
QR85. Every Fri, Sat 6am-7am. Rabban Suites, West Bay (5040 3234).
Ask anyone in Doha for a yoga class recommendation and there's a good chance they'll mention Niya Yoga - and with good reason. Whether you head to the studio in West Bay or Qanat Quartier, there are plenty of class options, including vinyasa and ashtanga. Beginners can learn the basics, and for those who have been practicing yoga for a while, there are workshop style sessions where you can master your inverted poses. The best part? Your first class is free, so you can find out why everyone raves about Niya Yoga without spending a riyal.
QR80 (single class), QR900 (unlimited monthly). Mercato Plazzo 1, Qanat Quartier, The Pearl-Qatar and Gate Mall, West Bay (4468 2562).
The Venue Qatar
Walking into The Venue feels more like you're going into an Instagram-friendly restaurant than an actual gym, but don't be fooled. This ultra-exclusive spot has everything you could need, from an in-house nutritionist to outdoor and indoor pools and fitness classes. Classes include yoga and pilates, so you'll get to practice your downward dog while enjoying your luxurious surroundings.
Prices on request. Abraj Quartier, Tower 1, The Pearl-Qatar (3336 6855).
Vishnu Swasthi Yoga Studio
We can't resist a good view, and the light and airy Vishnu Swasthi Yoga Studio offers up a pretty spectacular seascape from inside the Sheraton Grand Doha Resort & Convention Hotel. Classes here include hatha, detox and slimming power yoga, and there are plenty of classes with the eponymous Vishnu himself. At QR500 a month for unlimited classes, this isn't
QR80 (single class), QR500 (unlimited monthly). Sheraton Grand Doha Resort & Convention Hotel, West Bay (3320 2331).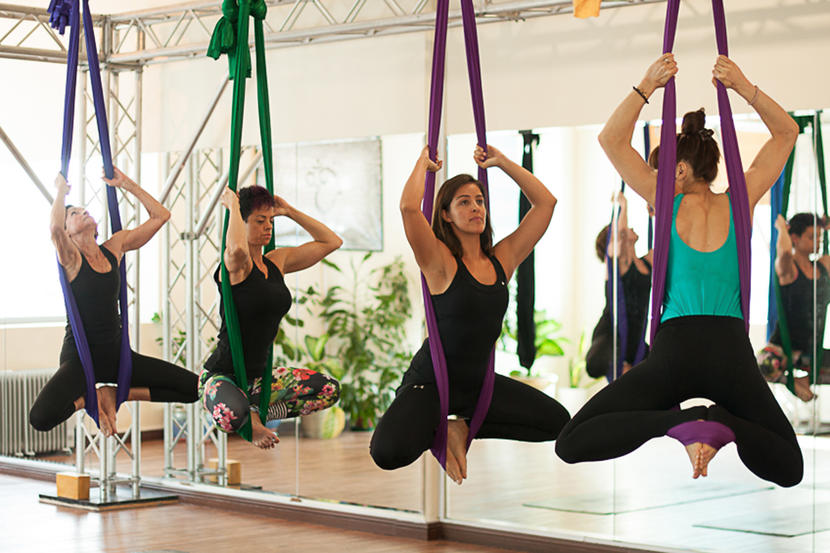 Another favourite among yogis, Yama Yoga Studios is home to some of the best instructors in Doha. Beginners and experts alike are welcome, and if you feel like trying something different, Yama Yoga also has aerial yoga classes as well as dance and meditation. If you want to really up your yoga game, you can also enroll in a course that will last up to eight weeks.
QR30 (online class). Asas Towers, West Bay (5572 1728).
Yoga Hi
Anyone who's ever taken a yoga class knows exactly how difficult, and sweat-inducing, they can be, meaning they're a great way to lose weight without having to jump on the dreaded treadmill. Yoga Hi has classes designed with your goals in mind, including burn and firm, weight loss, core strengthening and even hip opening. Classes start at 7.15am for those who want to squeeze in a workout before hitting the office, or at 8pm if you prefer a later night session.
QR60 (single class), QR599 (16 classes). Bin Dirham Plaza, Al Mansoura (5564 2000).
Be the first to get all the latest Doha news, reviews and deals into your inbox by signing up to our free
newsletter
,
click here to sign up
.