Every reader of ours knows by now that we are major sunscreen proponents. And if there was a little additional advice we could throw in with that, it would be to make sure your sunscreen is waterproof. You're going toneed plenty of it this month because Doha is an incredible destination for every high-speed thrill-seeker in town. Whether you choose to soar over the seas or walk over the waters, we've got you covered. Just don't forget the sunscreen.

Flyboarding
Jets are secured on to your feet while lying flat and before you know it, a vast hose underneath will propel you up into the sky. Make no mistake, you will fall and splash multiple times with barely any dignity left. But once you cross around 15 minutes of instruction, you will be zooming and spinning through the air. Al Mourjan Marinas is the perfect start point and in case you've excelled at this already, explore the jetpack option. The jets are attached to your back rather than feet. Try your hand at walking and diving across the water, as well as flying like a superhero. Take a cape, too, for some added drama.
Blue Marine, Mourjan Marinas, Lusail, www.bluemarine-me.com (4427 2424).

Jet skiing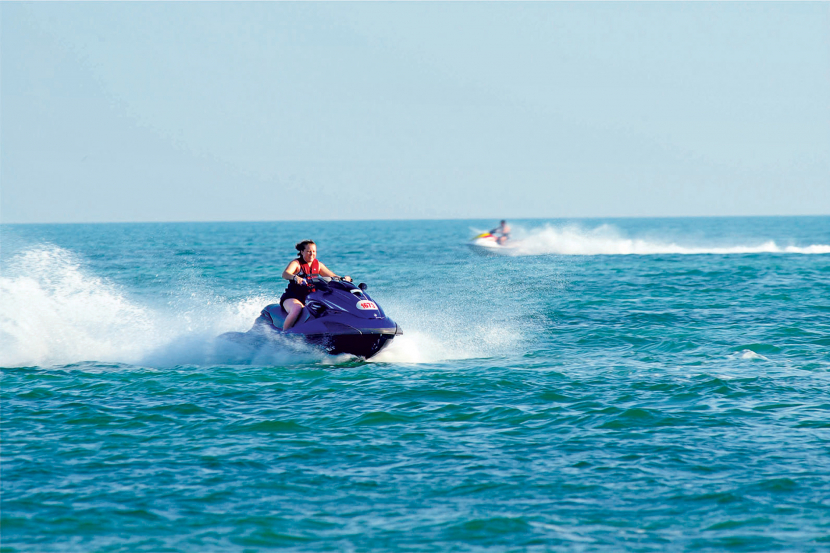 This is Doha's most popular watersport, and as long as you keep the jet skis away from the Corniche and the Pearl, we are all for it. There are several designated spots to ride them and Sealine beach is possibly one of the best options. You can rent one on the beach itself if you're inside the Sealine property. You can also rent from individual watersport companies like Quad Bike Jet Ski Qatar and Blue Marine or hotels like The Ritz-Carlton Doha and InterContinental Doha.
InterContinental Doha, West Bay Lagoon (4484 4444).

Kayaking


There's a designated kayaking area far up north and we promise you it's worth it. Possibly one of Qatar's only green spaces, Al Thakira Mangroves are every expat kayaker's dream. Also known as Purple Island, this kayaking spot takes you through reef egrets, terns, herons and jumping fish. Depending on the season, you might get to see flamingos. If you have a 4WD and your own kayak, you can head down and do so at your own leisure. If you don't own either of those, centres like Entalek arrange organised kayaking tours including equipment for as low as QR100.
Entalek EcoAdventures (3023 3207).

Kiteboarding
Kiteboarding combines elements of windsurfing, wakeboarding, surfing, paragliding and gymnastics into one incredible activity. Learn the ropes in a beginner's lesson at Flo Kite School, you even have the option of taking a two-month course. You can even get an International Kiteboarding Organisation certification. Flo Kite School has kiteboarding locations all over Doha from Fuwairit to Zekreet. It may take some time to master, but once you get the hang of it, you'll look seriously impressive out there.
Flo Kite School (3315 5628).

Sailing
Officially recognised by the UK's Royal Yachting Association, Regatta Sailing Academy is a watersports centre where you can learn the highest form of boating skills and undertake theory and practical testing. Various levels of junior and adult sailing are taught with a variety of craft. It is also a community hub for sailing enthusiasts around the region and organises races and competitions. You can just casually head out sailing over the weekend with your pals, too. And if we hear you channelling Bill Murray's character from What About Bob? by yelling "I'm sailing!" and "Ahoy", we will try not to judge.
Regatta Sailing Academy (3363 2515).

Scuba diving
Diving is a key part of Qatar's rich culture. It was once a pearl diving hub and the love of the sea still plays a part in the nation's heritage. There are a variety of dives off Doha's coast with most ranging from six to 20 metres. Take a scuba diving tour and all year round you can see blue angel fish, natural corals, stingrays, barracudas, turtles, groupers, banner fish, king fish and lots of smaller fish, especially on wreck dives. Head down to Poseidon Diving Centre at Hilton Doha for dozens of different training courses ranging from taster sessions and junior bubble-maker lessons to advanced training and photography courses. If you're too afraid of the deep blue sea, Banana Island has a special glass box for pool diving.
Poseidon Dive Centre, Hilton Doha, West Bay, www.pdcqatar.com (6608 4040).

Stand-up paddleboarding
Initially, you might be a little intimidated by stand-up paddleboarding if you've had no previous experience. It takes some serious balance, core strength and boldness to float out into the ocean atop what looks like an extra-large surfboard. The good news is Qatari waters are so calm and almost perfect for something like this. Try the super buoyant boards in a lesson at Qatar's first SUP school operating on the Pearl. Sessions are offered for all age groups and all levels from SUP basics and family SUP to SUP kids, SUP yoga and SUP racing. This might be a good month to work that summer bod.
www.bluepearlexperience.com/sup.

Surfing
True, Doha's shores do not even have a semblance of a wave, but that doesn't mean you can't ride one, or two. Aqua Park Qatar gives you the chance to try the world's first surfing half-pipe simulator ride. Ride up curved walls at 90 degree angle to the direction of the water and then tell us this is not a sport. It's as exhilarating as it is fun.

You can also learn how to surf in a controlled environment at Banana Island's splash surf pool. Professional instructors are available to supervise you and waves can be customised to suit any level of proficiency.
QR150 (30 minutes). Daily 8am-9pm. Banana Island Doha Resort by Anantara (4040 5050).

Best clubs for watersports
Blue Marine
This top watersports centres is located at various hotels around Doha and offers a full line-up of exciting watersports. From yacht charters and dhow trips to hover boards and water skiis, Blue Marine has everything. You can even try the super-fun Banana Boat ride. Blue Marine also has hydro bikes and plenty of other exciting equipment.
Various locations, bluemarine-me.com (5552 5520).

Blue Pearl Club
This multiple-venue sports membership club has permanent bases at Porto Arabia, Qanat Quartier Marina and the Marsa Malaz Kempinski. It hosts sessions and equipment hire at beaches in Fuwairit, Zekreet, Inland Sea and Dukhan. The various locations offer some combination of surfing, kiteboarding, stand-up paddleboarding, windsurfing and kayaking. There is a strong community feel in this club and if you're looking to make a few friends while splashing around, this is your best bet.
Blue Pearl, Porto Arabia, The Pearl-Qatar, www.clubbluepearl.com (6660 2830).

Katara Beach Club
Katara is more than just a cultural village. There are gondola rides, pedal boats and sailing excursions among other things. There are motorised activities to blow your mind. Don't believe us? How does a motorised robot shark sound to you? The Seabreacher can be piloted in tandem or solo. Or there is the Jetlev-flyer. Never heard of it? All we're going to say is that it is a water-powered jetpack that lets you fly over the surface of the sea.
Katara Beach, Katara Cultural Village, www.katara.net (4408 0000).

Sora Marine
In partnership with The Diplomatic Club, Sora Marine Training offers a one-stop shop to facilitate all your aqua adventures. Learn sailing, diving, wakeboarding, water-skiing, wakesurfing and powerboating, all with qualified instructors at the helm. You can take courses, sign up for watersports camps and so much more.

The PADI-certified diving lesson (QR300) includes an introduction to breathing underwater in the pool, and the open water scuba diving course (QR2,000) includes a theory and a pool session and four sea dives.

For QR1,800, you can take the RYA Standard Sailing Course, taught by qualified, highly experienced instructors.

Sora Marine Training's wakeboats can be rented for QR400 per hour on weekdays and QR500 per hour on weekends for a maximum of three people. You can learn to wakeboard, wakesurf and water-ski with the help of an instructor if you're a beginner.

Private kitesurfing lessons off Fuwairit beach for QR650 per hour are available, too.
Sora Marine Training, The Diplomatic Club, info@soramarinetraining.com.

Best hotels for watersports
Banana Island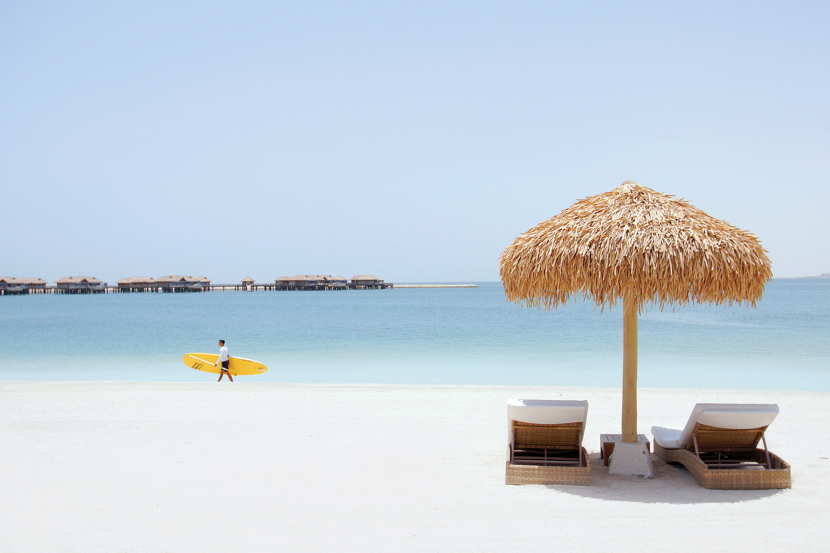 This premium staycation destination is a 25-minute catamaran ride away and as soon as you enter the Maldivian-style island, you'll be stunned at just how many exquisite locations are present for you to go all out in the watersports department. The turquoise waters are great for diving or snorkelling and if you want some more adventure, you can go on yachts, kayaks and banana boats. The watersports options are plenty – donut rides, water-skiing, paddle boats, hydro bikes, jet boats and so much more. You can even go on fishing trips. We literally can't think of a better place to spend a wet but totally fun and relaxing weekend.
Banana Island Resort by Anantara, Banana Island, www.anantara.com (4040 5050).

Hilton Doha
As well as being home to Poseidon Dive Centre, the Hilton has watersports managed by the highly regarded Blue Marine group. You can try all kinds of exhilarating watersports including flyboarding, jet skiing, donut rides, water-skiing and more. And all of this is within view of the West Bay skyscrapers and on the Hilton's plush private beach.
Hilton Doha, Diplomatic District, West Bay, www.hilton.com (4423 3333).

InterContinental Doha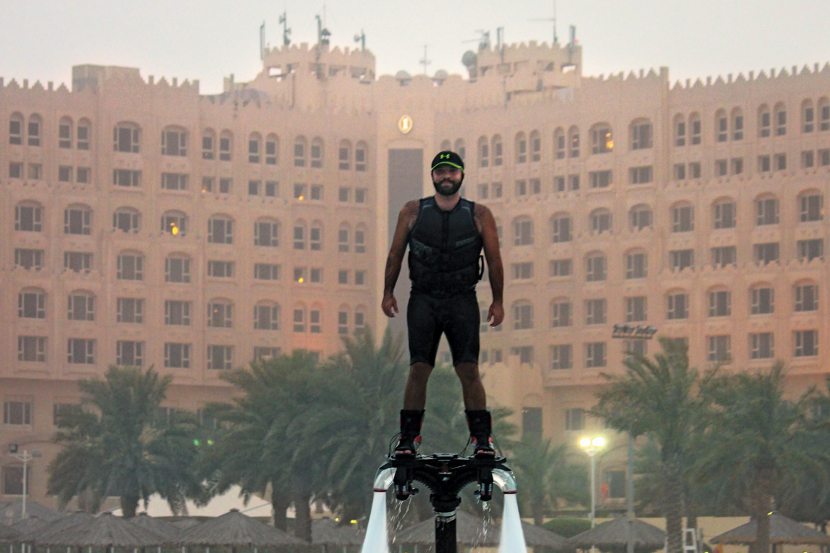 The most popular sport here is stand-up paddleboarding and we've seen yoga on boards, races on boards and guided tours on boards. It all starts with lessons and the tentative steps of a beginner. Bay Club in the Intercontinental Doha will have you standing up and paddling around the seaside in no time. Jet skis and flyboards are available here, too.
InterContinental Doha, West Bay Lagoon, www.ihg.com (4484 4919).

Sealine Beach Resort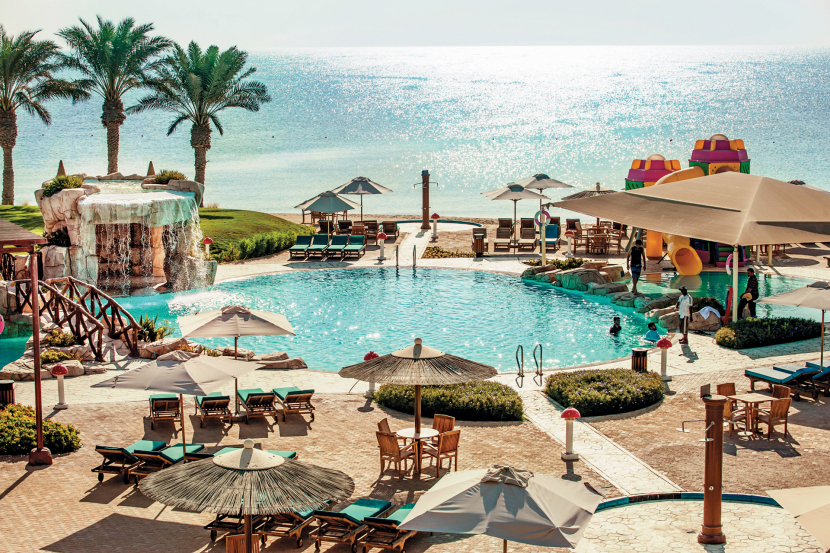 It might be an hour's drive away but it's the perfect escape from the urban hustle of Doha. You can either stay overnight in one of the gorgeous chalets here or just head straight for the beach, slap on some sunscreen and jump on a jet ski. The property also has fly boarding and banana boats and since it's super remote, you never have to worry about disturbing central solace seekers.
Sealine Beach Resort, Mesaieed, www.sealinebeachqatar.com (4476 5299).

Sharq Village & Spa
Perfect for family days out, Sharq Village & Spa has sandcastle competitions for children on the beach. And while the kids are busy building their dream moats, you can head into the sea for a sunset paddleboard trip or glide a kayak up and down the water's edge before slouching back into your sunlounger. Just the kind of relaxation we need every weekend.
Sharq Village & Spa, Ras Al Abu Abboud Street, (4425 6666).
Be the first to get all the latest Doha news, reviews and deals into your inbox by signing up to our free
newsletter
,
click here to sign up
.