March means only one thing for MotoGP fans – the opening race of the MotoGP season at the stunning Losail Circuit in Qatar. This unique track is much loved by riders and fans alike and it is the only race of the season with a glorious setting under the stars at night.

Ahead of this year's event, we chat to Ducati rider Andrea Dovizioso, who shares his thoughts on the upcoming season.

Aged 32, Dovizioso is what you might call a grizzled veteran of the MotoGP tour. He has worked his way up the ranks, becoming world champion with the Honda team in the 125cc category in 2004 and a runner-up in the 250cc category in 2007. After spending another four years with Honda and a year with Yamaha in MotoGP, he joined Ducati in 2013 and enters his seventh season with his eyes on the title after a second place finish last year.

Racking up over 2,000 points and 50 podium finishes assures us he knows a thing or two about competing in one of the toughest sports in the world. Having been with the Ducati team for the past seven seasons, it's his second home and brings him an enormous sense of pride being an Italian rider for an Italian team so rich in history. He says, "It's a great honour. It's an Italian bike, almost all the team is Italian and now, seven years later, we all know each others strengths and weakness quite well."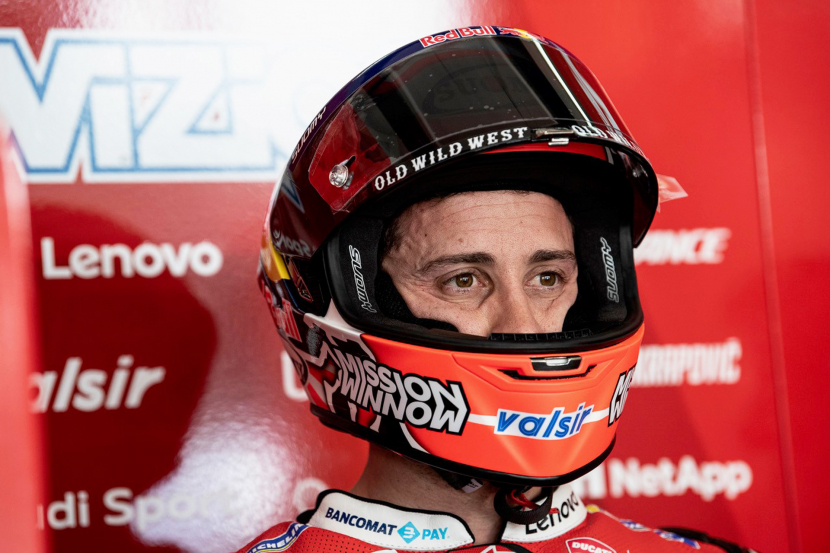 Photo finishes
Last year, Dovizioso won the race in one of the most extraordinary finishes in the Qatar Grand Prix history. Holding onto the lead, he passed the finish line just 0.027 seconds ahead of title rival, Marc Marquez. "It was an amazing win after a really tough race. There was this face-to-face with Marquez and I remember having so many friends coming especially from Italy to see me race, so this was also very important for me," he says.

Why he loves racing in Qatar
Dovizioso feels right at home on the Losail circuit and feels his Ducati bike is ideally suited to its unique features. "Qatar is one of my favourite GPs of the season. It's so special. It's one of the circuits where we can draw on the stronger points of the bike, especially on the straight which is the key point to overtake our rivals. It's one kilometre long and we surpass more than 350kmph," Dovizioso enthusiastically explains.

The path to the very top of MotoGP is extremely tough for young riders wishing to build their careers in such an ultra-competitive sport. "There is no real secret," he says. "If you like racing and you love motorbikes, there is only one way – work, work and work. Becoming a MotoGP rider requires you to take the long road. You need passion for motorbikes and determination, which is the key to training and competing in the right way. This is what will help you overcome all the obstacles in your way," Dovizioso says.

For most people, riding a motorbike at 200mph would be an absolutely terrifying experience and it takes a special kind of passion to want to do this for a living. "Maybe we are a little crazy," he laughs. He is, however, very conscious about the risks involved and chooses not to dwell on it too much. Dovizioso says, "As riders, we tend to start out really young, so riding a bike at these speeds is something natural for us."

The feeling of racing through the track must be something else. We ask him to put it into words. "It's a combination of pure adrenaline and excitement. I'm a lucky guy, I do what I love and I love what I do," he says.

Work-life balance
Dovizioso, like many of us, still tries to maintain a good work-life balance and shares, "In the last few years, I discovered that it is also important to find moments to relax and spend time with family. And I love doing that especially with my daughter and friends."

The Italian definitely has the philosophy of working hard and playing hard but his practicality extends to every situation. When we asked him what three things he would take if he was stuck on a deserted island, he thoughtfully reveals: "Friends, music and sun-screen." We couldn't agree more. If you have been a faithful Time Out reader for a while now, you would know how big we are on sunscreen.
Looking back and moving forward
When starting out in MotoGP, Dovizioso didn't take anything for granted. He's optimistic about the season ahead. "I'm still learning new things about the bike, the learning never stops. My relationship with the team is really good and after a long time, we are exactly where we want to be, fighting hard for the title," he proudly concludes.
QR255 (Grandstand tickets for three days, starting), QR4,550 (VIP Village, starting). March 8-10, 1pm- onwards (race timings vary). Losail International Circuit, www.circuitlosail.com.
Be the first to get all the latest Doha news, reviews and deals into your inbox by signing up to our free
newsletter
,
click here to sign up
.