You're going to feel it in your fingers, you're going to feel it in your to-oes. If you're wondering what "it" is, we're referring to the all the coloured powder that you'll be doused in this month end. It's that time of the year again when the happiest 5k on the planet comes back to Doha. We're just crossing off the days with multi-coloured pens until The Color Run 2020 takes place on Saturday January 25.

This year's theme is Love Tour and the popular race comes with the grooviest packs for participants, encouraging you and your friends to let the love shine while you take part in one of the most memorable family activities of the year.

The Love Tour 2020 edition in Qatar is a celebration of what we love about ourselves, each other and the planet we all share.

And as emotional and positive as that sounds, there's that much fun to be had at the run. And it's a great way to pump some positive vibes into everyone at the beginning of the year.

The Color Run presented by Sahtak Awalan: Your Health First, a health campaign of Weill Cornell Medicine-Qatar will kick off at Qatar National Convention Centre, 7am onwards.

The fifth edition had more than 9,000 participants and we're even more optimistic for this year, given the theme.

For those who haven't experienced this untimed event yet, all runners are covered in coloured powders from head to toe.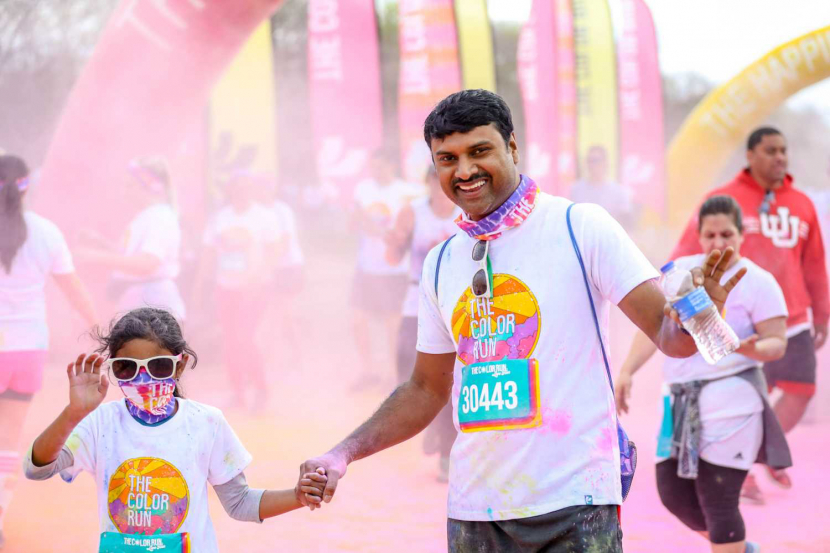 You wear white at the starting line and finish the race plastered in colour. Once the run is complete, you can still continue having fun at the Finish Festival. This is basically a massive party where you can dance and celebrate with music, photo ops, activity booths, vendors and more massive colour throws creating millions of vivid colour combinations.

You'll have to register in advance and get your participant pack online. The packs come in four categories, starting with a free Little Color Runners pack for children aged four and under, which includes a bib and a medal.

If you shell out QR55, the kids can additionally get a love t-shirt, headband, reusable Bag, sun tattoo, a badge, bib, welcome card, sponsor goodies and a medal and colour packet at the finish line. For adults, there's a regular pack that you can purchase when registering for QR170. This participant pack includes all of the stuff in the little runners' pack.

For QR280, you can grab the 2020 Limited Edition Love Tour Deluxe pack, which includes deluxe parking, Love Tour glasses, socks, bracelet and bandana, in addition to the love t-shirt, headband, reusable bag, sun tattoo, badge, bib, welcome card, sponsor goodies, colour packet and medal at the finish line.

Expect a lot of colour-throwing, grooving to some fun tunes, wearing multi-coloured wigs, and a whole lot of love.
Free (without participant pack for children), QR55 (children), QR170 (adults), QR280 (with deluxe participant pack). Jan 25, 7am-onwards. Qatar National Convention Centre, www.thecolorrun.qa.
Be the first to get all the latest Doha news, reviews and deals into your inbox by signing up to our free
newsletter
,
click here to sign up
.