If you're the kind of parent who dreams of a thrilling future for your kids the moment you see them riding a bicycle fast, it's time to start planning their career and tap into their talent. Qatar Motorsports Academy (QMA) is where the little ones can train from a young age, with help from several motoring experts. QMA was launched in 2018 during the final round of the WorldSBK Championship that concluded at Losail International Circuit (LIC) together with Dorna Sports and Aspire Academy. We chat with Maverick Viñales, Monster Energy Yamaha MotoGP Rider and ambassador of QMA, who moved to Qatar to help and support the young riders.
How does training kids at an early age help them?
This is an interesting question. In my opinion, riding bikes as a kid contributes to the way their character is formed. Although it may not seem like it, motorcycling is an individual and collective sport. Individual because it is a personal challenge, to improve every time, and it increases self-esteem. Progress can be seen and measured easily and it teaches children to get back up when they fall

Practicing it with other children teaches them to respect others.

Also, it is an activity that requires strict respect for the rules. In addition to all this, and most importantly, riding a motorcycle is fun. Are there any kids who aren't really attracted by motorcycles?
But can't they learn when they are older?
There is no age limit to learn how to ride a bike. I know people, men and women, who have learned to ride in their thirties or forties.

Here in Qatar, we are lucky to have the Losail facilities and the academy with extremely well-prepared staff. There aren't a lot of things that can give you more satisfaction than riding a bike in a safe environment.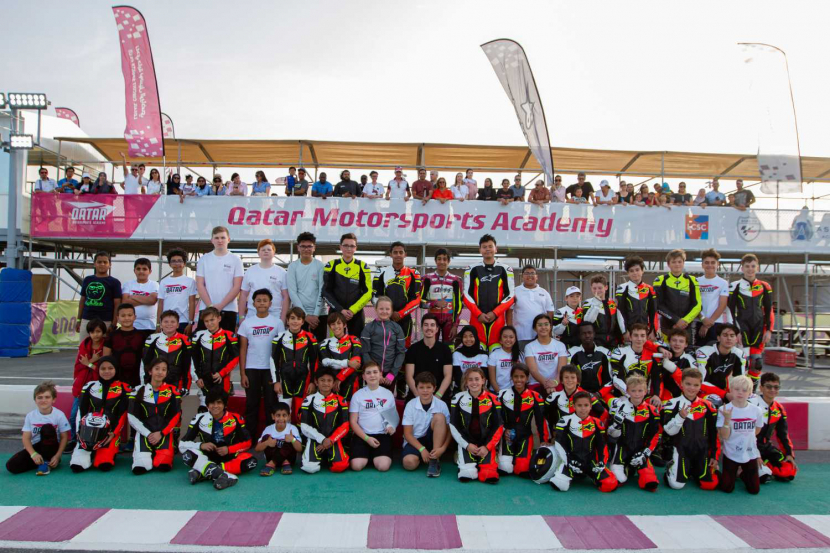 What about safety for the kids?
Safety is the number one priority. It is key to use correct riding gear on the bike and when riding, they are taught to follow proper riding behaviour and rules.
How safe is it to train them?
Motorcycle riding isn't tennis, this is obvious. But neither is bicycle riding. To ride a motorcycle implies risk, but kids training in a controlled environment, under the supervision of professionals, minimises the chances of any issue. To learn and train in facilities that QMA offers, for instance, is something I would, without fear, put my kids into (if I had kids).

What kind of precautions are taken?
We have the best security and protection measures. All QMA facilities are approved by the FIM, which means that riders can enjoy the practice with minimal risk. The riders also have the best possible equipment, and this also guarantees their safety in the event of an accident.
How do you see your role as an ambassador?
Having made Losail my training base and considering the facilities offered, I am happy to help with the kids and to spread the word about what is being done there. Qatar is working well and doing everything with the future in mind.
What advice can you give to young riders who want to pursue a career in motorsports?
First of all, have fun. Having good facilities and the best technical materials/resources helps speed up the progress of the riders.
Also, the riders need to know that, as in every sport, effort, spirit, sacrifice and overcoming obstacles is essential to becoming a great rider.
QR3,800 (first term), QR2,800 (second term), QR2,400 (third term). Motorbikes, riding gear, spare parts, maintenace and insurance included. Open to kids aged six to 16. Losail International Circuit (3324 2266).
Be the first to get all the latest Doha news, reviews and deals into your inbox by signing up to our free
newsletter
,
click here to sign up
.