While we can't dine out in Qatar at the moment, why not spend some time bingeing on your favourite TV show and ordering food to be delivered.
Here are 60 places that take orders directly or through Carriage, Snoonu or Talabat.

Stay safe, Doha.
JUMP TO:
---
Bubba Gump
For a big seafood feast at home, try the Shrimper's Net Catch from Bubba Gump. You can choose garlic or Cajun spice, but we always go with the latter.
Umm Slal Mohammed, www.talabat.com, www.snoonu.com.
Eatopia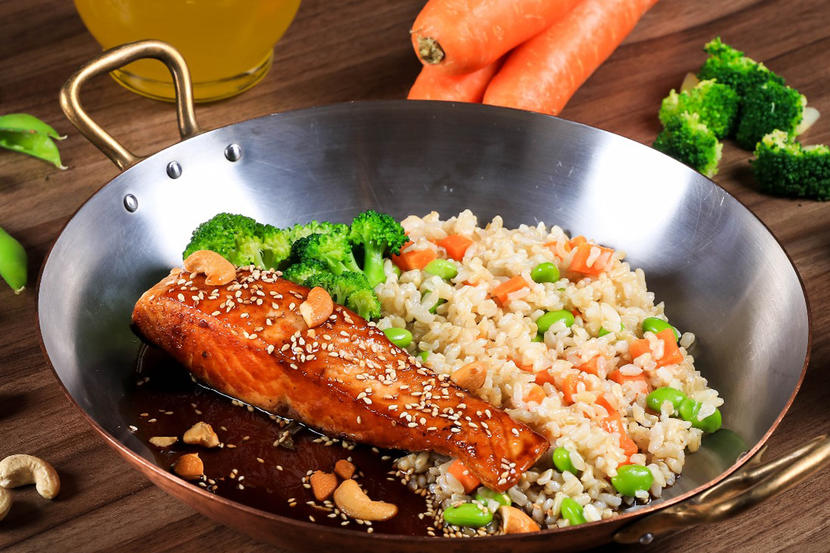 The international menu covers Italian and Western food as well as sandwiches, sushi and desserts, Eatopia does Middle Eastern fare particularly well. The grilled meat platters are tender, moist and full of flavour and go well with the creamy hummus with pine nuts. If we have to recommend something, it'd be the falafel platters, pepperoni pizza and salmon teriyaki.
The Gate Mall, Dafna (4020 6400).
Gerry's Grill
If you're craving some Filipino classics such as chicken adobo, beef sisig or halo halo, this is where you need to order home delivery from. Gerry's Grill is a well-known chain that comes from the Phillipines and serves a good variety of the country's most common dishes, many of which have a lot of similarities to Westernised Chinese food. The restaurant specialises in seafood and there's everything from baked tahong (mussels baked with cheese) to grilled fish or squid and pinaputok na cream dory – dory cooked in a banana leaf with tomatoes, peppers and onion.
Al Nasr (4443 8323).
Horatii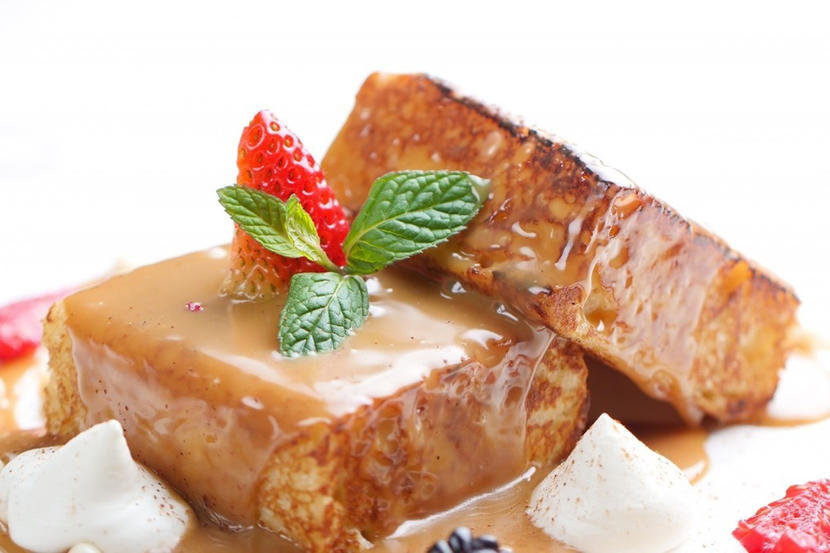 You can still have fantastic desserts without stepping out. Horatii's entire menu is on Talabat (yes, including the famous French toast) and there's a special express menu that starts at QR35. If you have a big family, there's a home catering service as well. Order the sponge cake for QR180 if you're celebrating a birthday.
Al Hazm Mall (3309 7715).
Karak Mudeer
This food truck located behind Woqod at The Pearl makes tasty chapatis with a variety of fillings and karak, of course. Our favourite here is the cheese with Oman chips, but there are other selections, too.
The Pearl-Qatar, www.trycarriage.com.
La Casa Twenty Eight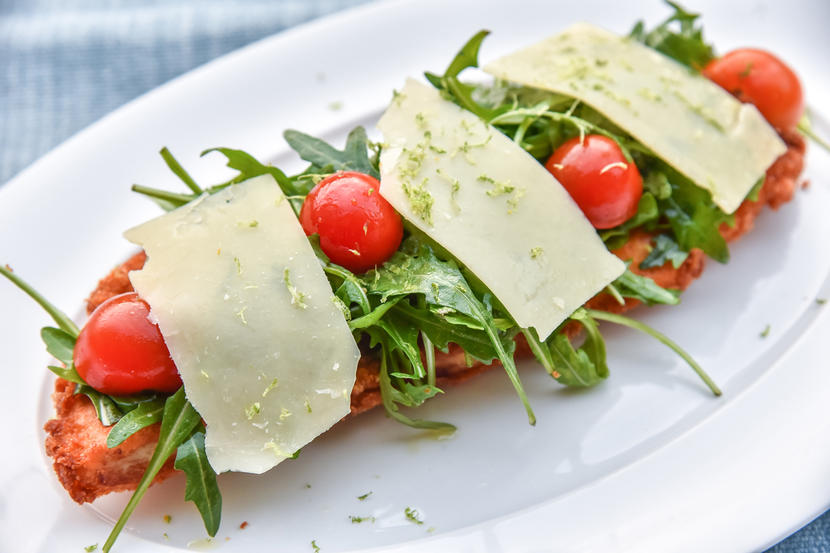 Take a journey through the Mediterranean with clay overs, wood fires and fresh ingredients by ordering from La Casa Twenty Eight.
Various locations including The Pearl-Qatar (3333 4883).
La Cigale Hotel
Although not available for delivery just yet (the hotel has informed us it will be soon), you can still takeaway your favourite dishes from any of the outlets. For a solo meal, get the plat du jour lunch box with salad, main, homemade dessert and one soft drink, for QR65. La Cigale Traiteur Delicacies is serving pizza, manakeesh, cheese, lunch boxes, beverages, Arabic and International sweets along with Lebanese delights, cakes, chocolate, ice cream and more for takeaway. You can also get fresh sushi and sashimi from Yen Sushi Bar to go.
60 Suhaim Bin Hamad Street (4428 8803).
La Parisienne Doha
La Parisienne Doha's entire menu is available for takeaway and delivery via Talabat. Order some freshly made crêpes or homemade bread, viennoiseries, French savouries and sweet pastries to enjoy in the comfort of your home.
InterContinental Doha The City, www.talabat.com, www.trycarriage.com.
Lord of the Wings
At least once a week, wings are a necessity for us, especially because buffalo sauce makes everything better. A crispy buffalo sandwich, a firecracker burger smothered in the stuff, breaded buffalo shrimp and, of course, buffalo wings, all feature on the menu of American-Canadian classics at Lord of the Wings. There's a dedicated wings menu (we expect nothing less) and you can choose your spice levels from sweet to insane (the spiciest option is buffalo suicide and frankly, we've never had the guts to go that far). There are burgers, sandwiches, tacos, quesadillas, desserts, shakes and everything you need for a fully calorific night in.
The Pearl-Qatar (4417 4366).
Mokarabia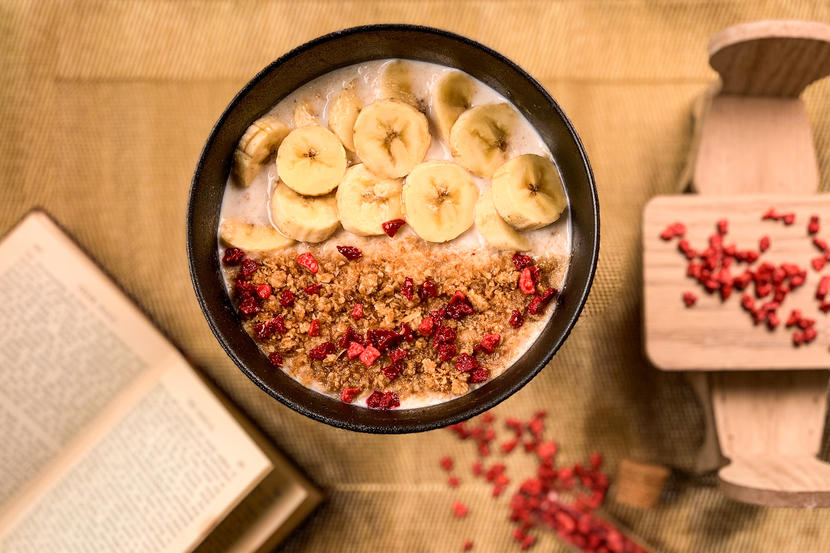 Want a massive chocolate chip cookie and a warm cappuccino to go along with it? Mokarabia has some decadent desserts and beverages up for grabs. Try our favourite breakfast pastry – the cheese, scrambled eggs and smoked salmon croissant. It's a really extensive menu that you won't tire of.
Various locations including Ezdan Towers (4040 9540).
Nando's
For some good old fashioned, reliable peri peri sustenance, there's always Nando's. We know you've been ordering the espetada here, but if you're looking to try something different, there's a wings platter for QR99 with ten full chicken wings, one large peri-tato, 1.25 litre soft drink bottle and two portions of perinaise. And if your family loves Nando's as much as you do, get the sharing platter for QR119. There's a full chicken in there along with four regular sides, salad and a soft drink bottle.
Various locations (4436 0606).
OPEN
There's a delicious selection of snacks and mains at OPEN. Featuring Mediterranean and Middle Eastern dishes, there are plenty of impressive dishes to order from here such as the Saigon shrimp, kofta wrap and the soujouk pizza.
DoubleTree by Hilton Doha – Al Sadd, www.talabat.com.
Pinkberry
Nobody ever said no to a chilled cup of froyo. Order your favourite flavour of yoghurt as the base and top it up with all the fruits, nuts and chocolate chips you want. Pinkberry has ice-blended drinks and smoothies, too.
Al Gharaffa (44529610).
Quick Bites
Time Out Doha's Café of the Year is the perfect choice if you're looking for pastries, healthy eats, snacks and pan-Asian grub. Order via Talabat.
Marriott Marquis City Center Doha Hotel, www.talabat.com.
Seafood Hook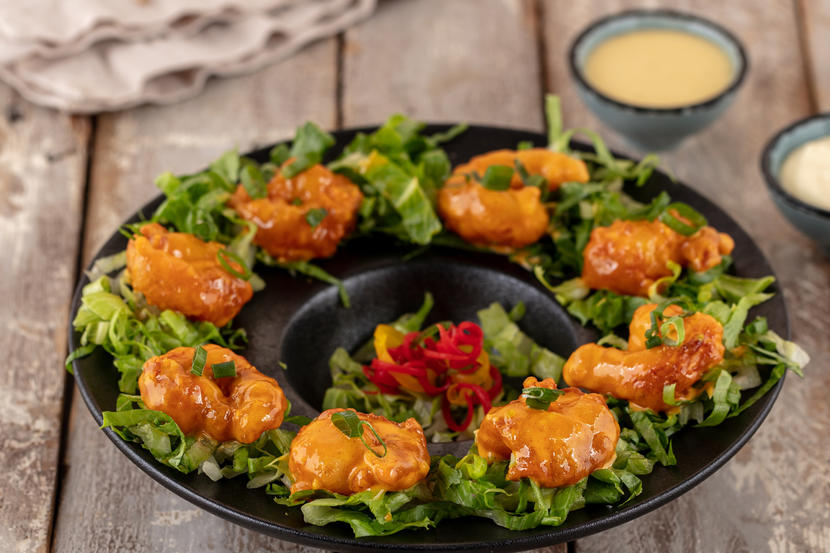 There are plenty of spots to get your seafood home delivery in the city, but Seafood Hook is reliably good, especially if you're ordering the seafood bucket. We also recommend the dynamite shrimp and calamari.
Mirqab Mall, www.talabat.com, www.trycarriage.com.
Sridan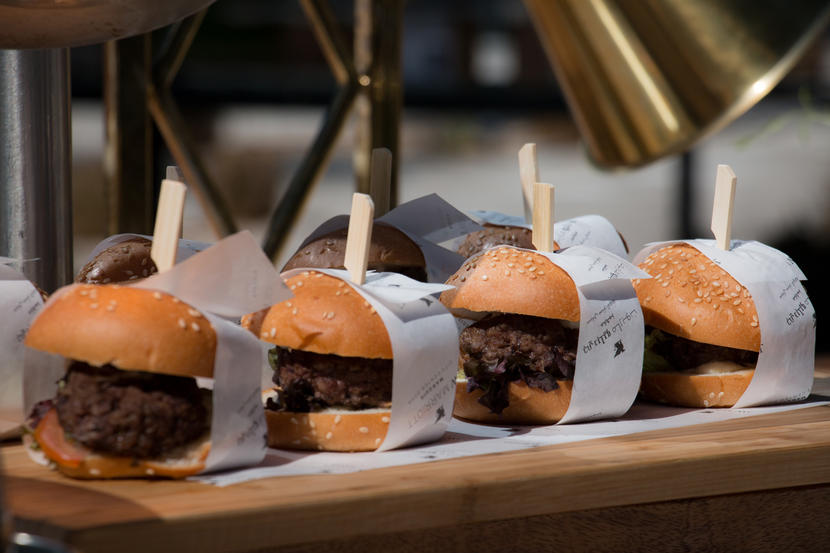 Treat yourself to a feast that will be swiftly delivered to your doorstep. Sridan has plenty of international cuisines including grilled meats, seafood, seasonal salads and desserts.
JW Doha, www.talabat.com.
Take Away
It's all in the name. This restaurant is actually called Takeaway and you get the best sandwiches and wraps in plastic trays, perfectly wrapped and very presentable. It's the ideal thing to bring when you're invited to a dinner, a potluck or even for a fun gathering with friends at home. Get the large trays with assorted sandwiches or a chicken fajitas sandwich if you're going solo.
Various locations including Al Sadd (4442 7776).
W Doha
You've probably already seen the ads by now – a really fancy car delivering a large purple bag that reads W2GO to your doorstep. Thankfully, that bag can deliver absolutely anything you dream of from W Doha (we're thinking shredded crab rolls from Spice Market, sashimi salad from Market, pappardelle from La Spiga and the Keto brownie from W Café for dessert). Your minimum order has to be QR350 (from various outlets if you prefer) but there are so many dishes we love here, so it won't be a problem. You can even WhatsApp them on 7794 3975.
West Bay (4453 5135).
---
MIDDLE EASTERN AND ARABIC
Abd El Wahab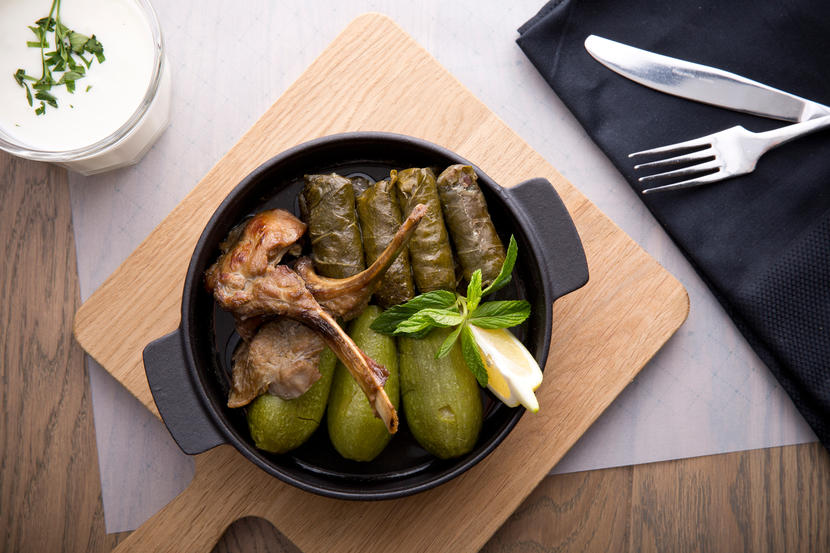 Order the authentic breakfast or any of the traditional Lebanese dishes from the menu here. And if we have to pick from the regular menu, we suggest the mougrabieh, loubiyeh bil zeit and kibbe bil sanieh. You can order via Talabat or Carriage.
Mirqab Mall, www.talabat.com, www.trycarriage.com.
Al Jalsa Garden Lounge
Order the group platters for sharing with family. The Middle Eastern dishes are absolutely delicious here.
InterContinental Doha The City, www.talabat.com, www.trycarriage.com.
Al Shami Home Restaurant
We love the mezze here and it comes with freshly baked hot bread. If in doubt, order hummus, moutabbal and muhamarra. For mains, we can't recommend the maqloubeh enough. It's easily one of the best in the city. There are plenty of other Lebanese and Syrian dishes we're sure you'll love, including a juicy mixed grill.
Al Sadd (4450 1117).
Baid O Tomat
We absolutely love the breakfast egg wraps on Iranian bread with all manner of fillings from tomato with green chilli and spices to cream cheese or cheddar. The afternoon menu is a varied list of gourmet sandwiches and burgers including chicken liver, shrimp and vegetable varieties plus locally-inspired khaleeji beef and chicken burgers. Breakfast wraps are cheap – coming in below QR20 – but some of the other sandwiches are pricier, going up to the QR40 mark. That said, what's on offer is by no means small and sandwiches come crammed with filling.
Various locations including Abu Hamour (5033 2160).
Baladna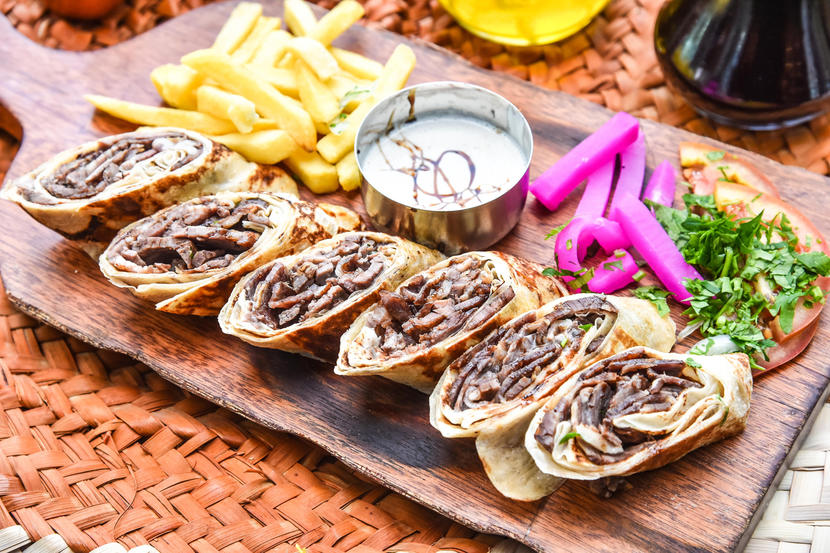 Experience traditional Arabic dishes made by Baladna's very own dairy factory and meat farm. It doesn't get more authentic than this. You can order directly or via Talabat and Carriage.
Various locations including The Pearl-Qatar (3333 5516).
Basta 23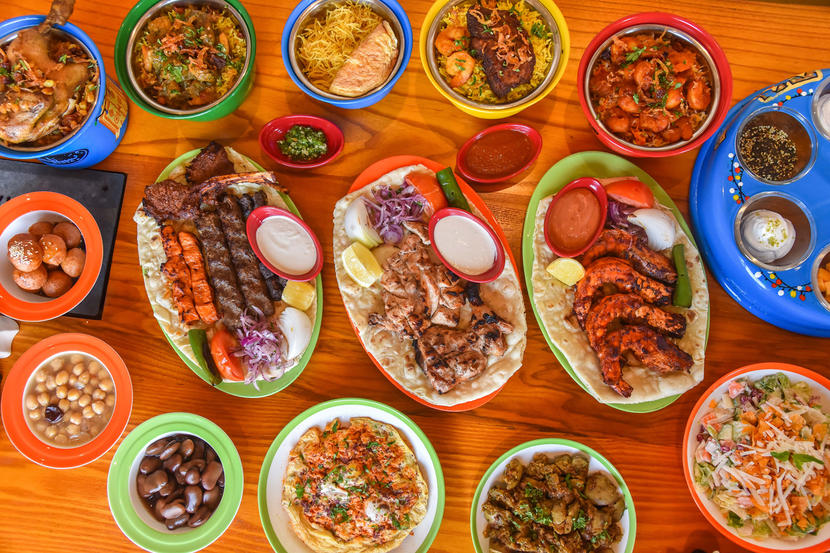 For a taste of Qatar's culinary traditions, order a selection of the delicious local food fromVarious locations including The Pearl-Qatar (5000 2755).
Besiktas Shawarma Restaurant
Well thanks to Besiktas (and their incredibly wide delivery reach), any time of the day can be best shawarma in Doha time. Seriously, we challenge you to find a tastier shawarma in town. The restaurant is available on Talabat and that means you don't even have to move from your couch.
Al Hilal, www.talabat.com.
Damasca One
Possibly one of Doha's best Middle Eastern restaurants, you can't go wrong ordering a meal from here. From moreish mezze to juicy grills, there's plenty to relish from here. True, you'll miss people watching at the Souq, but one bite of the sausage burak with cheese and muhammara manakeesh here, and you'll not even care that you're not dining in.
Souq Waqif (4475 9089).
Debs w Remman
Order some authentic dishes from Debs w Remman and feel like you're right in the middle of a Lebanese kitchen.
Various locations including The Pearl-Qatar (33334663).
Gahwetna

There aren't too many options for Qatari and Khaleeji food in the Pearl, so it's not surprising we regularly order from here. From a selection of chapatis and eggs to fried food and desserts, there's a vibrant menu that's just waiting to be taken away.
The Pearl-Qatar (3329 0600).
Koshari Station
The popular Egyptian dish has found a stable home at Koshari Station where you get different versions of the tasty koshari. From special sauces to special toppings, you can choose some creative and incredibly delicious options such as cheddar sauce, mushroom sauce, Bolognese and our ultimate favourite – the Thai curry koshari. It comes with fried onions on the top. You'll want to sit down for this.
Various locations including Al Muntazah (4441 4465).
Remman Café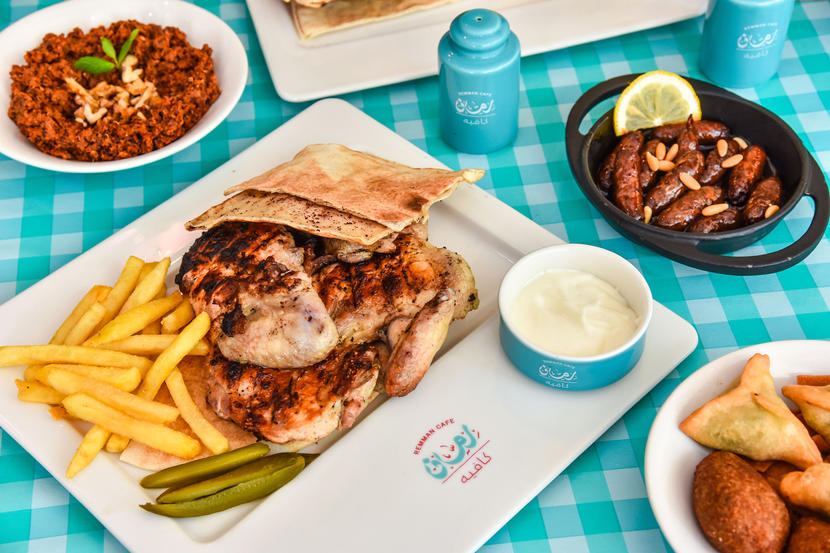 It might take a while to get your order because this spot is really popular but you can't pass up on the brilliant and fresh Lebanese dishes from Remman Café.
Ezdan Towers (4040 9595).
Shater Abbas
This Arabic/Iranian spot has some fantastic grills that are perfect during TV time at home. We love the popular Iranian soup ashreshte here as much as we love the mutton badimjan and okra curries. You can order the daily meals here or just go for a combo that will include rice, salad and a drink along with your meats.
Al Sadd (4401 5656).
Sultanchef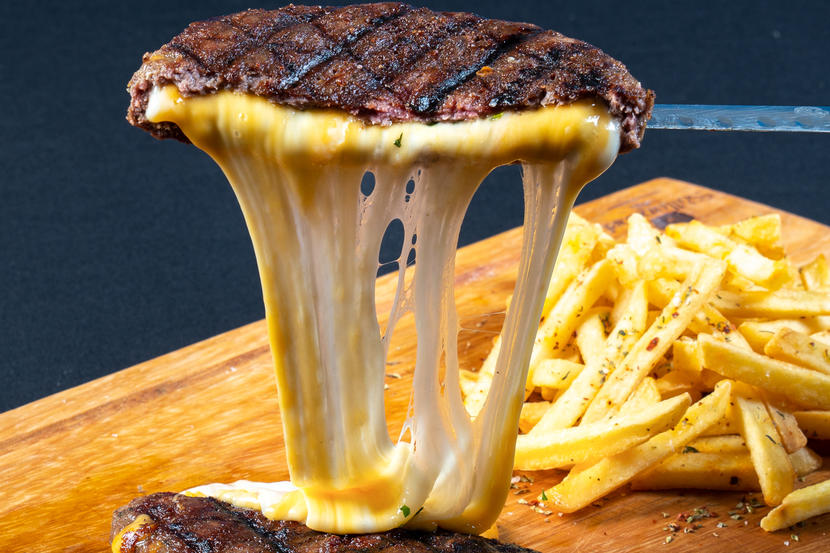 You'll not get the gimmicky presentations and fun vibes, but you'll surely get some brilliant Turkish fare including salads, appetisers, burgers and irresistible steaks.
Mirqab Mall, www.talabat.com, www.trycarriage.com.
---
INDIAN
Bharath Vasanta Bhavan
Call up and order a delicious vegetarian meal. They don't go easy on the butter and oil, but each dish is tastier than the previous. The curries are always a hit here but the South Indian specialities are what makes this spot so popular. Order the crispy dosa, rava dosa or vada. All come with three types of chutney and we promise, each one is addictive.
Various locations including near Jaidah Flyover (4443 9955).
Jwala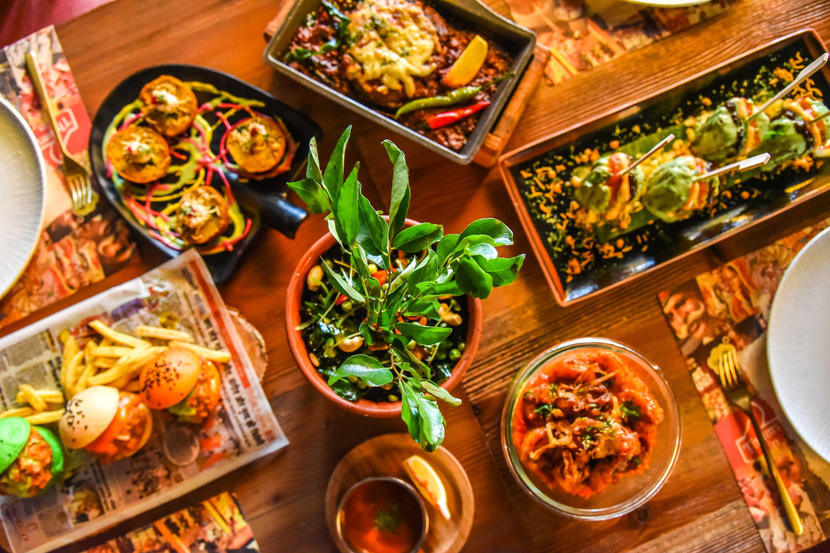 Although dining here is an experience in itself (some stunning décor and mesmerising live music), the food is just too good to pass up on, even if it means eating it at home. We don't even know what to recommend here because every dish on the menu is brilliant. The appetisers are creative yet delicious and the mains such as the biryanis are comforting. We love the Mumbai cocktail soup here and a bunch of other things. The food is mostly Indian fusion (and unbelievably creative), so nothing is too spicy or overwhelming. Just go on and order anything.
The Pearl-Qatar (5000 1334).
MRA Restaurant
If you're in the moody for some spicy Indian comfort food, pick up the phone and call MRA. There are delicious chicken curries and beef chillies to order and even though it might take a while (delivery is a bit slow here), it's well worth the wait. Don't forget to order sweets because the bakery items are fantastic here.
Al Markhiya (4442 2074).
Saravanaa Bhavan
Although this global chain serves North Indian and Indo-Chinese dishes, the South Indian variety is what its most known for. Savour some huge and perfectly crisp Doha served with a selection of chutneys. There are more than ten varieties on the menu including the popular masala dosa, a version stuffed with paneer and another with cauliflower masala. Plus, the huge advantage of home delivery from here is you get to save all those hours you'd spend searching for parking.
Al Ghanim (4443 7776).
Tandoor Express
For a weeknight meal in, we can't think of anything more comforting than butter chicken with naan and daal makhani. Tandoor Express does these really well and the dishes arrive to your doorstep steaming hot. Try the aloo paratha or even the chicken tikka masala. It's rich, filling and you're going to get a good night's sleep.
Various locations including Al Hilal (4488 1173).
---
BURGERS
Build it Burger
Build it Burger offers fantastically fresh burgers for delivery. There's a vegan burger, too.
Various locations including The Pearl-Qatar (3303 0888).
Fatburger
The good thing about Fatburger is the burger is consistently excellent whether you dine in, takeaway or home deliver. These burgers (which aren't small to begin with) go all the way up to size XXXL. Each comes with all the classic toppings (lettuce, mayo, mustard, tomato, pickles, relish and onions), but you can also opt to add cheddar or Swiss cheese, chilli, beef bacon, egg or jalapeños. You can even opt to get yours in a lettuce wrap (which we never do, but you can) and then balance it out with a creamy milkshake.
Gulf Mall (4472 6942), The Pearl Qatar (4029 9999).
Firefly Burger
A gigantic burger is just what you need on some days and Firefly does exactly that. A massive patty inside huge, soft buns and all the fillings is what you can expect from this Jordanian franchise. The appetisers are all reasonably priced below QR20 and the Kamikazi burger for QR34 is our absolute favourite.
Various locations including Al Nasr (4488 3422).
---
THAI
Busaba Eat Thai
You can order some incredible Thai salads, soups, curries, grills, wok noodles, stir-fried and vegetarian as well as vegan dishes on Talabat or Carriage. Try the Asian-inspired teas, blended juices, lassis and smoothies to go along.
Mirqab Mall, www.talabat.com, www.trycarriage.com.
Khao San
We're all in for cheap and cheerful eats and thankfully, Khao San delivers. The Thai dishes here are brilliant. It's authentic, packed with flavour and inexpensive. The green curry is our favourite here, but we also recommend the soups (Tom yum especially) and the coconut ice cream.
Fereej Bin Mahmoud (3000 4368).
Thai Corner
True, this spot is really tiny and so is the menu, but Thai Corner does all the classics really well. If you've got a craving for perfect pad Thai or green curry that's spicy and creamy in equal measure, this is your place. The cashew chicken with chillies is another standout dish, as is the minced chicken salad with herbs – if you're in the mood for a light, fresh meal, order it to go with the fiery glass noodle salad.
The Centre, Salwa Road, Al Muntazah (3366 4300).
Thai Cuisine
A hot bowl of curry and steamed jasmine rice sounds like a fantastic weeknight meal. Luckily, Thai Cuisine delivers right to your doorstep and the food is wonderfully comforting. Your wallet will be happy, too. Try the papaya salad and the pad Thai here, if you're not keen on a curry.
Fereej Bin Mahmoud (4477 2604).
Thai Smile
We're not big fans of dining in here, but takeaway or home delivery is a super option. Thai Smile has some of the city's best Thai curries, red, yellow or green, and it's what we recommend you try if you're stuck at home and not sure where to get your dinner delivered from.
Umm Ghuwailina (4441 5222).
---
PIZZAS AND ITALIAN
Caffe Concerto
Our menu favourites here include the Milanese ciabatta sandwich, concerto rigatoni, a Spanish latte that we can't get enough of and pretty much everything on the gateaux and patisserie menu. Order away.
Mirqab Mall, www.talabat.com, www.trycarriage.com.
Cucina
So what if you can't go to Italy right now? You can still have a really authentic meal all the way from Cucina. Order our favourite pizzas, pastas and other Italian staples via Talabat.
Marriott Marquis City Center Doha Hotel, www.talabat.com.
Margherita Pizzeria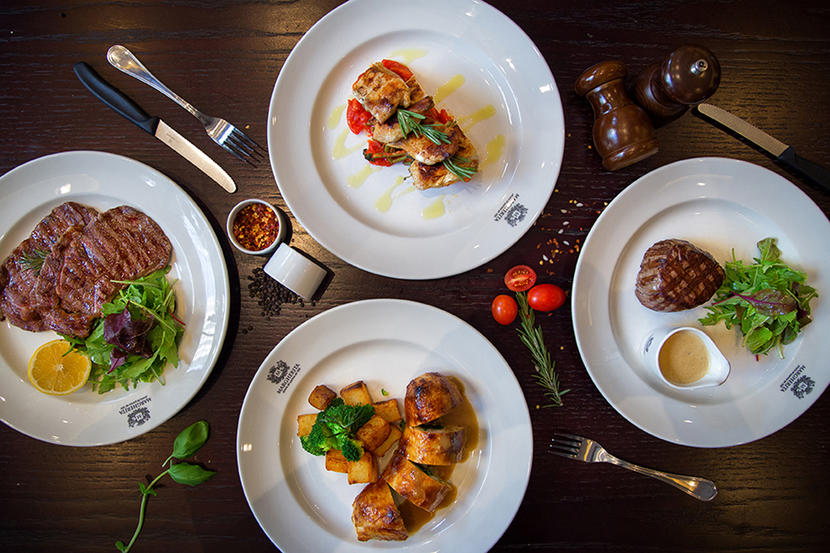 Pizza is always a good idea. It could be something in the tomato sauce or just the authentic wood-fire oven, but something keeps ensuring we order over and over from Margherita Pizzeria. It's not just the pizza that's incredible, try the pastas and risottos, too.
Mirqab Mall, www.talabat.com, www.trycarriage.com.
---
ASIAN
Crossroads Kitchen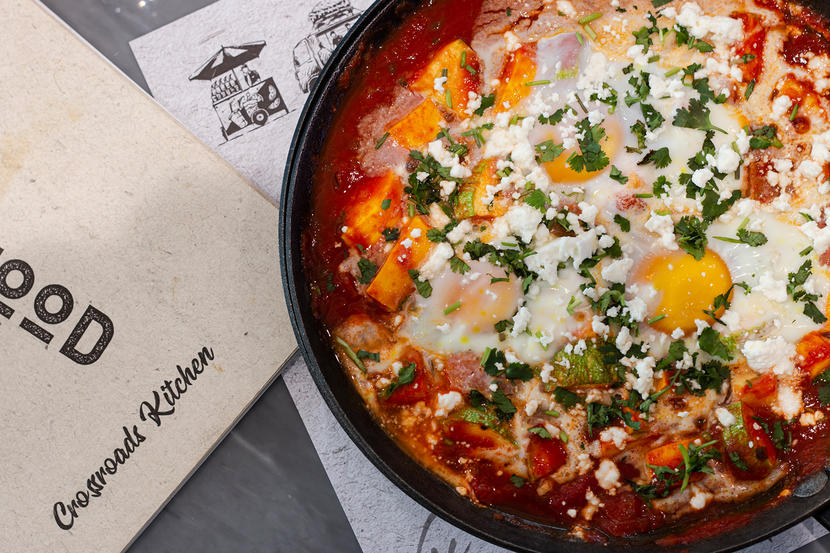 Try street food from seven different regions without leaving your couch because Crossroads Kitchen delivers via Talabat.
Marriott Marquis City Center Doha Hotel, www.talabat.com.
Indo-Chin
Doha's latest Asian hotspot is delivering all its signature dishes and if you're looking for something new (and spicy) to try, you could do a lot worse than Indo-Chin.
DoubleTree by Hilton Doha – Al Sadd, www.talabat.com.
Mama Rozie
Our 2019 winner of Doha's Best Budget Restaurant at the Time Out Doha Restaurant Awards is a natural choice for budget takeaway. The dishes are tasty and reasonably priced and there's so much to try here. There's Malaysian, Indonesian and Filipino dishes to try and we love that everything is super authentic, too. All you have to do is order, relax and just tuck in.
Al Muntazah (7045 6262).
Meraki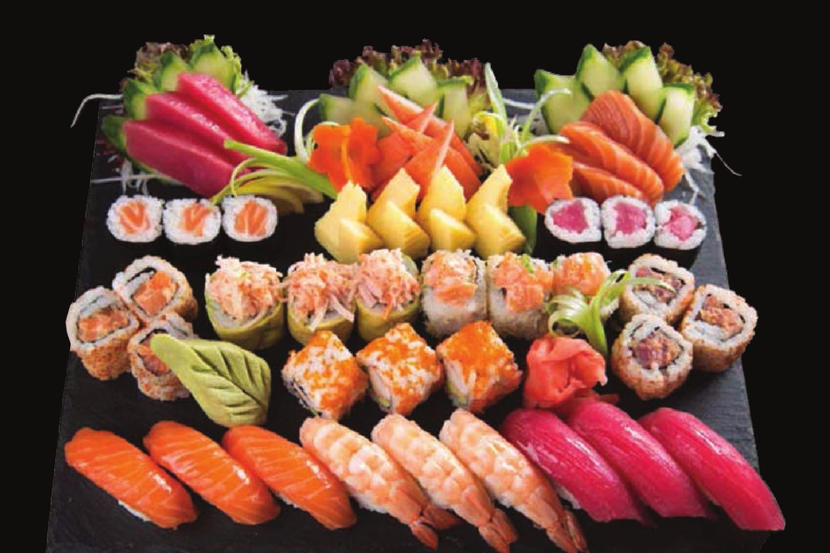 This sub-brand based in Eatopia is delivering all your favourite Japanese dishes. We recommend the salmon dragon, golden shrimp roll and the Tokyo platter.
The Gate Mall (4020 6400).
StrEAT
Want to go on a gastronomic journey around the world through popular street foods? Then order in from StrEAT on Talabat. There are sliders, bhajiya and a delicious bunny chow that won't disappoint.
DoubleTree by Hilton Doha – Al Sadd, www.talabat.com.
Sushi Minto
If you're expecting some reliably good quality sushi, this spot delivers it ice-cold and everything tastes fresh. There's an impressive variety of noodle soups, donburi (rice bowls) and stir-fried noodles. You can even pick a Bento box or a sharing boat. The best-selling chap chae noodles are particularly moreish with their smoky-sweet flavour.
Al Hilal (4467 5577).
Three Peppers
One of Doha's most authentic Chinese restaurants, Three Peppers' food is straightforward and excellent. The dumplings here are some of the best in the city, steamed of pan-fried, and there are plenty of tasty items such as the Kung pao chicken to try.
Various locations including Old Airport (4477 4178).
Wagamama
For Japanese curries and noodle soups, order from Wagamama. The meals are fresh, tasty, consistently good and filling. Katsu curry is perhaps its most well-known dish, and the yasai katsu curry (made with deep-fried veggies like eggplant instead of meat) is arguably even better than the chicken version. Ramen bowls are huge and include more varieties than you usually find on a Japanese menu in Doha, including coconut seafood broth.
Various locations including Lagoona Mall (4463 3876).
---
HEALTHY
Dean & David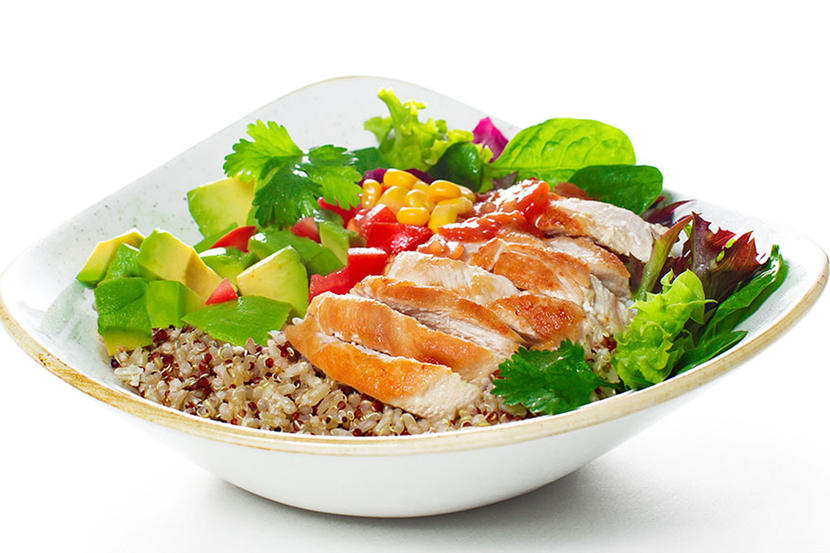 This healthy eatery is loaded with tasty options that you just have to order. There are salads, sandwiches, bowls, smoothies and so much more to choose from. We highly recommend any of the bowls (crunchy beef/chicken, avocado chicken and a veggie option, too) and one of the superfood smoothies.
Various including The Pearl-Qatar (4444 0601).
Fanajeen Café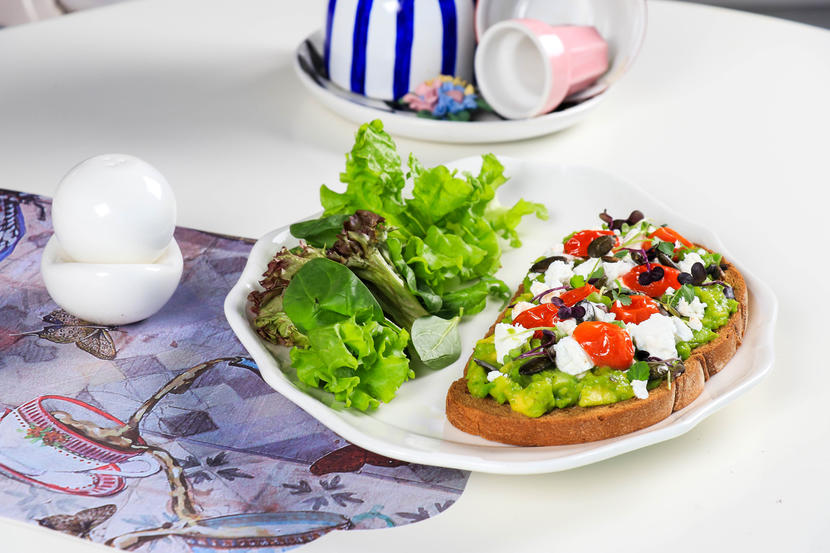 Only available via Talabat, you can order some delicious healthy dishes such as the avo sandwich, chicken club sandwich and the grilled salmon fillet.
The Gate Mall, www.talabat.com.
H2GO - Healthy To Go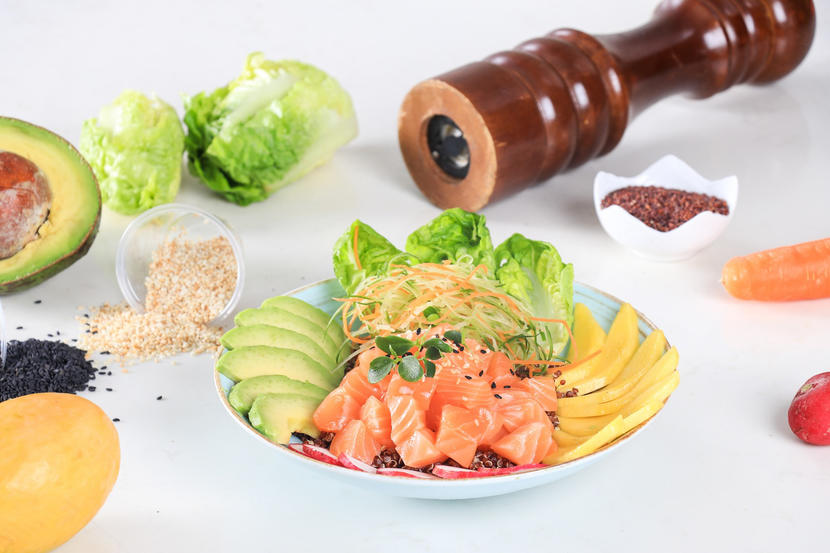 A virtual healthy food delivery brand based in Eatopia is the perfect choice if you're craving a conscious meal at home and don't want to whip it up yourself. Try the za'atar manaeesh, detox kale salad with chicken and salmon poke bowl.
The Gate Mall (5007 5333).
Lobby Lounge: Raw & Green
The Raw & Green gluten-free menu is available for delivery via Talabat or takeaway for those who want healthy and nourishing salads, poke bowls and smoothies.
InterContinental Doha The City, www.talabat.com, www.trycarriage.com.
Be the first to get all the latest Doha news, reviews and deals into your inbox by signing up to our free
newsletter
,
click here to sign up
.