1 Al Naimi Cafeteria
These guys have been serving karak across Doha for 23 years now, so you know they're definitely doing something right. There are plenty of outlets across the city including some in remote places. It's reliably good and we never tire of a steaming hot cup of spicy milk tea.
From QR1. Various locations including Al Sadd.
2 Chapati & Karak
Slightly more expensive than its counterparts, but this is really good karak we're talking about. It's a local favourite and there's an extra kick of ginger which we love. And of course, if you're having a karak here, you have to order a chapati with cheese to go along with this hot drink. The Katara location is great, it's right by the Corniche and you can grab your karaks and sit by the seaside. In fact, the place is so loved that the owners have even opened a branch in London.
From QR3. Katara (4408 1408).
3 Karak Mqanes


The first branch opened on Shamaal Road a few years ago and some people drove for an hour to enjoy a cup of their favourite tea. The brand has grown over the years and it's now all around the city. If you head over to its Pearl outlet, you'll get to try a brilliant breakfast. Even the desserts are tasty and everything is reasonably priced.
From QR1. Various locations including The Pearl.
4 Mom's Tea
It's called Mom's Tea but you can't really have this in your backyard. In fact, it's far from your neighbourhood. The spot is located up North in Shahaniya and even though it's a long drive, this karak tastes like home. It's warm and delicious and totally worth the trip.
From QR1. Shahaniya (4442 9335).

5 Tea Day
Located in Al Shaqab Street near Education City, Tea Day is perfect if you're living around the area or you're a student at Qatar Foundation. What we specifically love about this place, besides the karak, is that you can place your orders over WhatsApp (3076 6262) and the staff deliver it to your location (if you're in Rayyan area). The delivery charge is QR5 and free if inside Education City (minimum order QR15).
From QR2. Various locations including Al Aziziyah.
6 Tea Time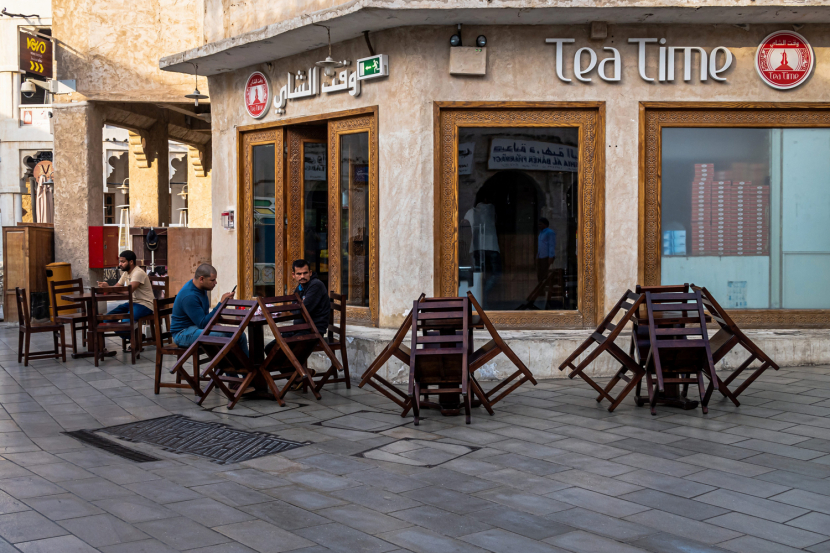 Tea Time is now a Doha institution. There are more than 27 outlets across the country and you can have a massive karak for QR4, even though it's not on the menu (you're welcome). The usual small, medium and large cups are QR1, QR2 and QR3. There are loads of tea boys circling around the cars and placing your order is easy. There's an extensive food menu that features plenty of deep-fried stuff, club sandwiches and other dishes that actually are quite tasty. The chicken popcorn here is easily our favourite. You can also have a brilliant chocolate soufflé for QR6 (QR12 for the large) or a delicious Lotus dessert for QR15. Granted, that's a whole lot of sugar, but it's an offer we can't (and usually don't) refuse.
From QR1. Various locations including Souq Waqif.
7 Zanjabeel Cafeteria
Speaking of massive amounts of sugar, there's probably nothing sweeter than Zanjabeel Cafeteria's karak. This is also a pretty popular spot in the country and you'll almost always find long queues of four-wheel drives lined up outside. We usually ask them to reduce the quantity of sugar, but if you're brave enough, go for the regular version because it's incredibly delicious.
From QR1. Various locations including Al Ghanim, Al Nasr, Ain Khalid and West Bay.
Be the first to get all the latest Doha news, reviews and deals into your inbox by signing up to our free
newsletter
,
click here to sign up
.