The list of accolades and accomplishments goes on and on. Winning Michelin stars, opening restaurants around the globe, improving the food on some of the world's leading airlines, writing recipe books, being given a role as a judge on Netflix's The Final Table, and landing a stint as a judge on Masterchef India, Vineet Bhatia has done the lot. But he's not finished yet.

The Indian chef is a pioneer. He is widely regarded as the man who brought high-end Indian food to the Western world. He won over his peers and critics after moving to London from his homeland in 1993, becoming the first Indian chef to look after a restaurant to win a Michelin star (in 2001 for Zaika, in Chelsea). Three years later he opened Rasoi in the same area of London. From there he has hardly looked back.

Now, 15 years later, he is still going. Bhatia is not a man to rest on his laurels.

With Indego 360 by Vineet still going strong after opening in 2018, he tells us why the Middle East is so special to him and why he's more concerned about giving back to his staff and serving great food than landing more awards.

"In 1993 I stopped in the Middle East on my way to London for the first time. I got food poisoning and thought – I'll never come here!

"However, in 2004 we opened our first restaurant outside London in the Middle East and the region has been very special to us ever since.

"We know that people make an effort to go out here," he adds. "So you need to make sure you not only serve great food but you also have a great offering overall – that extends to our mocktails, service and atmosphere.

"Anyone can cook good food, you need to provide something extra to make it succesful. You can't put people off with high prices. People want value for money."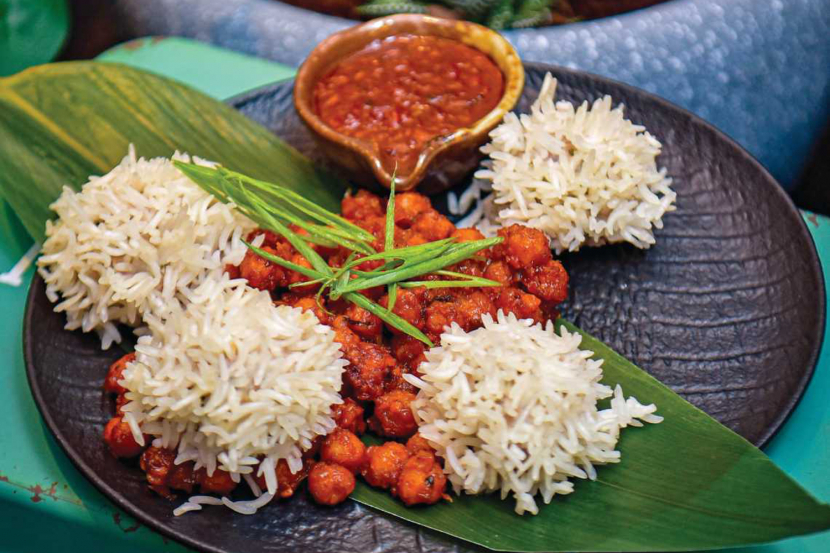 His food is all about quality produce – a common theme amongst restaurateurs of his calibre. "We want to get the best produce available and do as little to it as possible," he says. "We have to have some local elements in each restaurant, too. So you'll have zaatar here, local fish and meats. The local flavours are important for the audience here. Local people need to be able to walk in and understand what we do, but there will still be classics that we do everywhere.

"Dishes such as pisatchio-crusted lamb chops, crusted biryanis and chocolate samosas will never go out of fashion.

"There is some crossover in cooking style and flavours across the Middle East and South East Asia region, which is down to the spice route. We won't get into who made biryani or samosas first... This food has been happening for thousands of years. What I can say is that when you bring something to India we like to make it our own and what is comparable is the way Arabic and Indian people like to eat, with families. And there has long been a link between India and here."

Bhatia's culinary empire now extends across the Middle East, Europe, London and he has his name above the door at a restaurant in Mumbai's Oberoi.

The chef is constantly travelling, both for work and pleasure, and followers of his Instagram account will be used to seeing his trademark hat sitting on an aeroplane table as he jets off to the next destination. For someone so busy, and so successful, he's very open on his social media channels and responds to as many people's comments as he can. It's also where you can see the chef's works in progress, as he likes to document as much as he can with his camera.

"When people ask me where I live I say seat 5K of whichever plane I'm on," he laughs. "But my home is my restaurant, wherever I am at that time. I'll be the first in and the last out.

"As a family, we love to travel, though. Once a year we spin a globe and find out where we're going. Whether that's Japan or Mexico, we do it properly – backpacking, in small places, remote parts of countries. We're not bothered about luxury, I can get that anytime.

"Taking pictures is my other passion, people think I'm crazy because I document everything, but it works for me and works for the restaurants – people like to see pictures."

Despite the travels, he is always drawn back to the Middle East. "When I first came to the region you could tell something was coming and something was happening.

"No-one was doing what we were doing at that time. We pioneered it and opened the doors for more Indian restaurants to do the same. That is something special for us, we were at the avant-garde of Indian cuisine, which is what I always wanted to do."

When Bhatia first moved to London in 1993 (to work in South Kensington's Star of India), Indian food looked very different to now.

"It was thought of as a third-world cuisine," he says. "It was looked down upon, and the food served in the UK at that time was nothing like the Indian cuisine I was used to at home. I had people telling me I didn't know what I was doing and I should go back to India and learn how to cook properly. I was the only Indian person working in the kitchen! I didn't know what the customers were talking about, then I realised that Indian food in England then was completely different to what I was used to. I thought it was crazy at the time."

"I had already been working for eight or nine years by then and was only 24. I had worked hard, had some tough times and struggled – so even though I was young [to be in charge of a restaurant], my focus was clear. I knew what I wanted to do."

The knockbacks didn't start when Bhatia moved to London, throughout his life he had been told he wasn't good enough. "I was the shortest and youngest boy in my class," he says, and was bullied as a result. A career as a pilot didn't get off the ground due to his height ("Now I fly at least three times a month, and don't have to do the hard work," he jokes). His family laughed at him when he said he wanted to work in a kitchen ("It wasn't seen as the fancy job people think it is now").

The Star of India got a favourable review from UK food critic Fay Maschler, of London's Evening Standard. Bhatia says he owes much of what came next to that one review.

He takes great pride in making sure his own staff don't struggle like he did.

He says: "You mentor them and teach them, you take them under your wings. You have to teach them how food should be and why what we do works, and has done for so many years.

"There's no magic formula you can learn, it comes from hard work and respect for where you are, as you have to cater to your audience. It's different here to Europe, which is different again to India. Now it's more important for me to give back to my staff and the industry than it is for personal achievements."

Bhatia says being a chef is the most anti-social job you can get and he only has acquaintances in each city he travels to.

However, there is one person in his life that has had more influence than anyone else – his wife Rashima. Telling the chef's story without mentioning Rashima would mean only telling half of the tale. For more than two decades she has been by his side and it's fair to say she is the force of nature behind the business.

"She is my boss," Bhatia says. "For me family is everything. Without family I wouldn't do anything else in life. I'm very fortunate. She has sacrificed a lot of her own life to take on a role in this business. She has the final say."

Vineet Bhatia puts his success down to his wife, cares more about looking after his staff than gaining personal acclaim and would rather you ate well next time you're in his restaurant than he wins another Michelin star. Who can argue with that?
Indego 360 by Vineet, The Pearl Tower, Abraj Quartier (4417 7022).
Be the first to get all the latest Doha news, reviews and deals into your inbox by signing up to our free
newsletter
,
click here to sign up
.