When the food scene is as exciting and vibrant as it is in Doha, decision fatigue is real. From street food specialities to gourmet delicacies at fine-dining hotspots, we've agonised over the city's menus for you (and eaten a lot). As we near the end of this very exciting year, we've handpicked 25 of the absolute best eats in the city. You have two months left to try out each one from Time Out Doha's comprehensive list of the capital's most coveted dishes.
Caprese waffles at El Faro
Celebrity chef Javier Aranda launched a new menu in El Faro earlier this year and these were one of the star additions (besides the octopus Russian salad, which you also have to try). The caprese waffles are innovative and absolutely delicious – the waffle itself is green and made with basil, there's a tomato jam that goes over it and the dish is topped with mozzarella foam. It's very caprese-ey, contemporary and just the kind of snack that works with a glass of grape.
QR30. Marsa Malaz Kempinski, The Pearl-Qatar (4035 5011).
Cereal prawns at Zengo
The new additions to the bar bites menu at Zengo Lounge feature a Singaporean street food-style prawn dish, coated in cereal crumbs and served with chipotle aioli. It's not for the faint of heart because there's some real heat in here, but if you can handle it, we promise it's an excellent, crunchy, seafood dish that you just shouldn't miss.
QR115. Kempinski Residences & Suites, West Bay (4405 3560).
Cheese chapatti at Pause Time Café
Located in The Pearl-Qatar, just behind WOQOD, this little spot serves very reasonable midnight snacks and our favourite has to be the paratha rolled with cheese, egg and Oman chips (it's a combination you'll absolutely love) for only QR6. You can even opt for a plain cheese paratha or a cheese and egg paratha.
QR6. The Pearl-Qatar (3339 8336).

Chilean sea bass at Toro Toro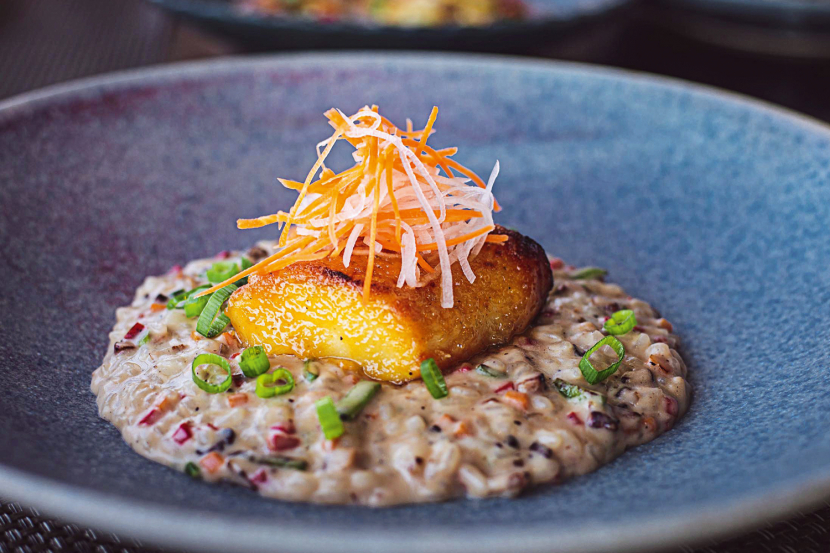 A tender Chilean sea bass is marinated in miso on top of the delicious Japanese rice cooked with kombu dashi and enhanced with fiery chillies, pecan nuts and shiitake mushroom. Does this sound like music to your ears, too?
QR130. Marsa Malaz Kempinski, The Pearl-Qatar (4035 5101).
Chocolate lava cake at Alison Nelson's Chocolate Bar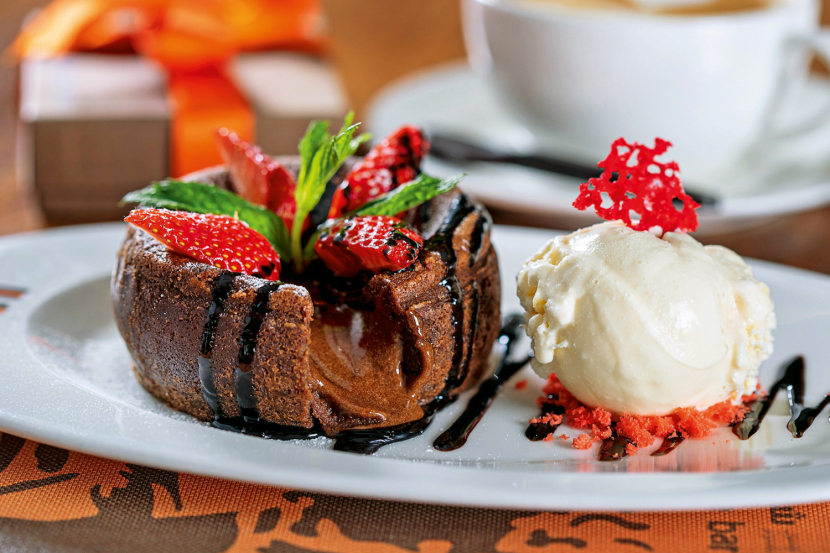 There are a dozen delicious lava cakes in the city, but one that's near perfect is hard to come by. Unless you drop in to Alison Nelson's Chocolate Bar. The chocolate lava cake here is one for the books – it's ooey and gooey, very, very chocolatey and incredibly indulgent. We're currently picturing cutting it open and letting all that lava flow…
QR49. The Pearl-Qatar (4409 5236).
Crab leg at Spice Market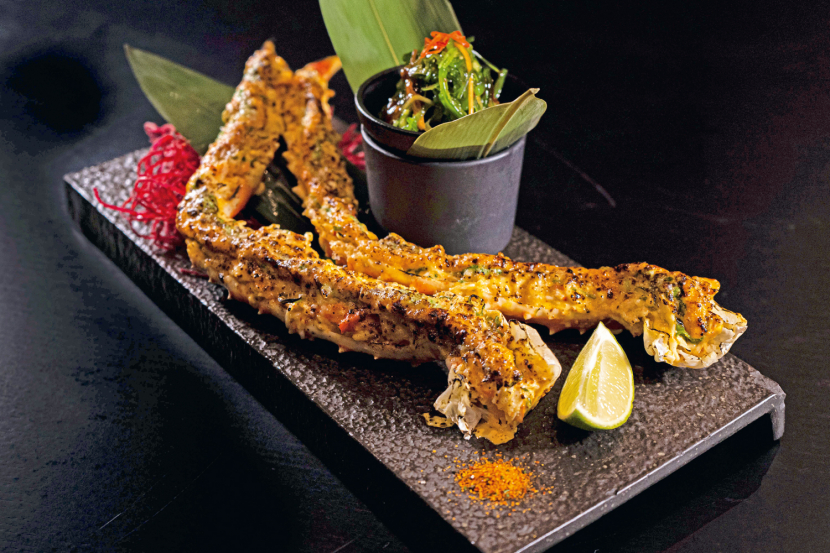 This is the most dramatic crab leg we've tried in Doha, as far as flavours are concerned. There are loads of them and all are equally intense. It's as spicy as it is tangy and as creamy as it is salty. But don't get us wrong – these are all great. It's one big flavour mish-mash and even as the heat fires up, you'll still want more. You've been warned.
QR205. W Doha Hotel, West Bay (4453 5135).
Creamy spicy scallop at Nobu
Nobu's black cod may forever reign in our hearts, but we're taking a short pause to acknowledge another absolutely brilliant seafood dish. The creamy spicy scallops are usually served as part of the omakase, but you can request it specially. Fresh Hokkaido scallops are seasoned with black pepper and then grilled on a salamander. The scallops are then finalised with a layer of spicy sauce. Yum.
QR95. Four Seasons Hotel, West Bay (4494 8888).

Crispy salmon salad at Orangery Café Trottoir
We already love a bowl of fresh salmon but add a few crunchy tempura flakes to that and we have an absolute winner of a dish. Although this is a café, a sushi menu is available and if there's one must-try option, it's this crispy salmon salad. Choose the outdoor seating area, it's delightful and will ensure you love the entire experience here.
QR99. La Cigale Hotel, Al Sadd (4428 8888).
Brisket at Prime
This brilliant brisket, one of the best in Doha if we're being completely honest, is served on a wooden platter and slathered in an outrageously tasty barbecue sauce. The slow-cooked slices of meat are juicy, tender and fall apart at the merest prod of a fork and the sauce is that perfect blend of sweet, spicy and tangy. It comes with a pile of huge potato wedges, rubbed in the kitchen's secret blend of spices. Perfectly crispy on the outside and fluffy in the middle, these potatoes are perfect with the soft beef. We could go on, there's lots to say about this brisket, but we'll let you find out for yourself. There's an all-you-can-eat deal on this brisket every Monday from 6pm to 11pm.
QR178. InterContinental Doha The City, West Bay (7021 8803).
Ebi dynamite roll at Megu
We've always raved about Megu's sashimi, it's the best in town. But we'd like to take a moment to talk about the ebi dynamite roll, which is a real winner, too. It's a top option from the maki rolls and it's packed with crunch, spice and everything nice. Ebi tempura and avocado rolled in crunchy tempura flakes and topped with unagi and teriyaki sounds seriously superior. Ask for extra Japanese mayo on the side.
QR55. Porto Arabia, The Pearl-Qatar (4409 5237).
Fish and chips at The Frying Scotsman
Finally, there's a dedicated fish and chips restaurant in Doha. The restaurant does serve other dishes but it's primarily seafood. You'll find a good selection of fish on the menu, but we recommend the cod for the fish and chips option. It's fried in hops batter with The Frying Scotsman's secret recipe (we're determined to find a way to get it).
O QR80. Radisson Blu Hotel Doha (4428 1428).

Hamachi carpaccio at Novikov Doha
Choosing something to start with at Novikov can be a truly daunting task. There are so many incredible options on the menu (seriously, it's vast) and luckily for you, we've done the hard part and tried almost everything. One dish is an absolute standout in the appetiser department and it's this brilliant hamachi carpaccio. It's delicate, fresh, tangy, sour and sweet, all at the same time.
QR125. Katara, West Bay Lagoon (4449 3744).
Hummus platter at Sofra
In Doha, there are many different takes on hummus. You can find everything from mint to beetroot hummus. In Sofra, you can find six different versions of this versatile dish and the best part is each one tastes completely different from the other. There's the classic, sweet, avocado, spicy and more, served in generous portions, and every hummus is individually worth coming back to Sofra for.
QR60. Alwadi Hotel Doha, Msheireb Downtown Doha (4009 9666).

Junk chalice at STK Doha
If you've been in Doha for a while, only good associations can be made with the word junk. And STK makes a point out of it. Order the junk chalice for dessert and a massive sundae arrives at your table. It's loaded with cotton candy, gummy bears, M&M's and basically every single thing your mother didn't allow you to have unlimited quantities of. We highly recommend ordering only one for the table – it can feed an entire tribe.
QR180. The Ritz-Carlton Doha (4484 8000).
Louisiana crab cakes at Urban Jazz Kitchen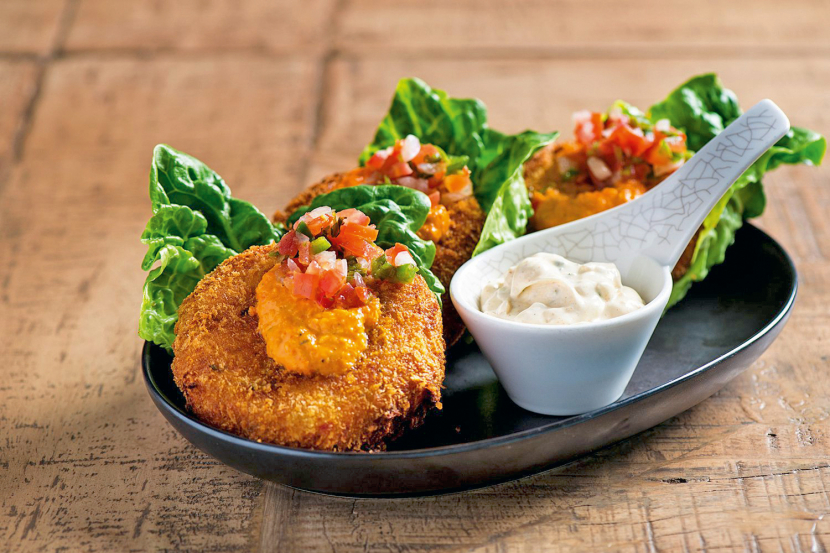 You don't have to catch an expensive flight to eat some scrumptious Louisiana crab cakes. You just have to drive to Porto Arabia and walk straight in to Urban Jazz Kitchen. These flavourful parcels are the highlight of the recently revamped menu. They're perfectly crabby, not too oily, plus come with a tasty tomato salsa coulis on top and a Cajun tartar sauce on the side. Just perfect.
QR35. The Pearl-Qatar (4409 5269).
Middle East chaufa at La Mar
It's common to order ceviches and causas at a Peruvian restaurant and albeit very tasty, we're up for a change. So we ventured out and tried something slightly different – the Middle East chaufa. It's safe to say the dish is a massive success and happily climbs it's way into this list of the best dishes in Doha. The portion is ginormous (good for two) and the dish contains stir-fried rice with vegetables and anticuchero lamb, all wonderfully spiced with some of the best Middle Eastern flavours. It's served with labneh, mint and cashews on top and you'd be hard pressed to find a more exotic rice dish around.
QR150 (for two). InterContinental Doha, West Bay Lagoon (4484 4919).
Mumbai cocktail soup at Jwala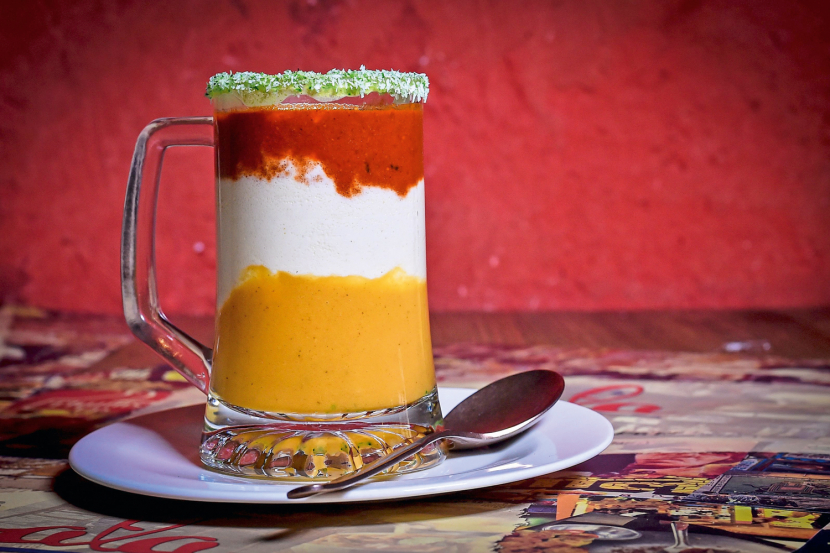 We really wouldn't include a soup in the best dishes this year if it wasn't legendary. Jwala's menu is unbelievably exciting and while it's impossible to pick just one dish we love here, the Mumbai cocktail soup is a real showstopper. There are three flavours mixed into this – a yoghurt raita in the middle, a sweet potato concoction at the bottom and a lentil beetroot mixture on top. Have it layer by layer or just mix the whole thing up. We can assure you of one thing – it's going to be one of the best soups you've ever tasted.
QR32. The Pearl-Qatar (5000 1334).
Pambazo at Maya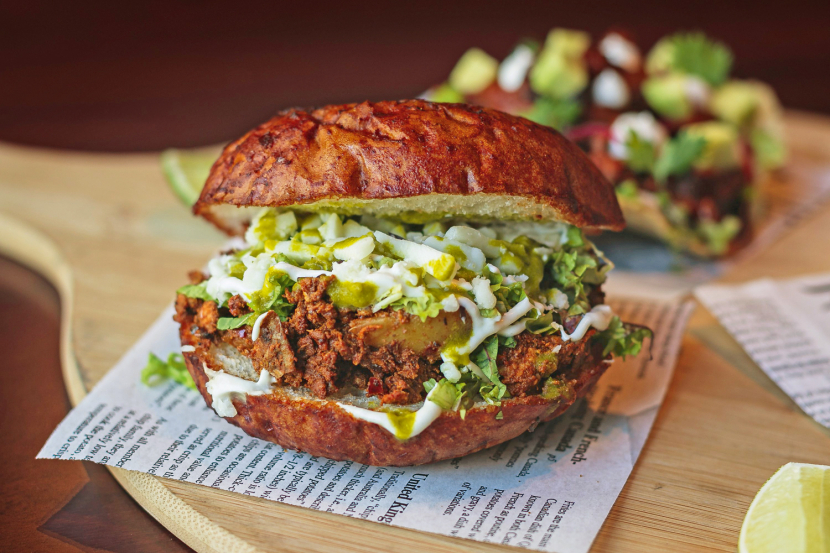 Maya recently introduced a street food menu and there's so much to love. For example, the pambazo, an authentic street food found in Mexico City. It is made with a homemade bun and lightly brushed with a sauce infused with Mexican chillies. The dish uses more than 12 ingredients and spices and is stuffed with chicken chorizo and mashed potatoes, topped with cheese, cream, lettuce and an outstanding avocado and tomatillo sauce. We're heading straight to Maya after work.
QR25. Kempinski Residences & Suites (4405 3325).
Pineapple cheesecake at Trader Vic's
Never has there ever been a better cheesecake in Doha. This pineapple version at Trader Vic's will blow your mind (and your mouth) away. It is a blend of coconut and pineapple flavours and tastes like a beautiful summer day. It's included in the reasonably priced business lunch menu (QR89) but you can order it separately, too. It's one of our favourite desserts this year.
QR60. Hilton Doha, West Bay (4423 3333).
Poke bowl at W Café
Poke bowls may have joined the party late in Doha, but the number of places serving them is steadily increasing and what can we do except rejoice? There are a few spots doing great bowls in Doha, but we absolutely love the one at W Café. Our favourite is the spicy tuna version with yuzu sesame, tobiko, mango, cucumber and pickled ginger. There are other options with salmon, too, and you can even customise your own bowl.
QR95. W Doha Hotel, West Bay (4453 5135).

Salmon pastrami at El Cedro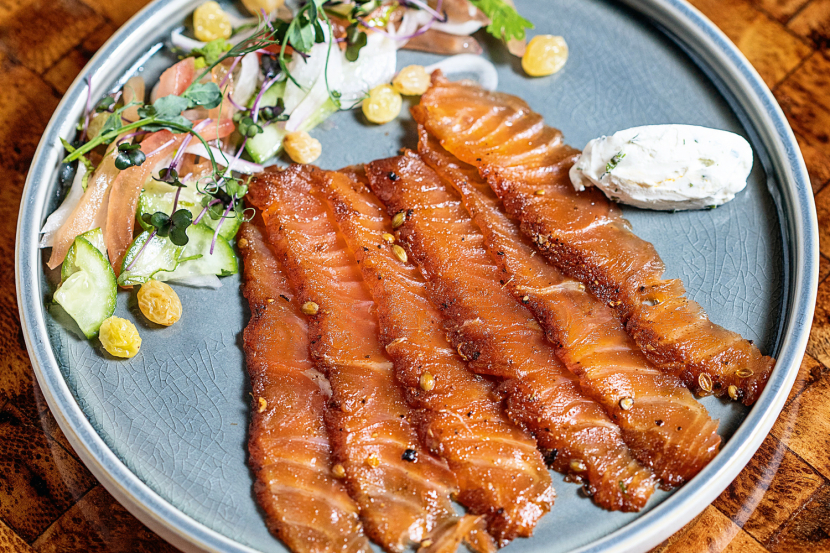 What do you do at a tasting room? You taste, obviously. We may or may not have tasted almost everything on the menu but we most definitely have a clear winner. The pastrami salmon is loaded with flavour, especially with the labneh and chive dip on the side. If there's one dish you must try here, it's this.
QR60. Sharq Village & Spa (4425 6666).
Shawarma fatteh at Abajour
Abajour is a standalone restaurant that is fantastic. It does a few Lebanese classics and does them really well. Our favourite from the limited menu has to be the meat shawarma fatteh which has a spoon of a spicy sauce on top of the yoghurt – it's a complete game changer and makes the fatteh taste absolutely incredible. The quantity is great for two hungry people, too.
QR31. Ezdan Towers, West Bay (4444 0961).

Spicy shawarma at Besiktas
Even if you don't live near Mattar Qadeem, trust us, the spicy shawarma here is worth the trip. Order the large one (we recommend the beef) because it comes in a super-tasty bread. It's loaded with spice, but not the kind that will set your insides on fire. It's a nice, slightly warming sort of kick, one that we crave every now and then. You can order it online, too, but just drive down to eat it piping hot and fresh.
QR7. Mattar Qadeem (5510 1426).
Truffle burger at Build It Burger
How can we have a list of the best dishes in Doha and not include a burger? It's a tough choice (there are so many excellent ones) but the truffle burger from the new menu at Build It Burger is our newest favourite. The bun is incredibly soft, the patty is so juicy and the truffle is just as strong as we like. It's not too complex and fussy, it's a simple and absolutely delightful burger that gets every element right.
QR35. The Pearl-Qatar (4437 8411).
Wagyu steak at IZU
Doha has some of the best steaks and if you're a true meat-lover, you'll understand how difficult it is to pick just one favourite. We've tried and tasted them all and thousands of calories later, we've come to the conclusion that this is one of the best steaks in the city. The grilled Wagyu rib eye is 300g of pure meaty indulgence. Your knife will slide right through and one bite is enough to change your life (slight exaggeration, but you get the sentiment).
QR325. Mandarin Oriental, Doha (4008 8888).
Be the first to get all the latest Doha news, reviews and deals into your inbox by signing up to our free
newsletter
,
click here to sign up
.