One step into the colourful setting of Jwala and you're immediately transported onto an exciting Bollywood set in Mumbai.
There are artsy walls decorated with old newspapers and magazine covers featuring historic personalities and pin up actresses, and an array of gorgeous, fun props.
But those aren't the only highlights of the décor, what really stands out are the authentic auto rickshaws that you see on Indian streets (don't be afraid to click a few pics next to them).
You can even find typical little corner stores inside the venue that add a really unique touch.
Jwala's cuisine is all about its unique combinations of classic and contemporary street foods. Bite into any of the delightful dishes here and you'll go on a sensory journey through the renowned flavours and spices of India.
The menu not only reflects the cultural diversity of the subcontinent, but also shows how brilliantly the chefs whip up contemporary creations while still retaining the traditional elements of the dishes.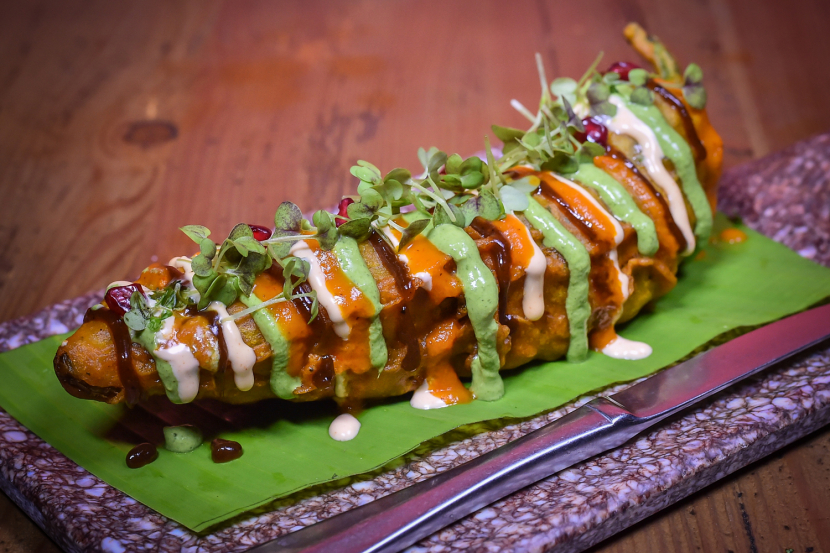 The menu, which features a variety of options from salads and beverages to soups, mains and desserts. It's all unlike anything we've ever seen before and we've had our fair share of fusion Indian cuisine. Everything looks absolutely brilliant on the menu and looks even better when it comes from the kitchen.
Starters include the pani puri, served in colourful Bollywood-themed glasses.

The raita salad comes in an upside down glass and when lifted, a beautiful blend of textures and tastes fall onto the plate.

There's also a typical Indian fried bread street food stuffed with potatoes and chutneys in the colours of the Indian flag.
If you're a seafood lover, try the shrimp masala jar or the jhinga kebabs that are served on an upright skewer, both stand-out dishes.
The main course arrives in style – a lamb biryani inside a samosa. Don't worry, this isn't your usual bite-size samosa, it's the largest one we've ever seen in our lives. The biryani, although modern in presentation, tastes exactly like a home cooked meal.
It's clear that a lot of thought, creativity and love has been poured into every single dish on the menu. It's the most exciting, yet relaxed experience you can have. The food here can take even the most discerning diners head on. It's flawless and you'd be hard-pressed to find a single thing that you don't like about Jwala.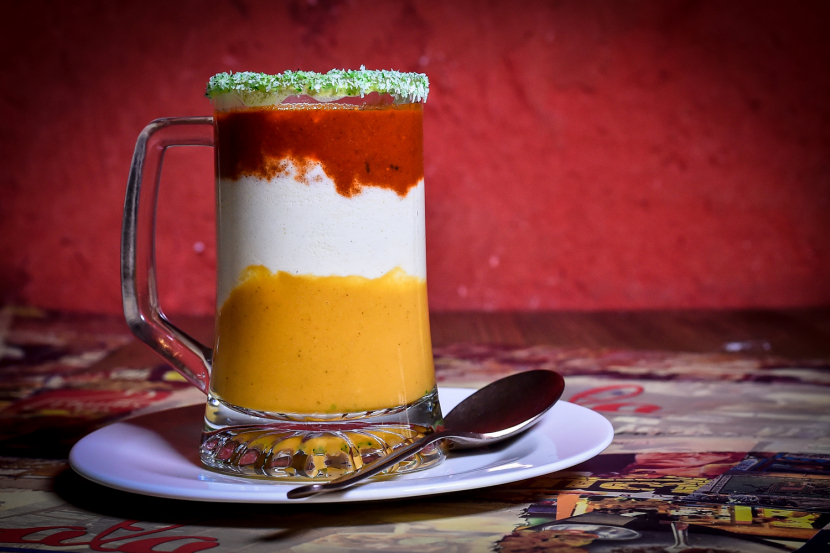 There's live entertainment from a very talented Indian band and desi music lovers will really appreciate the tunes that are played. It's a simple ensemble of an acoustic guitar and traditional tablas. The band successfully manages to keep the entire act at levels audible enough for a normal conversation.
With delicious food, dazzling presentations, exceptional staff service and an unbeatable ambience, Jwala promises to be a memorable experience for a long time to come.
If we were you, we'd be picking up the phone right now and booking a table for tonight. If you're lucky, you might even get to ride that tuk-tuk around The Pearl.
Open daily noon-11.30pm. Medina Centrale, The Pearl-Qatar (5000 1334).
Be the first to get all the latest Doha news, reviews and deals into your inbox by signing up to our free
newsletter
,
click here to sign up
.