The mondrian's fresh take on a multi-cuisine afternoon is the East meets West brunch, hosted at Walima and Hudson's Tavern respectively. We start off with at Walima and the colourful interiors with a rainbow of lanterns, chequered floors and a stunning terrace complete with life-sized chess piece shishas are a real treat. More quiet and relaxed of the two, the east side has a definite Alice in Arabian Wonderland vibe. There is a small children's area with video games, face painting and balloon animal entertainers. For the grown ups, private rooms that are cleverly secluded but surrounded with open glass windows so you're only a moment away from the action are an option.

Hudson's Tavern's west side is almost a completely different brunch. From the bright sunshine of Walima, you enter a dimly lit space to see someone making fresh candy floss, a live band jamming away to all American classics while the smell of freshly made waffles wafts over them. This is the side for the party people with an appetite.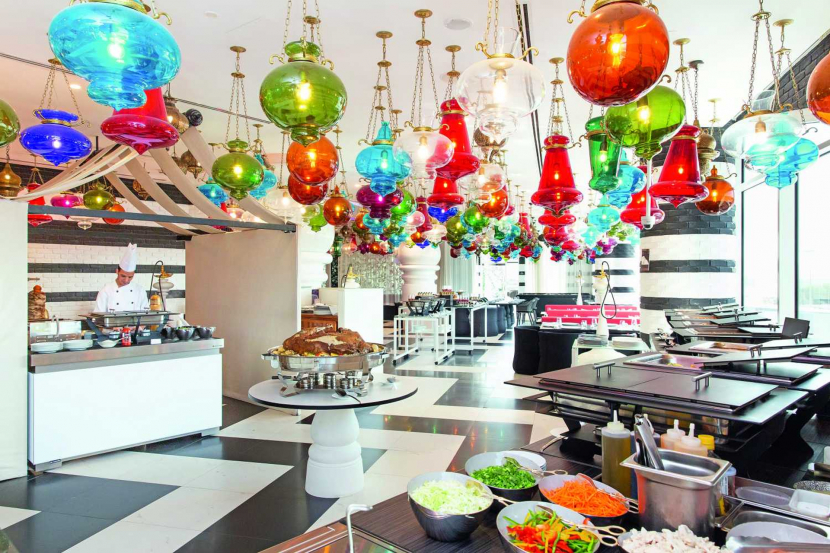 We are big fans of the food line up at Hudson's – it's an experience with some of the finest Western creations. American-style comfort food of the highest quality is stacked in hearty portions. Think burgers, wings, nachos, tacos, popcorn chicken, beef chilli, guacamole, fish and hand-cut chips. An egg-cellent station for freshly made egg dishes is the highlight and the eggs benedict here are rather superior. Each and every dish this side is absolutely sublime, if you're completely ignoring your waistline. Enjoy a tub of popcorn while you admire the collage of Hollywood and Bollywood stars that join you (in spirit).

Desserts are time-honoured classics like cupcakes, cookies and M&Ms alongside fresh pastries and cola sweets. If that isn't enough to satisfy your sweet tooth, a live station serves fresh pancakes and waffles that are regrettably one step too far for our bellies. The dessert station is entirely from Magnolia, so expectedly, the carrot cake here is incredible. We've reached our limit but the chocolate cake looks tempting. All we need is a small slice to discover that down to the very last gram of flour, this is the most perfect chocolate cake we've ever tried.

Walima's food selection is an interesting mix of the entire east. Indian street foods such as pani puri and dosa are cooked fresh by a friendly chef who advises pouring the tamarind chutney into the puri and eating it in one shot. It might be slightly messy for the inexperienced, but it's worth it. The open area has a mix of Arabic staples and snacks (shawarmas, sambousek, kibbeh, tabouleh and hummus). Fresh noodles are cooked up next to a variety of rice and a selection of curries. A barbecue grill on the terrace roasts a constant supply of kebabs, tandoori chicken and steaks that are brought fresh to the table and are juicy, delicious and perfectly spicy.

You need to navigate your way around an enormous tray of roast lamb to get to the beautifully presented sweet selection. A mixture of Eastern favourites such as ladoos, baklavas and gulab-jamuns tempt you alongside a few interesting creations like marzipan-candied apples.

There are options for the non-eastern palate as well and those an indulgent vegetarian lasagne, fresh salads, macaroni and cheese, gazpacho, cheeses and freshly baked breads.

Sitting in Walima with its Marcel Wanders' version of an Oriental marketplace backdrop is the most picturesque option (if you're going to spend half your brunch time updating your social media). It's also a smart choice for those with children. Spend the rest of the evening on the Walima terrace.
QR250 (soft drinks), QR400 (selected beverages). Fri 12.30pm-3.30pm. Mondrian, West Bay Lagoon (4045 5999).

WHAT IS IT...
A multi-cuisine brunch with a large variety from American classics to Indian street food

WHY GO...
There are three areas with completely difference ambiences and whichever you choose, the food's just great
Be the first to get all the latest Doha news, reviews and deals into your inbox by signing up to our free
newsletter
,
click here to sign up
.