The Holy Month of Ramadan is the ninth month of the Islamic calendar. Muslims observe it all over the world as a period of fasting (sawm), one of the five pillars of Islam, from sunrise to sunset. It's a sacred period of reflection, worship and self-improvement, as well as a time for families and friends to come together.

As Ramadan is called at the appearance of the new moon, exact dates cannot be given until the night before. This year, Ramadan is expected to begin on Sunday May 5 and run until Tuesday June 4, when three days of Eid Al-Fitr will be celebrated.

This is a special time of year that everyone can benefit from, and a great time to immerse yourself in the country's culture
and heritage.

Ramadan Kareem!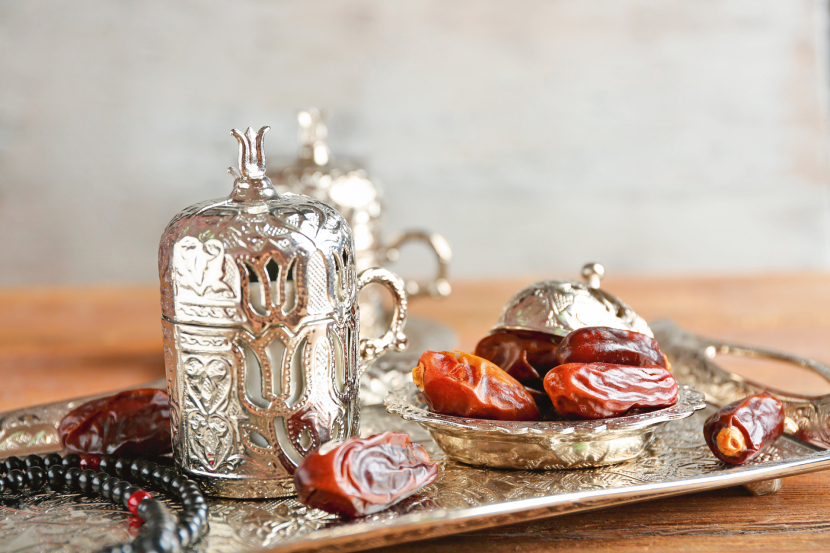 Dos and don'ts
Show respect to those around you during Ramadan by following these guidelines

Do… dress appropriately. Doha already has guidelines in place for dress, especially in public areas such as malls and parks. Be especially considerate of these during Ramadan. Men and women should wear clothes that cover their shoulders and knees.

Do… respect those around you. If you're not fasting, be considerate and mindful of others who are.

Do… try to avoid the roads at sunset, as they will be busier, since people who are fasting are likely to be travelling at this time to attend iftar. Travel earlier or later if you can.

Do… accept invitations to iftar. Aside from being a wonderful way to experience Qatar's culture, it's polite to accept. Do take a small gift for your host, such as a box of dates.

Do… use Ramadan greetings such as Ramadan Kareem and Ramadan Mubarak.

Do… be charitable. A big part of Ramadan is kindness and helping others. There are lots of official charities in Doha and causes around the city for you to get involved with.

Don't… eat, drink, smoke or chew gum in public during daylight hours. This includes on the street, in your car, at the office (check your own office rules) and any other public spots. Breaking this rule is legally punishable.

Don't… play loud music in public. If you're in your car, keep the volume of the radio down. Ramadan is a contemplative time, and you should be mindful of disturbing others.

Don't… use offensive language or gestures. This isn't something you should make a habit of anyway, but it's particularly important to refrain from this during Ramadan.

Don't… smoke in public areas. If your workplace has an outside, public smoking area, you will need to change your routine.

Essential Arabic words and phrases
Hello: Marhaba
Goodbye: Maa' assalama
Please: Low samaht
Thank you: Mashkoor
Yes: Na'am
No: La
Excuse me: Afwan, Itha samaht

Happy Ramadan: Ramadan Kareem
Are you fasting?: Enta sayem? (to a male)
Enti sayma?: (to a female)
What is this called?: Shu ssm hal shay?
How are you?: Wesh olumak?
Do you speak English?: Tetkallem Engleesi?
I do not understand: Mu fahem alek
I like this food: Ana aheb hal-akel
Where are you from?: Mn wein bladak?
What time is it?: Kam el sa'a al-heen?

One: Wahid
Two: Ethnin
Three: Thalatha
Four: Arba'a
Five: Khamsa
Six: Setta
Seven: Saba'a
Eight: Thamaneya
Nine: Tes'a
Ten: Ashara



Ramadan glossary
Iftar
This means "break fast". It is the meal at sunset to break the the fast.

Suhoor
Pre-dawn meal before the fast begins for the day.

Ramadan Kareem
A greeting that means "generous Ramadan".

Ramadan Mubarak
Another greeting to wish people a happy Ramadan, which means "congratulations, it's Ramadan".

Sawm
The word used for fasting and one of the five pillars of Islam.

Zakat
This is another of the five pillars of Islam. It requires adult Muslims to pay 2.5 percent of their wealth to the needy. While It can be paid at any time during the year, but is more prominent during Ramadan.

Salah
Prayer, another of the five pillars of Islam. Five prayer times are observed throughout the day, the first at dawn, then at noon, mid-afternoon, sunset and night.

Tarawih
Special congregational prayers held each evening during Ramadan, in addition to the five daily prayers.

Eid Al-Fitr
Meaning "feast of breaking the fast", this three-day celebration marks the end of Ramadan and the start of "Shawwal" – the tenth month in the Islamic calendar – with prayers, festivities, food and gifts.

Learn Arabic
Learning Arabic has never been easier. For a small fee, roughly QR300 per month, you can take Arabic lessons at Fanar, Qatar Islamic Cultural Center (4444 7444). There are several other language institutes teaching Arabic in Doha, including Loghati Arabic Language Centre (4488 8846), Berlitz Language Centre (4455 0506) and HBKU's Translation and Interpreting Institute (4454 2578).

Homemade goodness
Take a break from all the iftars and suhoors outside and try these Middle Eastern recipes at home, brought to you by our favourite chefs around town

Ahmad Sleiman
Executive chef, Four Seasons Hotel Doha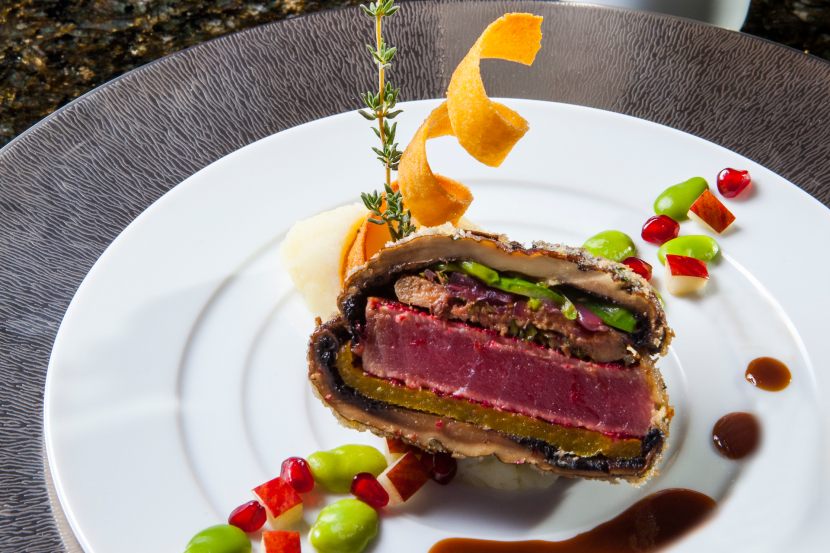 Seared sumac dusted tuna in Portobello mushroom with pistachio foie gras and sweet onion apple baklava
Ingredients
280g tuna loin, cut into cylinders
8 pieces Portobello mushroom, medium size (9cm diametre)
10ml grape juice
100g yellow bell peppers
16g apple vinegar (organic)
40g pomegranate seeds (fresh, sweet)
30g pomegranate syrup or molasses
240g celery root
80g baby green asparagus
80g onion, chopped (caramelised)
120g green apple (caramelised)
160g potato, large
20g cinnamon powder
20g cinnamon stick
20g seven-spice powder
40g sumac
4g cloves
80g fava beans (fresh)
100g heirloom red apples
10ml grape
4g thyme
40g chopped parsley
4g garlic
40ml olive oil
8 eggs
160g white flour
200g bread crumbs
TT salt and white pepper
20ml corn oil
20g apple essence
4 apples
4 cherries
4 green apple cubes 2x2x2cm
20g caramelised onion
1 sheet phyllo pastry
4g melted butter
120g fresh red apples
40g sugar
Method
1. Clean whole mushroom and marinate in olive oil with salt, pepper and garlic. Sprinkle with seven-spice, then sear half way in a hot pan
2. Season tuna loin and dust with sumac. Sear on both sides
3. Season and dust sliced foie grass with finely chopped pistachio, then sear and set aside
4. Roast yellow pepper, remove the skin and cut round slices
5. Arrange steamed baby asparagus, caramelised onion with apple
6. Lay out one piece of Portobello and inside stack the tuna, foie gras, roasted bell pepper, baby asparagus, caramelised onion with apple, then close with another piece of Portobello
7. Bread the filled Portobello mushroom with seasoned flour and egg wash and finish by tossing it in herb bread crumb mix
8. Boil potatoes with celery root and apple
then mix all together with olive oil, cinnamon, and cloves
9. Sear the filled Portobello mushroom in a hot pan using a little bit of corn oil until golden brown on both sides, cut in half and place on top of the apple celery root puree
10. Clean the fresh fava beans and steam, then sauté with diced and poached red apple, lay diagonally on both sides of the Portobello, add to it caramelised shallots and pomegranate seeds
11. For the apple baklava, brush the surface of one of the phyllo with clarified melted butter, place the cooked onion with apple, cinnamon and raisins, and then place the second phyllo layer over. Wrap the filled cubes tightly and apply egg wash and bake at 180ºC until golden brown. Dust with sumac
12. Serve with grape sauce
13. For garnish use thyme sprig, fried apple leaf & apple tulle.

David Girard
Executive pastry chef, InterContinental Doha – The City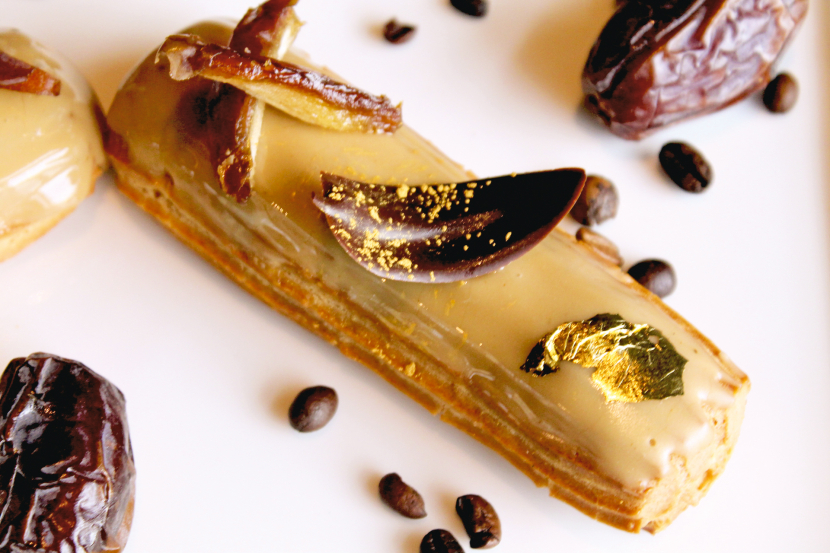 Coffee-date Éclair
Ingredients (For the choux pastry mix)
250g water
250g milk
7g sugar
7g salt
217g butter
10 eggs
284g flour
Method
1. Mix water, milk, sugar, salt, butter and bring it all to a boil
2. Add the flour and cook for two minutes to dry it up
3. Transfer to a mixing bowl and add the eggs gradually
4. Once it's ready, pipe to create the éclair outer shape
5. Bake at 200ºC for about 15 minutes.

Ingredients (For the coffee- date cream)
500g milk
500g cream
100g roasted coffee beans
240g yolks
400g dates paste
10g gelatin leaves
300g butter
Method
1. Roast coffee beans in the oven at 160ºC for 20 minutes
2. Add to the hot milk and cream
3. Blend and leave it to infuse for one hour
4. Add the missing liquid and cook at 85ºC
5. Add the gelatin and the dates paste
6. Cool at 35ºC add the butter and blend then leave to set overnight, pipe the filling inside the éclair
7. Decorate with dates or a coffee icing glaze.

Khamis Al Haddad
Executive chef, Orient Pearl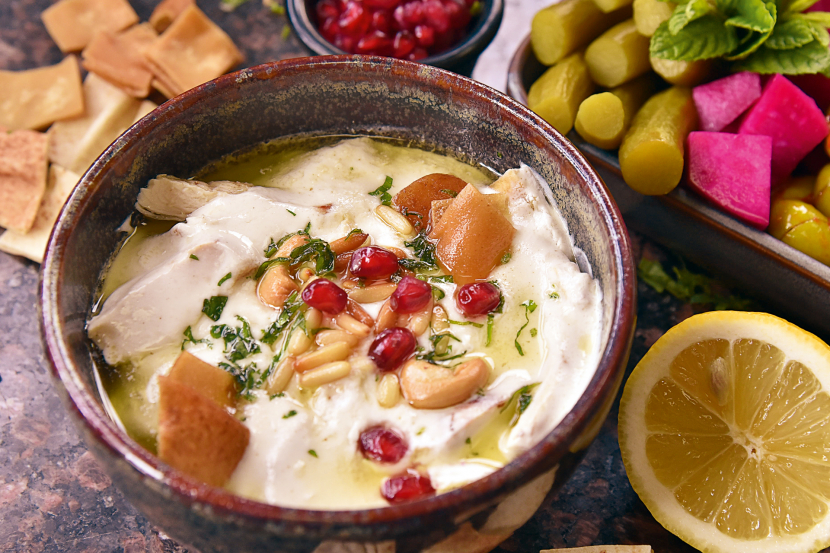 Chicken Fatteh
Ingredients
Chicken for boiling
Selection of seasoning for boiling the chicken (garlic, small peeled onion,
half carrot)
Arabic bread, sautéed or fried
Tahina
Yogurt
Salt, condiments, soft garlic
Fried pine nuts, fried cashews, pomegranate, soft parsley (for garnish)
Ghee
Method
1. Cook the chicken on the stove with the aromatic package and a little salt for about an hour, until well done
2. Remove the bone and skin and cut the chicken into medium-sized pieces as desired
3. Take the broth resulting from the process of boiling, and drain it to be ready for use
4. Place baked or roasted bread in a bowl and add spices, garlic, lemon juice with sauce to the pastry and mix
5. Then add the chicken pieces over the previous mixture and top it with leftover sauce
6. Heat ghee on the stove and then pour it over the fatteh
7. Decorate with soft parsley, nuts and pomegranate seeds.

Sanjay Makoona
Executive chef, Banana Island Resort Doha by Anantara

Harees
Ingredients
70g wheat
150g lamb leg
30g butter
3g salt
2g cinnamon powder
2g black pepper
150ml water
5g cardamom powder
40g onion slices
Method
1. Wash the wheat under running water, then soak for 30 minutes to get a soft texture. Strain and keep aside.
2. Add butter to a heated pot followed by onions and cook until the colour turns brown. Add the lamb (cut in cubes), salt, black pepper, cinnamon powder, cardamom powder and stir together.
3. Add water to boil and then add the soaked wheat.
4. Keep stirring until the meat and wheat are properly cooked by blending the portions together. It takes approximately two hours to achieve a soft texture.
5. Lastly, pour the harees in a bowl and add some melted butter/ghee on top.

Osama Raed
Executive chef, Debs w Remman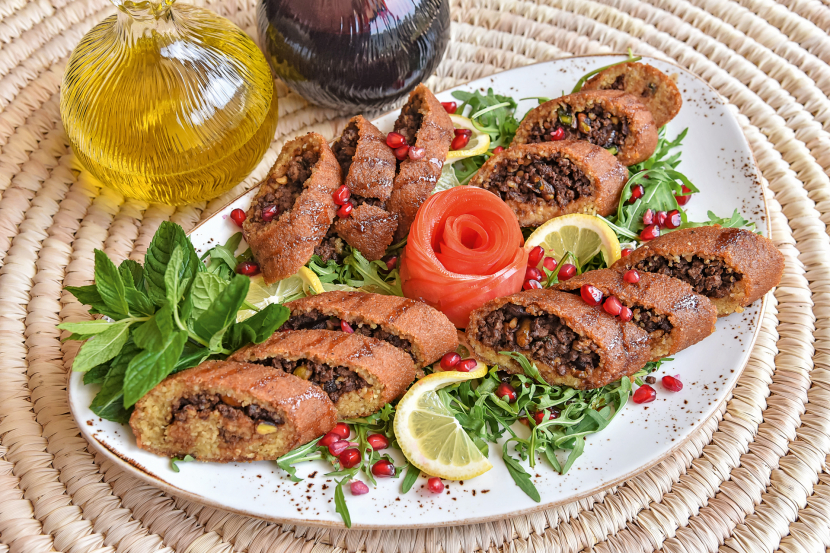 Kibbeh Sajeh
Ingredients
White bulgur
Minced habrah lamb
Salt
White pepper
White onion
Lamb fat
Black pepper
Kibbeh Stuffing
Chopped red Onion
Minced meat
Corn oil
Salt
Sweet pepper
Black pepper
Pistachios (whole)
Fresh pomegranate seed
Walnuts
Pomegranate molasses
Method
1. Mix the white bulgur with the minced meat together with onion, lamb fat and all the other spices. Refrigerate for one hour
2. Put the kibbeh dough in the mincing machine together with some ice
3. Cook the chopped onion for the kibbeh, once ready, add the minced meat and cook until done.
4. Add all the spices and mix it with the cooked meat for five minutes
5. Put the cooked meat in a tray to ensure it remains cold. Add the fresh pomegranate, pistachios, walnuts and molasses
6. Take 100g of kibbeh and make a thin circle with it
7. Add the stuffing in the middle and close it with another circle
8. Once done, freeze for a while and then fry in oil at 180ºC
9. Once cooked, cut into quarters and add some fresh pomegranate and molasses.

Salim Al Ashi
Executive sous chef, InterContinental Doha – The City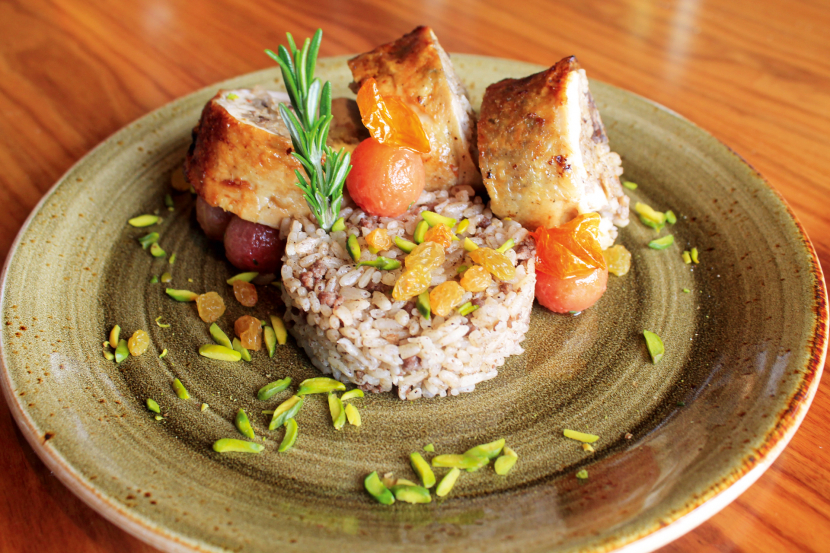 Stuffed Chicken with Arabic Rice
Ingredients
1kg basmati rice
500g minced lamb
100g chopped onion
50g chopped garlic
75ml olive oil
75g Arabic spices (cardamom, cinnamon, cloves, black pepper, bay leaves)
50g pine seeds and nuts
Salt and white pepper
Method
1. Heat olive oil in a pot and add chopped onions and garlic. When it starts to turn brown, add the minced lamb and stir. Later, add the Arabic spices, salt and white pepper
2. Cook on medium heat until the meat ishalf cooked
3. Add the basmati rice after washing and blend it with the mixture
4. Add the hot water and cook the rice up to 75 percent. Let it cool down
5. Place the boneless chicken and put it in cling film with the skin down
6. Season with salt and white pepper
7. Bring the rice and meat mixture and place it in middle of the chicken on the legs side (from left to right)
8. Roll the chicken with the rice in cling film starting from the bottom (the legs side)
9. Tighten the two sides
10. Make sure it looks like a cylinder or tube
11. Roll it in aluminium foil and tighten the two ends
12. Put it in a medium deep tray (10cm) and cover the chicken with water up to 5cm
13. Meanwhile, change the position of the chicken to make sure it's cooked on all sides
14. When it's cooked, take out the aluminium foil and cling film and put it back in the oven for ten minutes without water to get the golden colour
15. After that, slice with a sharp knife and place on the rest of the cooking rice and garnish it with fried nuts. Best served with cucumber and mint yoghurt.

Mahmood Diab
Executive chef, Basta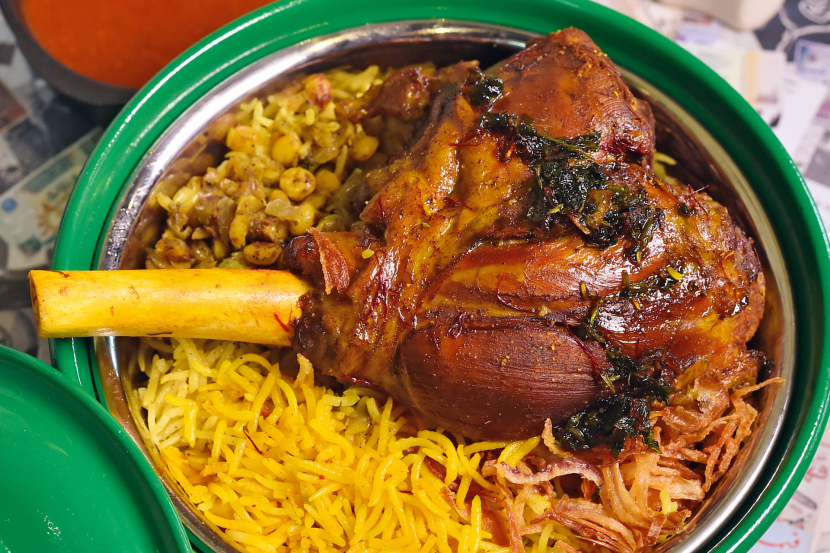 Lamb Machboos
Ingredients (For the lamb)
3/4 pieces lamb
2l water for boiling
2 sticks cinnamon
1 piece dry lime/lemon
1 big onion
6 cloves
30g ginger
2tbsp corn oil
1 lemon (cut into halves)
Salt to taste
Fresh black pepper
Cardamom seeds
Dried basil
Method
1. Put all ingredients together and boil for three hours
2. Reheat your oven to 180ºC
3. Marinate the lamb again with a pinch of cinnamon, cardamom, salt and turmeric
4. In a baking tray put the lamb shanks with a little water
5. Bake until they are a nice brown colour.

Ingredients (For the rice)
500g/2 cups of basmati rice
70g salted butter or ghee
Pinch of saffron
4 pieces whole cardamom
1 cinnamon stick
Dried lemon/lime
4 cloves
Salt to taste
750ml water (use the stock from the lamb)
Method
1. Wash the rice three or four times, then soak it in water for 15 to 20 minutes
2. Heat a cooking pot on medium fire, add water, salt, saffron, cardamom, cinnamon, dried lemon and cloves.
3. Once the colour becomes yellow, add rice to the boiling water
4. Cover the pot until the rice becomes tender
5. Leave the rice in the pot to rest for five to ten minutes before serving.
Ingredients (For the tomato sauce)
4 medium sized, peeled, fresh tomatoes
1tbsp chopped red onion
½tbsp garlic paste
2tbsp of tomato paste
Pinch of salt
Pinch of black pepper
2tbsp corn oil
Method
1. In a sauce pan, add oil and fry onions, garlic, pepper and salt
2. Add fresh tomato paste
3. Add the water and let it boil until thick
4. Serve it with the rice.
Note: Chilli can be used in this recipe if required, as per taste.

Talal Aridi
Executive chef, InterContinental Doha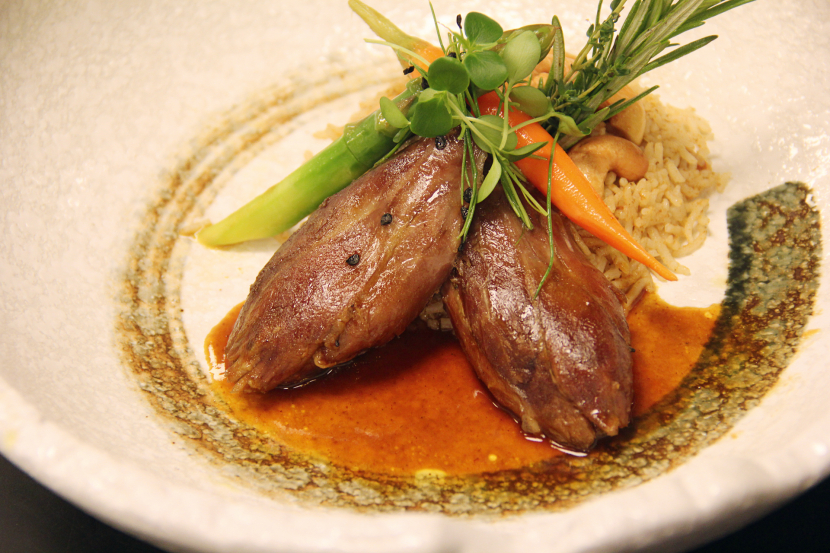 Braised lamb shank with oriental rice and baby vegetables
Ingredients
1 lamb shank
150g minced lamb meat
200ml olive oil
1tbsp butter
1tbsp seven-spice powder
80g rosemary
50g red onion
50g garlic
250g tomato
1500g celery
6g salt
1500g carrots
20g olive oil
30g leek
5g tomato paste
50g baby carrot
50g green asparagus
200g basmati rice
Method
1. Season the lamb shank with salt, black pepper, olive oil, rosemary. Sear it on the grill on both sides, and transfer to a non-stick pan
2. Cut the carrots, onions, tomatoes and the celery into chunks, add them to the tray with the lamb shank and cover it properly with aluminum foil. Place it in the oven at 220°C for 45 minutes, take it out and add around 300ml of hot water. Cover it and put it back into the oven for two more hours at 150°C
3. In a medium sized pot, add finely chopped red onion and sauté. Add the minced lamb meat and sauté together until soft, add salt, one tsp of the seven-spice powder, pinch of cinnamon powder and 300ml of hot water
4. Wash the basmati rice with cold water and strain, then add the minced lamb and its stock, stir with a spoon for a couple of minutes and then cover the pot. When the water starts to boil, lower the heat and keep it until the water has almost evaporated
5. Peel the baby carrots and the asparagus, heat the water until it boils and add one tablespoon of salt. Boil the veggies separately.
6. Take the rice from the pot, place it into a medium sized soup cup and turn it upside down into the serving plate. Add the braised lamb shank, asparagus and baby carrots.
7. Take the balance stock (from cooking the lamb shank), pass it through a fine strainer and heat it up. Add pinch of salt, black pepper and a teaspoon of butter and stir it for a minute. Use this as the sauce for your dish.
Be the first to get all the latest Doha news, reviews and deals into your inbox by signing up to our free
newsletter
,
click here to sign up
.