Journey through one thousand and one nights as you walk across Mondrian Doha's striking lobby. The hotel, managed by the leading international lifestyle hospitality group sbe, is a 270-room property designed in collaboration with globally renowned and innovative Dutch designer Marcel Wanders. It's one of the country's most exceptional lifestyle offerings, recognised for its structural and unique artistic beauty. From the stunning lobby to the mesmerising, stained glass dome skylight on the 27th floor, every corner of the hotel is custom-designed and absolutely breathtaking.

You'll usually find a celebrity in the lobby or at one of the incredible dining outlets regularly. We've had our fair share of celeb sightings here including Paris Hilton, Katy Perry and Jennifer Lopez in the past.

What to do
Indulge in an unforgettable wellness experience with ESPA Spa, located over 2,000 sq m of space spanning across an entire floor. There are 11 treatment rooms, a spa within the spa and authentic Hammam facilities as well as specialised areas for special needs guests.

There's a rooftop pool and a fitness centre offering top equipment, expert personal trainers and some inspirational views to motivate you.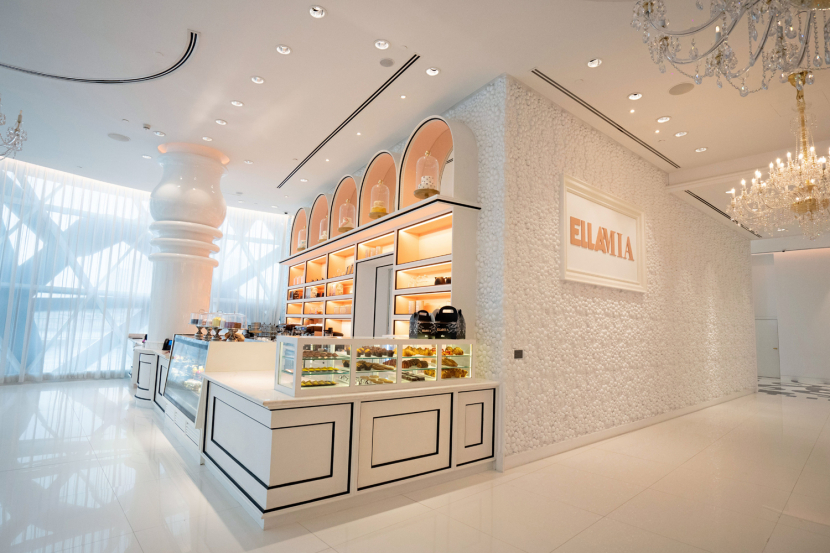 Try one of the city's most beautiful terrace venues. Walima has exquisite designs and iconic artistry that is evident in its architecture. And you'll love the ambience.

Elevated experiences exist all across the hotel, but Mondrian's Frozen Forest lobby hosts the newly added EllaMia, a beautiful, sophisticated venue, lovingly named after the two daughters of sbe's founder and CEO Sam Nazarian.

Where to eat
Brunch at celebrity chef-owned restaurant CUT by Wolfgang Puck or dine at Morimoto by acclaimed Japanese chef Masaharu Morimoto.

Have a fun evening out with top burgers and hops at Hudson Tavern and then dance the night away at Black Orchid, an exclusive club hosting international DJs and musicians.

Have a few beverages in an exclusive world where you'll be transported straight to Hollywood with the glamorous setting of Rise.

There's another exclusive lounge, Smoke & Mirrors, offering live Cuban music and drinks.

Where to stay
Mondrian Doha features 211 bedrooms and 59 suites over 24 floors, complete with 24-hour room and concierge service along with both non-smoking floors and rooms available. The property holds distinctive room categories for guests to choose from including penthouse suites, studio suites, one- and two-bedroom suites plus a range of standard guestrooms. All of the property's rooms feature bespoke miniature artworks, luxurious custom-made furniture and Swarovski crystal chandeliers.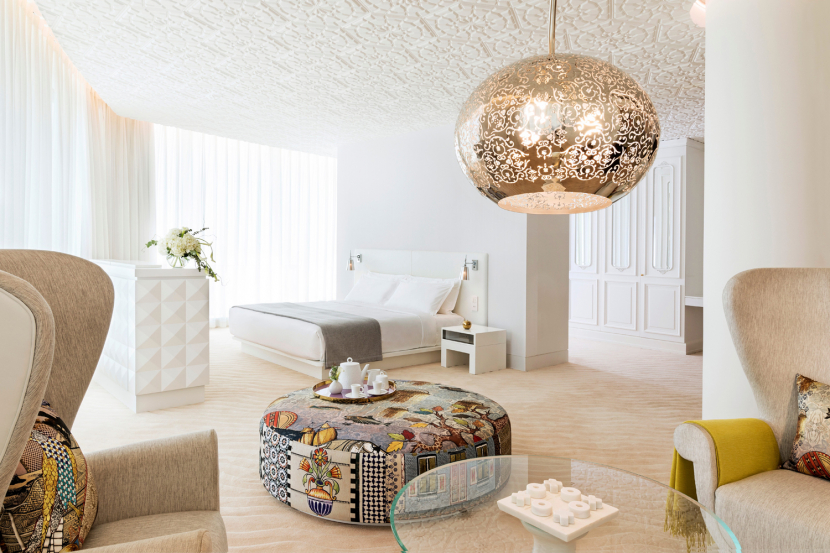 Standout suites at Mondrian Doha include the Penthouse and Deluxe Terrace suites. The Penthouse, located on the 24th floor, takes you on a journey of old Arabic story telling with an authentic approach to modern-day design. Wanders' iconic Floating Staircase and the hand painted One-Minute Delft blue vases set up a striking atmosphere with sophisticated touches. Custom-designed by Marcel Wanders, this two-story Penthouse offers incredible attention to detail with locally-inspired features.

The iconic stairs and a Swarovski-encrusted elevator connect the two floors and if you're staying here, you will have access to the entertainment and services areas on the bottom floor, and the luxury guest rooms on the upper floor. It's pretty exclusive.
The Deluxe Terrace suite has a private outdoor terrace and garden to enjoy the stunning views of Doha, both during the day and at night. There's a private garden with a canopy, too.
Call 4045 5555 or email mondriandoha-reservations@sbe.com.
Be the first to get all the latest Doha news, reviews and deals into your inbox by signing up to our free
newsletter
,
click here to sign up
.