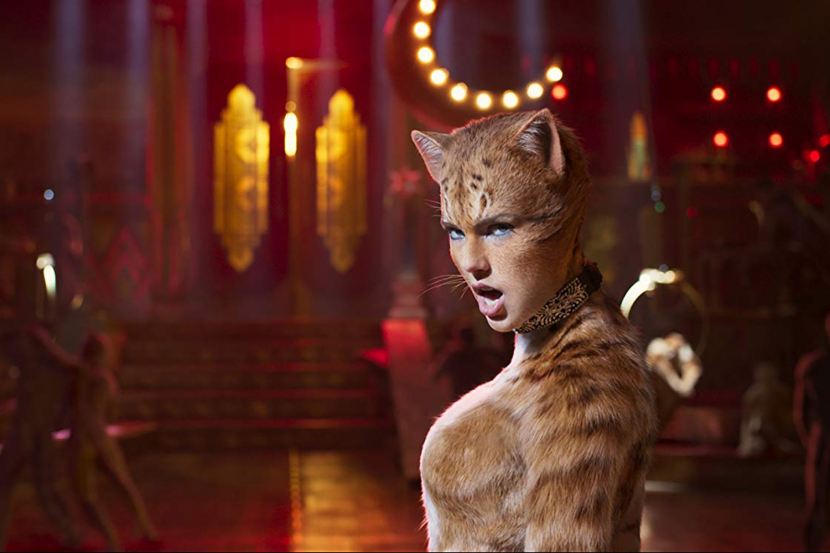 TIME OUT SAYS
A little history, kittens - Andrew Lloyd Webber'smusical was always a vaguely frightening experience. It was sublime or ridiculous or sublimely ridiculous. Cats, the movie, meanwhile, was long thought to be an impossible thing and here it is, very much an impossible thing. Tom Hooper's big-screen version embraces the weirdness with every tail twitch and slinky rub-up. The film is too literal for its own good, yet it's nowhere near the uncanny disaster of the recent hyperrealistic remake of The Lion King, a nature documentary that burst into son. If you're able to roll with Robert De Niro's computerised face lift in The Irishman, a bewhiskered Judi Dench isn't going to throw you.

Still, did those trailers make you bristle? Maybe you're a dog person. Or just not a theatre person. Even the latter group will have serious problems with this adaptation, which murders some of the songs (Mungojerrie and Rumpleteazer is criminally reduced to a dull monotone) and comes close to snapping the already slender throughline, which rests on the exhausting naïveté of Victoria (graceful English ballerina Francesca Hayward). She's a babe in the woods who only wants to learn about the intricacies of the Jellicle Ball, which will not be explained here. Plot isn't going to help you. The cats sing and dance. Sometimes the shtick of a performer gets in the way, as when you're watching Rebel Wilson roll around awkwardly or gobble up computer-generated cockroaches. There's no forgetting it, nor any one of Idris Elba's ear wiggles.

But occasionally you'll get a full blast of Lloyd Webber's proggy, synthy score and the whole enterprise will click, if only for a stretch. Why not celebrate a strutting railway cat (Steven McRae) who breaks into a furious tap? Much of the dancing here is inspired - not always elegantly captured by Christopher Ross's functional camerawork but sharply re-choreographed by Hamilton's Andy Blankenbuehler. Cats is never believable but it does have pink and purple lights and smoky sets, playing like a bizarre feline version of Blade Runner. Taylor Swift can't dance but she has sufficient moxie to own the screen as Bombalurina. Swift also makes a contribution to the score, the too-modern-sounding Beautiful Ghosts, which gets overplayed.

Forget these reservations. There is one moment in Cats that works beautifully, always has, and that's Memory, still an elemental piece of theatre. Jennifer Hudson, a classy presence in the context of this ensemble, sings it on the verge of tears, infusing the midsection with a scary sense of rage and wasted years. Hooper comes in tight and the spell is cast, even haters will be transported. Suddenly, you're not thinking about "digital fur technology" or T.S. Eliot's dopey lyrics or even cats at all. There's just an outpouring of need, supported by a massive orchestra. That has to count for something. Cats may flop but it will be found by a like-minded audience, maybe the same one that rescued The Greatest Showman. Don't be the sourpuss to tell these people they're wrong.
By Joshua Rothkopf | 22 Dec 2019