For his starring role in the world-conquering romcom Crazy Rich Asians, former Travel Show presenter Henry Golding seemed to come out of nowhere, lighting up the screen and breaking many a heart. In Paul Feig's Last Christmas, a winning slushfest co-starring Emilia Clarke and soundtracked by George Michael's back catalogue, he's about to do it again. The world is his.

Were you a George Michael fan?
Massive. The majority of my childhood was in the UK, I arrived in 1996 and from the age of 10 to 22, and George was the king of pop stars. My go-to karaoke song is Faith.

Are you good at it?
Terrible! As karaoke should be.
You're rarely seen in this film without rocking a dance twirl.
It wasn't. It came from a discussion with Paul Feig, [screenwriter] Emma Thompson [co-writer] and myself. Tom as a character loves life, he lives in his own little world, he isn't afraid to make a fool of himself, and he's light on his feet. I wanted to integrate that more into his character, so I asked Paul for a movement coach.

What were you going for?
Tom just has this thing going on, he's constantly on the move, constantly dodging people in the most flamboyant way, because it makes him smile. So I wanted to infuse the character with a little bit of Gene Kelly and Frank Sinatra.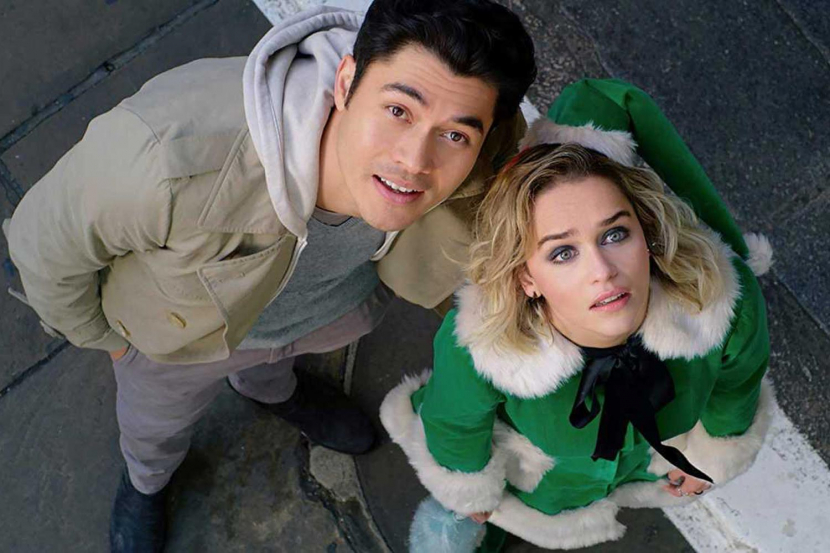 In this and Crazy Rich Asians, there's something about your performances – it's like the golden age of Hollywood in there.
Completely. You know what I think it is? The golden age of Hollywood was where a leading man's actions spoke for themselves. It wasn't necessary for them to over-establish themselves as males. And with these two characters, Nick and Tom, there's charm more than anything. There's humbleness. There's nothing wrong with being the guy next door but also that very approachable leading man. These silver screen actors were pretty much living out their own persona, and I think that's why people went to cinemas to watch them. And part of me wants that in my movies.

In a couple of years Last Christmas will be on TV every Boxing Day, which makes sense as you're like a matinée idol in the film.
Ah man. Every year I'll be like, "What else is on?! Let's watch Love Actually instead." But you know, I think that's what we're in the movies for, to create timeless classics.

Crazy Rich Asians was celebrated for its Asian cast. With this one, you're the co-lead but your heritage is irrelevant, which is just as important.
Massively. It's normalising. My character and Michelle Yeoh's character [in Last Christmas] aren't related. When people see two Asian faces in a movie, they're like, "Ah, mother and son". Isn't that weird?! Is every white person on the screen related?
You've moved around the world a lot. Does that give you a unique perspective?
I grew up in Asia, where representation isn't a problem. It's a problem in Hollywood. But I grew up watching Asian faces: Hong Kong movies, martial arts. You have to understand that one man's problem isn't necessarily another man's – and vice versa. So to have a broader understanding of what really matters is a good thing, it helps me to navigate Hollywood. Now home is where my wife is. I can make do with the clothes on my back.

There are Bond rumours. Are we at the point where a half-Malaysian Bond would be accepted?
There will always be your naysayers and your supporters. At the end of the day it's about, what is the mission of this film? Who you use or how you portray it plays an important part, but it's not the end-all.

There's a clip of Emilia saying you're "the single most attractive man I've ever seen in my life"...
She's a charmer.

Lots of people are dishing out compliments.
Itake it with a pinch of salt. The best compliments for me are if I remind people of old Hollywood. Because that's something I really look up to. I hold that in very high regard. compliments. Everything else just makes me blush.
Last Christmas is in cinemas across Doha now.
Be the first to get all the latest Doha news, reviews and deals into your inbox by signing up to our free
newsletter
,
click here to sign up
.