An exciting new exhibition has just opened at the Doha Fire Station. Infinite Dimensions spans across 700 sq m covering three sections, Tangible Spectrums, The Edge of Thoughts and Visual Sphere, at the Garage Gallery. More than 55 artworks were created during a nine-month Artist in Residence Programme (a local initiative where artists get their own space to create during this period).

On display until September 1, the exhibition allows visitors to discover local contemporary art through different displays of artwork, practices and mediums including sculpture, painting, video and sound works.
Tangible Spectrums
Abstract concepts such as the subconscious, dreams and nightmares are explored and then translated into concrete visualisations in this section. Jordanian artist Alaa Bata has a piece called Better Luck Next Time where a door is featured in the middle of the gallery space with an egg for a handle. Some of the other artists that have works displayed here include Guillaume Rouseré (France), Nourbanu Hijazi (Saudi Arabia), Hassan Zeid Manasra (Jordan), Faisal Al Hajri (Qatar) and Michael Perrone (United States).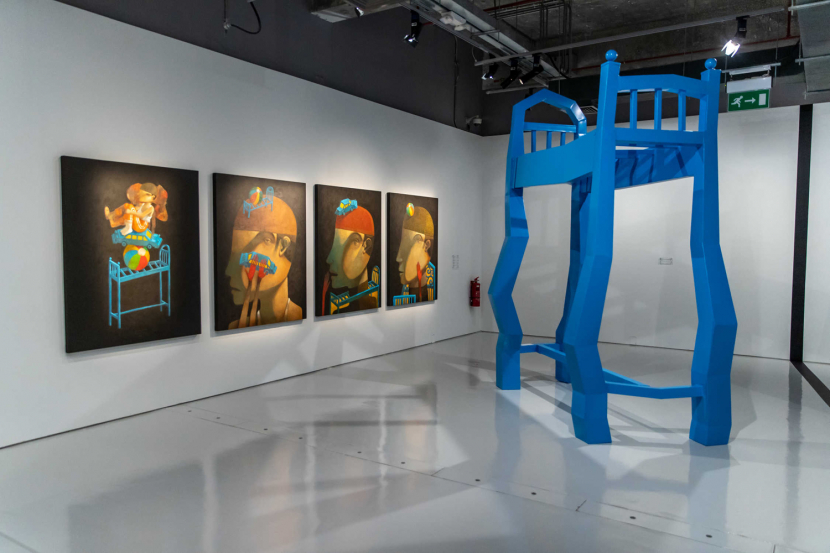 The Edge of Thoughts
The theme of belonging – in a school, society or country – is explored in this section. Using abstract forms, vibrant colours, objects, movement and light, the artists bring their personal journeys and stories to the forefront, reflected in their art. For multi-disciplinary Qatari artist Maryam Al Ameri, dark humour and a distinct colour palette evoke memory and mood in her cinematic piece entitled School Dress (2019). Other artists represented in this section include Rouda A. Al-Khori (Qatar), Shaikha Al-Hardan (Qatar), Sarah Al-Ansari (Qatar), Abdulla Al-Kuwari (Qatar) and Mohammed Faraj Al Suwaidi (Qatar).
Visual Sphere
In the final section, Visual Sphere, themes of popular culture, local landscape, outer space and fantasy creatures are presented through sound, light, video and performance art encouraging the visitors to interact with each piece. This is possibly the most interesting (and our favourite) and extraordinary part of the exhibition. One of the noteworthy pieces in this section is Egyptian artist Eman Makki's Printer Up Above the World So High. The artwork rises above the present moment and continues onward indefinitely with a printer that prints 100 billion dots on a roll of paper (in reference to the 100 billion stars of the universe).

Jesse Payne (United States), Sidra Zubairi (Pakistan), Lolwa Al Solaiti (Qatar), Sara Al-Fadaaq (Qatar), Nayla Ahmad Al-Mulla (Qatar) and Federica Visani (Italy) and Guillaume Rouseré (France) are the other artists featured in this section.

The exhibition has been curated by Dr Bahaa Abudaya, curator of contemporary art, and Saida Al Khulaifi, associate curator and senior exhibition and residence programme coordinator. And if you're really curious about conceptualism, you can grab the catalogue with an essay on it by Dr Abudaya, as well as artist statements and biographies.
Free entry. Until Sept 1. Open Sat-Thu 9am-7pm; Fri 1:30pm-7pm. Garage Gallery, Doha Fire Station, Civil Defense Roundabout (4422 4222).




WHAT IS IT...
An exhibition featuring more than 55 contemporary works from various local artists

WHY GO...
To creatively engage all your senses
Be the first to get all the latest Doha news, reviews and deals into your inbox by signing up to our free
newsletter
,
click here to sign up
.