The Westin Doha's Bubbalicious brunch is one of the most popular in town and we can see why as soon as enter. Seasonal Tastes has been converted into a fully fledged party filled with bright green and yellow hats everywhere (which are given to all brunch-goers for free). The outdoor area is far livelier than the indoor with a live band playing some top hits from the '90s to begin with.

The food options are plenty and we're conflicted about where to start. The Mexican corner seems rather tempting so we load up on a plate of nachos (with minced beef) which are surprisingly excellent and far above usual buffet standards. Steakhouse Hunters has a dedicated kiosk, too, and with a few plates of top quality cuts and delicious sides. We're already pretty impressed with the superiority of this brunch.

We're in the mood for a bit of spice, so we hit Sabai Thai's Asian stall next. They make a fresh papaya salad, which we absolutely love. We proceed to feast on rice with seafood red curry and by the end of it, we're sweating from the heat of the dish.

There's a pizza section with a range of tasty thin crust options including one with pepperoni that we really savour. We also pass by an Indian station but decide to skip this one because we're already on the brink of fullness.

We move indoors to explore more – there are plenty of main courses, but what really attracts us is the seafood. There's an unbelievably large selection to choose from, including sushi, salmon gravalax, terrines, calamari, fresh shrimp and more. We can't resist piling every single one on to our plates. Don't miss out on the crustaceans such as blue crab and cigale.
Just before we're ready for desserts, the staff announces the party is about to start.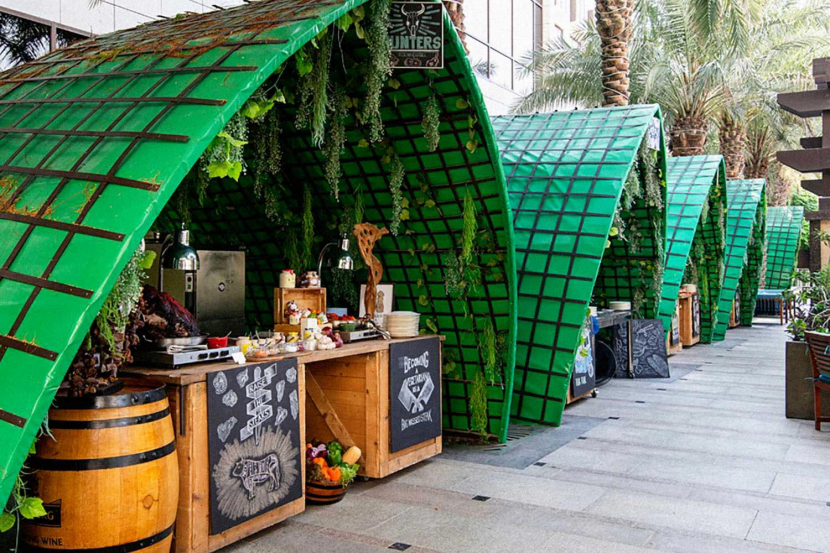 We head over to the dancefloor and the hotel staff, dressed in colourful t-shirts, break into a flash mob-style dance and a few minutes later, a net filled with balloons breaks open and everything turns into one massive celebration, smoke machines included. We're slightly exhausted from our best-ever Macarena performance and our slightly embarrassing Gangnam style routine, but we're glad the calories have been burned and we're now completely ready for the final phase of this super fun brunch – dessert.

We weren't expecting this but there two dedicated dessert rooms – one of them entirely for chocolate. We've never seen such a spread and this has quickly become the highlight of the brunch. The other room is for all the regular cakes and candies.

The party atmosphere, the top quality food, the live band (that does a fantastic job keeping the crowd constantly entertained with popular hits) and the on-point service make Bubbalicious a top option in Doha's highly competitive brunch scene.
QR360 (soft drinks), QR480 (enhanced beverages). Fri 12.30pm-4pm. The Westin Doha Hotel & Spa, Fereej Bin Mahmoud (3359 8514).

WHAT IS IT...
Doha's best party brunch

WHY GO...
For great food and drinks and a lively atmosphere
Be the first to get all the latest Doha news, reviews and deals into your inbox by signing up to our free
newsletter
,
click here to sign up
.