Did it really happen if you didn't snap it? Short answer – no. Long answer – whether its white-washed walls, chic pink interiors, hanging roses or copper finishes, décor is arguably as important as food when it comes to dining out in the age of social media. So, we've made your life easier and picked out ten of these must-try spots – just for the Gram.
B-lounge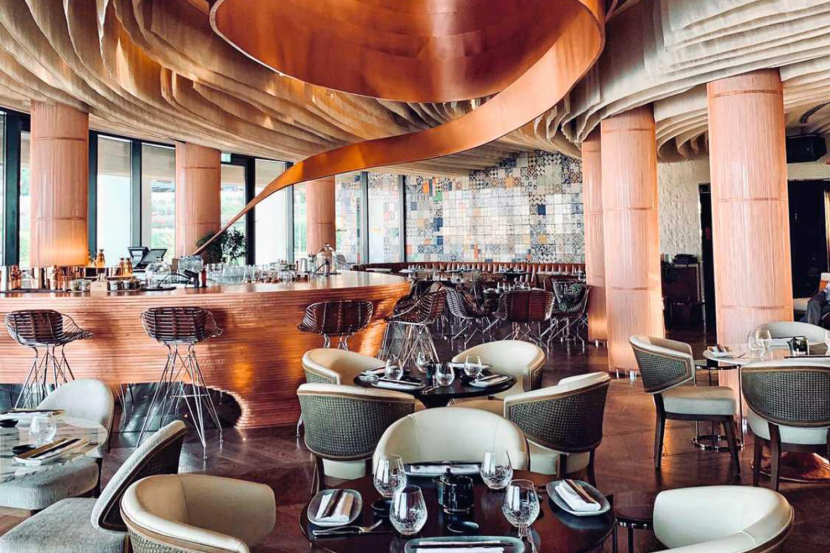 Your camera will love this newest entrant in Doha's nightlife scene. From the dangling fabric that reflects the nature of wind to the timber finish ceiling on the upper floor, the space is totally Insta-worthy. The copper bar counter in the centre looks like a swirl of wind blowing from the sea. We'd be surprised if you didn't get a few dozen new followers after this.
The Ritz-Carlton Doha, West Bay Lagoon (4484 8000).
BOHO Social
Right above Katara Beach Club, you'll find this boho-chic restaurant and social venue. With eccentric tables, hand-painted walls and bohemian energy, this '70s-inspired, eclectic restaurant will have you Instagramming faster than you realise. The design features a mix of colourful fabrics, materials and furniture that brighten up the space.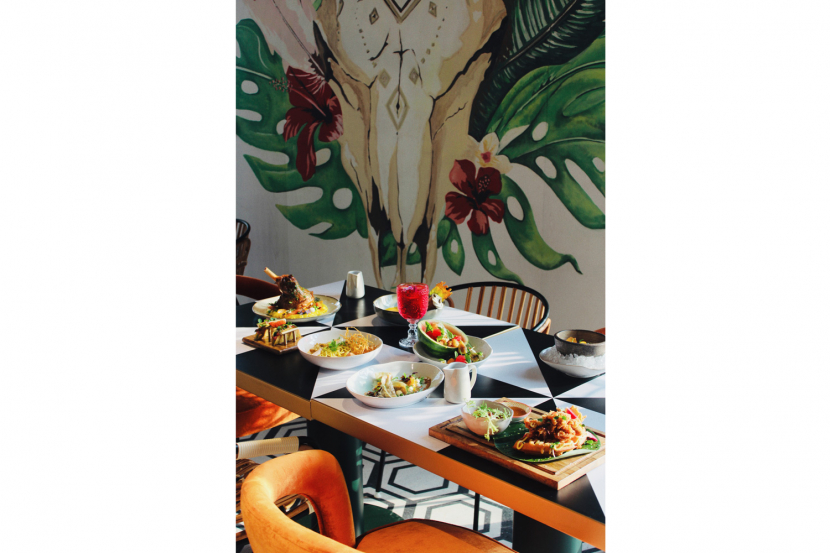 This is a storyteller's sanctuary with sublime food. The dishes are modern with an Arabic twist. You'll find plenty of familiar and fresh, whole and organic food (yes, there are vegan options, too). And if you're more of a café person, there's a decent beverage menu as well. What's really important to know is that every single dish at BOHO Social is Instagrammable. You're welcome.
Katara Beach Club, Katara (7765 5285).

CAF Cafe
This all-day café with moody tones is Qatar's go-to coffee hotspot to combat its commercial counterparts. The very Brooklyn, industrial-chic interior will leave you wanting a second round and probably even with a sore thumb from all the clicking. CAF is a café with a big heart – it's socially driven and presents caffeine in an interesting way.

The coffee is as pure as it gets and with every cup you purchase, donations will be made to charities that support education and women empowerment. You'll be hard pressed to find a café with a more touching social cause that's Insta-worthy, too.
The Pearl-Qatar, www.cafcafe.com.
Gelato @ Mandarin Oriental
High ceilings and white walls with a mishmash of marbles and tables set the right atmosphere for guilty pleasures of various tones, taste and sizes – this creamery and cafe in Doha's Mandarin Oriental is a haven for anyone with a sweet tooth.

Expect surprising and unique flavours of gelato such as qahwa or Arabic coffee, with an array of creative desserts in this playfully-designed space.

You'll be happy to know the cookies here are some of the best in the city. Crisp on the outside, gooey on the inside, these are a marvel of cookie engineering. You can choose from pistachio, pecan, chocolate and plenty more.
Mandarin Oriental, Doha, Msheireb Downtown Doha (4008 8888).

Halo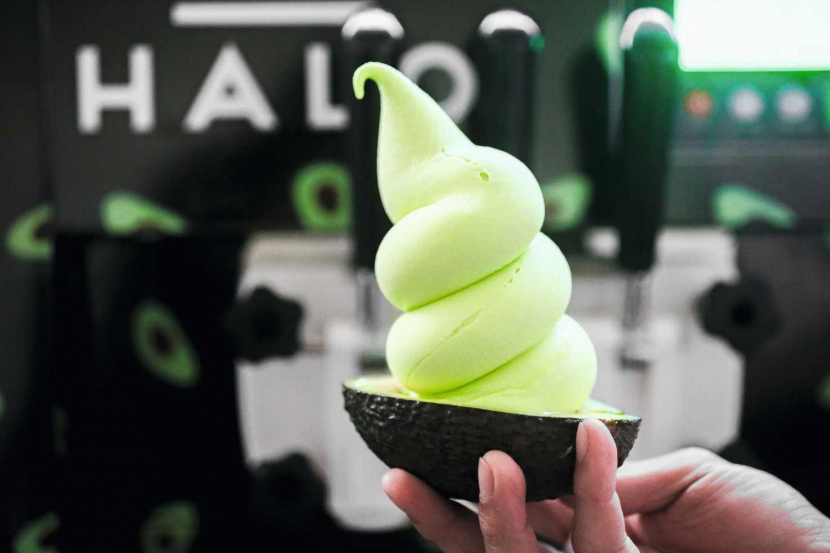 If you're a minimalist, the backdrop at Halo will add just the right touch of white and black to your Instagram feed. The frozen cakes and dough bar are quite attractive, too.

Halo is a bakeshop and cafe that specialises in all things dough – from infinitely flaky croissants and cronuts to indulgent, cloudy donuts and incredibly delicious drinks. The trinity that defines Halo includes soft-serve ice cream, perfectly roasted and hand-picked coffee beans and artisanal hand-crafted pastries. The corn flakes milk is a must-try, with layers upon layers of decadently frozen and blitzed flavours we love. But if there's absolutely one dish that will win the hearts of your followers (and yours), it's the Nutella s'mores. These bite-sized goodies are as soft as a pillow and look just as good as they taste.
Qanat Quartier, The Pearl-Qatar (4427 5787).
Magnolia Bakery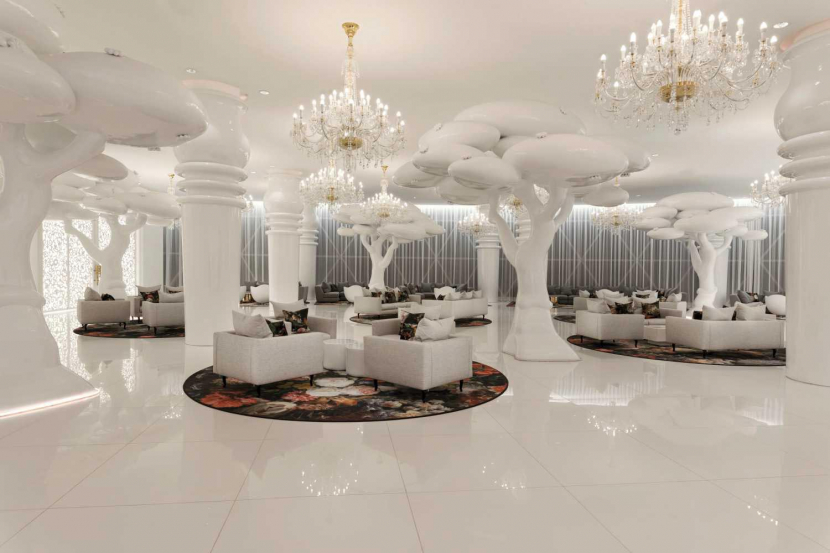 This famous New York bakery is renowned for its lavish, delicious cupcakes. But add to that the wonders of Marcel Wanders and you have an entire Alice in Wonderland-chic space right at the Mondrian Doha lobby. The space possesses its own whimsical identity, allowing guests to form a collection of stories woven with a main theme that runs throughout. Play Mad Hatter and take teatime to another level while snapping above or below, either way, your shots will be Gram-worthy.
Mondrian Doha, West Bay Lagoon (4045 5510).

Morimoto
Specialising in seasonal and modern Japanese cuisine, a contemporary-warm colour palette of bronze, teal and wood lend this rather famous restaurant a sought-after, high-class Tokyo aesthetic. There's the centrepiece of ornate lanterns resembling something from ancient Japan or a temple in Nara. The food has flair, besides being rather pleasing to the palate, and everywhere you look, there's something worth clicking.
Mondrian Doha, West Bay Lagoon (4477 4462).
Parisa
Walking into Parisa is like stepping into the golden age in Persia. There are mirrors everywhere, draped with crystals and highlighted with lavish artwork. It's as if you're dining in an exclusive museum of lights and mirrors. The décor is colourful and combines intricate mosaics, ornate chandeliers, thousands of tiny mirrors and Persian carpets akin to storybook tales. Some of the items here feature traditions that date back to 3400 BCE. If you're here just for the Gram, it'll do you good to order the rice trio with three different colours of rice. The traditional bread oven in the main dining area really catches our eye. Basically, this entire restaurant is the ultimate gift to your Instagram feed.
Souq Waqif (4441 1494).
Rosemary Cafe
Irrespective of the season, Rosemary Café in Al Hazm Mall is always in full bloom. It's like a secret garden that just happened to have a café in it. With everything decked out in pink blossoms, this oasis also tops our list of romantic spots in the city.

There are classic pink printed to-go coffee cups and beverages that scream flower power. You could potentially spend hours here with countless cappuccinos. There's an all-day breakfast menu and if you're around long enough, you can have dinner, too. You'll likely spot Doha's well-heeled freelancers sitting on the pink furniture among swaying petals and string lights, working with hot rose lattes.

But you don't have to order that, just go for a hot chocolate with melting marshallows.
Al Hazm Mall, Markhiya (4465 0797).
Yasmin Palace
This award-winning restaurant speaks to all the senses. Featuring luxury Syrian (and Levantine) cuisine, the restaurant will overwhelm your creative mind.

There's loads of gold, florals and some more gold, inspired by different Arab cultures. The unmissable scent of jasmine as soon as you enter hints at the restaurant theme and while your camera can't really capture that, you will have a field day with the décor and dishes.
Porto Arabia, The Pearl-Qatar (4411 1502).
Be the first to get all the latest Doha news, reviews and deals into your inbox by signing up to our free
newsletter
,
click here to sign up
.